The Liberal government's approach to championing human rights and security in the Americas is one-sided and selective, says a Canadian labour and civil society coalition.
Common Frontiers, an umbrella group of labour and civil society organizations, says Canada needs to play a more even-handed role in trying to promote human rights in the Americas and resolve the political crisis in Venezuela.
More than 70 people have died in 12 weeks of street protests across the country, which began after Venezuela's Supreme Court, dominated by supporters of left-wing President Nicolas Maduro, ruled to strip the opposition-dominated parliament of its powers, accusing lawmakers of "contempt" after allegations of irregularities by three opposition lawmakers during the 2015 elections.
The ruling, which was denounced as a coup by the opposition, was later reversed but massive street protests against Maduro government continued.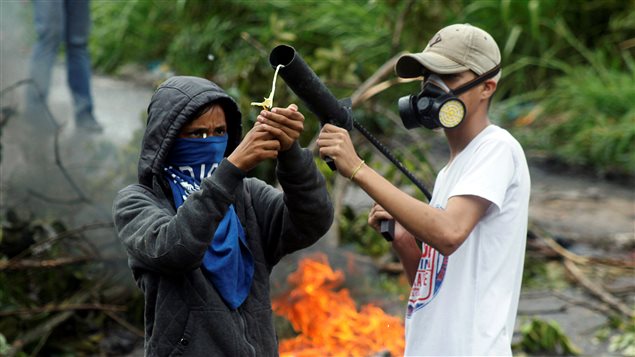 As Venezuela's crisis has deepened, with triple-digit inflation, record shortages of food and medicine and rising crime rates, Maduro has sought to rebuild his popular support by calling for a constituent assembly to rewrite the country's "anti-capitalist" constitution crafted by his political godfather, the late President Hugo Chavez.
Critics fear this could allow Maduro to postpone the 2018 elections that many think he has good chance of losing amid the economic crisis that has gripped Venezuela. Maduro, however, has vowed that presidential elections will be held in 2018 "come rain, thunder or lightning in Venezuela."
'Alarming trend'
Foreign Affairs Minister Chrystia Freeland, who participated at the Organization of American States general assembly in Cancun, Mexico, on Monday and Tuesday, "reiterated Canada's unequivocal calls for the Government of Venezuela to restore the rule of law and respect the Venezuelan people's democratic and human rights," Global Affairs said in a statement.
She has also said that Canada has been instrumental in the passing of several statements and resolutions at the OAS supporting the Venezuelan opposition in their efforts to achieve political and economic reforms.
"Chrystia Freeland's comments surrounding Venezuela demonstrate an alarming trend that Canada is anything but neutral when it comes to the situation in Venezuela or human rights in the region," said Raul Burbano, program director at Common Frontiers.
"While the government of Canada takes a hard stance against the democratically elected government of Venezuela over its human rights record, it turns a blind eye to the violence, and violation of human rights perpetrated by some opposition protestors during violent street protest in Venezuela."
Burbano cited the example of Orlando Figuera, a 21-year-old government supporter who was doused with gasoline and set alight last month at an anti-government protest in Venezuela's capital Caracas. He died of his injuries on June 5.
While Canada has been very outspoken on the situation in Venezuela it has stayed silent on the "egregious violations of human rights" in Honduras, Mexico and Brazil, where President Michel Temer's deeply unpopular government faces serious allegations of massive corruption, amid growing  authoritarianism and the use of violence against peaceful protesters, Burbano said.
Diplomatic defeat?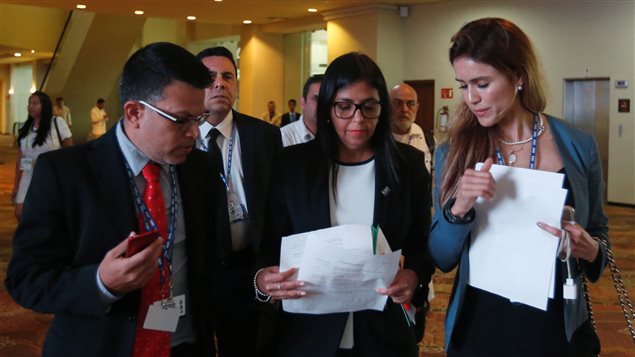 Freeland, who arrived in Cancun after a successful whirlwind tour through Norway and Finland, appears to have suffered her first diplomatic defeat at the OAS.
"One could say the [OAS] session was a failure for Canada and its allies, U.S., Mexico, Peru and Honduras who sought to bring forward an interventionist proposal punishing Venezuela," Burbano said.
The efforts of Canada and its allies to isolate and ostracise the Maduro government at the OAS were defeated by members of the Caribbean Community (Caricom), which put forward its own proposal calling for an "internal" solution "based on dialogue" and rejection of any international intervention in Venezuela, Burbano said.
Antigua's Prime Minister Gaston Browne has said the Caricom countries, which depend on subsidized oil shipments from Venezuela, "have stood by the principle of non-interference, we have stood by the principle of respecting the sovereignty and independence of states."
The OAS, which operates on the basis of consensus, needed the consent of all 34 member states to take action on Venezuela.
Foreign Affairs Minister Chrystia Freeland and officials at Global Affairs could not be reached for comment in time for this publication.