Canadian towns and cities across the country are preparing for celebratory events this weekend.
July 1 is Canada's national day, and this year the celebration is even bigger as it's the 150th anniversary.  The biggest of these events will be in the national capital, Ottawa, on the grounds of Parliament.  Last night however, aboriginal protesters showed up seeking to "unsettle" the 150 event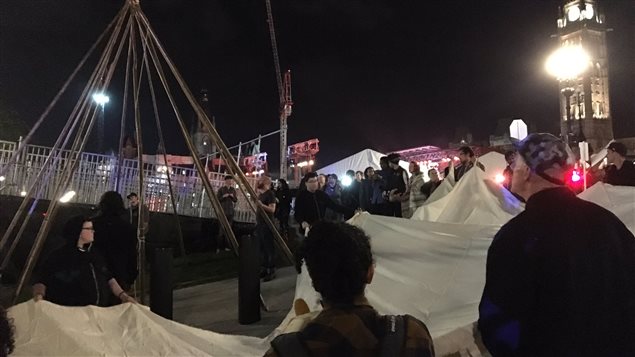 Huge crowds are expected, up to 500,000 people are expected in and around the ceremonies, and in light of recent world events, security will be tight.
Aboriginal groups however have begun protesting the 150 celebration saying such things as it's a celebration of "colonization".
Last night, a group of about 60 demonstrators tried to erect a protest teepee on the grounds but were prevented by police from entering the Parliamentary grounds. Both sides refused to budge.
CBC runs video

Ten people were arrested, but released later.  Early this morning however the teepee was allowed to go up on the edge of Parliament property and police placed barriers around it separating it from the rest of the Parliamentary lawn and preventing protestors from moving further into the grounds.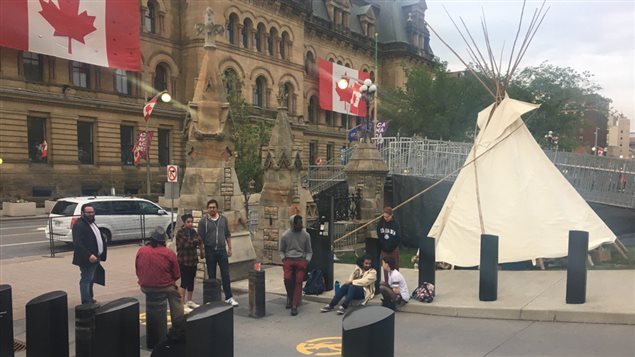 Demonstrators say the teepee which will remain throughout the weekend, is part of a "reoccupation" ceremony on what the claim is unceded Algonquin aboriginal land.
additional information- sources