Canada is extending its military mission against ISIS by another two years, Defence Minister Harjit Sajjan and Foreign Affairs Minister Chrystia Freeland said in a joint statement today.
The mission will now go to March 31, 2019.
The extension includes providing training for new potential partners within the Iraqi security forces and a CC-130J Hercules aircraft for tactical airlift.
"Our new defence policy has made it very clear that Canada is ready and willing to do its part for the global community," Sajjan said in a statement.
"This includes confronting security issues that threaten our shores and those of our allies and partners. We must continue working with the Global Coalition against Daesh and to address the security challenges which confront Iraq, Syria and the region," he added using the Arabic acronym for ISIS.
Aircraft, field hospital and special forces
Canada will also continue to contribute existing capabilities, including aerial refueling and surveillance aircraft, tactical helicopters, training, advising, and assisting Iraqi security forces, capacity building in Jordan and Lebanon, a field hospital and a contingent of special forces, and intelligence support.
The extension includes the authority to deploy up to 850 Canadian troops to the region.
This extension is expected to cost Canada about $371.4 million over two years.
Combat or advise and assist?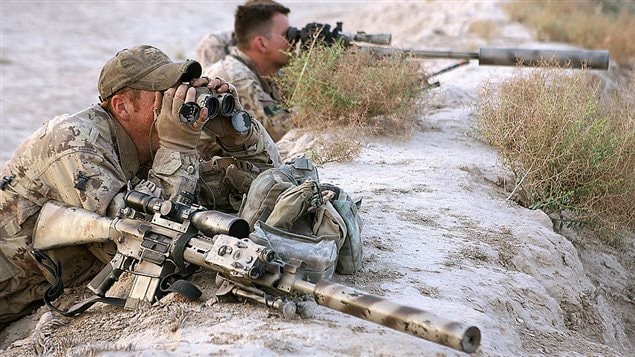 It also comes as debate rages over whether Canada is actually involved in active combat in northern Iraq, after a Canadian special forces sniper shot an ISIS fighter from a record 3,540 metres, the longest confirmed kill shot in military history.
Prime Minister Justin Trudeau dismissed criticism from the opposition New Democratic Party that the record-breaking sniper shot "seriously calls into question your government's claim that Canadian forces are not involved in direct combat in Iraq."
Trudeau said the shot was to be celebrated, and it was "entirely consistent" with Canada's advise and assist role.
Lifesaving shot
The record-breaking shot saved lives of Iraqi security forces, the deputy commander of Canadian special forces said Wednesday.
The shot killed one fighter and sent the rest scattering for cover, effectively breaking up a surprise attack, said Brig.-Gen. Peter Dawe.
"This attack was massing unbeknownst to our partner forces, because it was happening very quickly in a very dynamic sort of environment," Dawe said.
"And so our team was able to engage, and not only successfully that particular enemy fighter, but pre-empt a mass attack. So that's a significant achievement."
On Thursday, Chief of the Defence Staff, Gen. Jonathan Vance said he is "extremely proud" of the CAF accomplishments in the region.
"As the situation on the ground evolves, we must continually re-evaluate how Canada's military can be most effective in support of the coalition," he said. "I am confident these additional authorities will help us be more agile and flexible as we respond to the needs of our allies and partners."
With files from CBC News and The Canadian Press