More than 5,000 athletes from across North America are in Toronto this week to take part in the North American Indigenous Games (NAIG), which are being held in Eastern Canada for the first time in 25 years.
The opening ceremony was held on Sunday in a packed stadium at the Aviva Centre in Toronto's North York suburb.
Athletes waving flags marched around the central stage, as an enthusiastic crowd did the wave and cheered.
Taboo from the Black Eyed Peas and A Tribe Called Red were among the artists who entertained the audience.
The Canadian anthem was sung in English, French, and Anishinaabe Indigenous language.
Athletes between the ages of 13 and 19 will be competing in 14 sporting categories. Athletes competing in the NAIG must be born of North American Indigenous ancestry.
To watch and follow along the North American Indigenous Games, visit cbc.ca/naig. 
Basketball, badminton, baseball and rifle shooting all kick off across Toronto on Monday; while the city of Hamilton will host soccer, softball and lacrosse tournaments.
Canoe and kayak, wrestling and golf contests begin on Tuesday. Volleyball starts Wednesday, while wrestling wraps up with gold medal matches at the Toronto Track and Field Centre.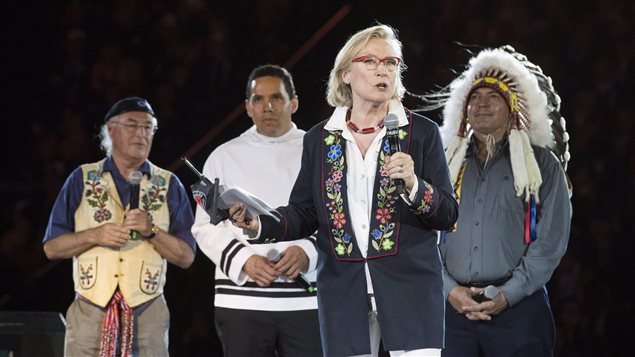 On Thursday, swimmers convene for a two-day meet at the Toronto Pan Am Sports Centre at the University of Toronto's Scarborough campus.
Gold medalists in eight sports will be determined on Friday.
The Games wrap up on Saturday with soccer and volleyball championships.
A birch bark canoe affixed with panels designed by NAIG teams will be carried in a ceremonial walk at Toronto's Harbourfront to honour more than 2,000 volunteers at the Games.
The first Games were held in 1990 in Edmonton, Alberta, and have been staged on seven other occasions since then, in various locations throughout Canada and the United States.
The Toronto Games are being held on the traditional lands and homelands of the Huron-Wendat Nation, Metis Nation of Ontario, Mississaugas of the New Credit First Nation, Mississaugas of Scugog Island First Nation and Six Nations.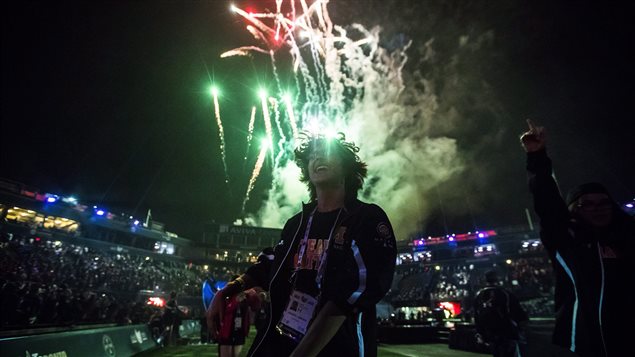 With files from CBC News