One of the two men found guilty of plotting to derail a passenger train travelling between New York and Toronto is seeking to appeal his sentence as well as his conviction, saying mental illness during his trial prevented him from making rational decisions about his case.
In documents filed Wednesday with Ontario's top court, Chiheb Esseghaier said his original appeal notice targeted his conviction alone because he was unable to understand the severity of his life sentence.
"At the time I filed that notice, I was very ill. I suffer from schizophrenia," he wrote.
"I was suffering from delusions and believed that I would die and my soul would ascend to heaven on December 25, 2014. Because of this delusion, I did not believe that the life sentence imposed was real and did not want to acknowledge the existence or legality of the sentence by appealing it."
He began taking antipsychotic medication after he was transferred to a prison in British Columbia and eventually realized the gravity of the sentence, Esseghaier said.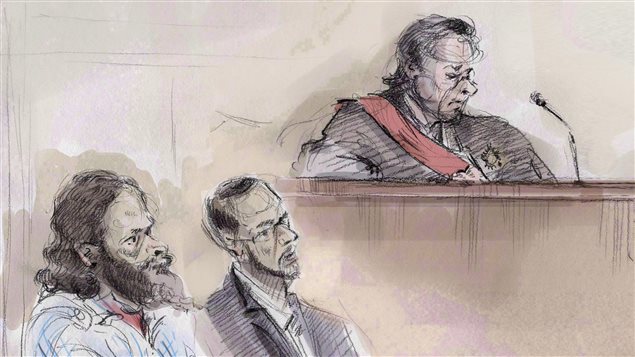 The Tunisian national, who exhibited bizarre behaviour during the trial and refused to acknowledge the legitimacy of the court proceedings against him, alleges his mental illness had an impact on his conviction and sentence. Esseghaier argues that he was unfit to stand trial.
Esseghaier and his co-accused, Raed Jaser, were found guilty in 2015 on a total of eight terror-related charges between them.
They were sentenced to life in prison, with no chance of parole until 2023. Jaser is also appealing his conviction.
Concerns about Esseghaier's mental state were raised during the sentencing phase of his trial.
Two psychiatric assessments found he likely had schizophrenia but Esseghaier, who refused a lawyer and represented himself at trial, disagreed with the findings. In addition, one of the psychiatrists who assessed him still found him fit to be sentenced.
With files from The Canadian Press