Daisy Peterson Sweeney died on Friday August 11th, at the age of 97.
The much-loved and admired piano teacher taught some of Canada's jazz-greats, including her younger brother Oscar Peterson, and neighbour, Oliver Jones, among hundreds of others
"They all wanted to please Mrs. Sweeney; you know every student, they didn't want to disappoint her."
Daisy Peterson Sweeney was also a trail-blazer, in a sublte hard-working fashion.
Her daughter Sylvia Sweeney is a former Olympic athlete and inductee into the Basketball Hall of Fame. She is now a broadcaster and producer who once worked at Radio Canada International and CBC.
Listen
Sweeney describes her mother's determination, working as a domestic or housekeeper, to earn a living while earning a certificate in music at McGill University.
"Her employer said she didn't need to have a degree to scrub her toilets, and fired her" Sylvia recounts, just one of many racist encounters black people endured in those days.
She would say, "You never leave anything, you go to something."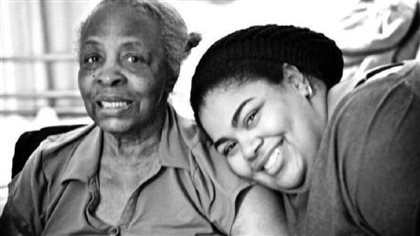 The eldest daughter in the family, Daisy was sent by her father, to the best piano teacher there was at the time, and then she was to teach her brothers and sisters, as he could not afford to send them all.
"It was really a way of them learning how you overcome obstacles and reach to levels that you may not have imagined you could attain"
Born on May 7th, 1920 in the St. Henri area of Montreal, Daisy Peterson was growing up at a time when the opportunities for black men and women were limited… while the men worked as porters or conductors on the railway lines across Canada, women got work as domestics.
But it didn't limit Daisy Peterson. Her studies at McGill earned her the respect and admiration in the faculty at McGill that paved the way for many of her students.
"Children were her passion, family was her passion and church was her passion"
Daisy Sweeney was a gifted teacher, and she demanded her students do their best. Sylvia Sweeney explains the motivation behind her mother's instinct to push:
"We're touched at a visceral level through people who are talented, people who we admire. So they dropped the adjectives of black and coloured and white and they just say "great musician",  "great Canadian", "great ambassador".  And that's where she wanted us to live, she wanted all of her students to live, was in a community where they're seen as contributing to that community, and more important, elevating that community."
Sylvia Sweeney clarifies that this wasn't an unwanted pressure, that enjoying the pursuit of excellence was a necessary aspect. "She would say, "You never leave anything, you go to something." That was her mother's motto.
Daisy Peterson Sweeney received an honorary doctorate from Laurentian University in 1987.
Then In 2005, during the festivities for the 180th anniversary of Montréal's Lachine Canal, an engineering feat in its day, a series of four gospel concerts were dedicated in Daisy's honour.
For over 40 years, Sweeney taught music to Montrealers, and she was a mainstay in the Negro Community Centre
Along with Trevor Payne, Daisy Peterson Sweeney was co-founder of the Montreal Black Community Youth Choir, which then became the Montreal Jubilation Gospel Choir.
Sylvia Sweeney would like to see her mother remembered in a renewed appreciation of teachers, but perhaps one of the ways she will be honoured is in Sylvia's own upcoming project.
The ArtsGames, which is planned to premier during the 2018 Olympic season will revive the former Olympic tradition of recognizing excellence in the arts with gold, silver and bronze medals also.
There will be a public funeral service Saturday morning at Union United Church in Montreal.
(With files from CBC)