A Swiss couple who moved to a community near Halifax, Nova Scotia, four years ago have already left their mark.
Lorraine and Hervé Burri invested $400.000 (Cdn) of their own money, to create a park in Enfield.
"It hasn't been without struggles and challenges but it really makes us feel good"
Now known as St. Bernard's Park, it was created in what was an unused muddy area between St. Bernard's Catholic Church, and the Enfield volunteer fire department.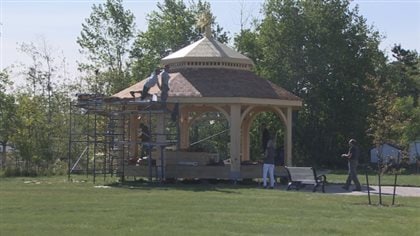 The church owns the hectare of land that is now home to 25 different types of trees, over 100 different varieties of flowers, and even 20 different types of grass.
"I think it was something that [my wife] had on her heart for a long time anyway, to do something for the community, and it was Enfield," Hervé Burri, told CBC News.
"I don't want to say that's the only way to do it but it was a good way to do it, that we pay for it."
Hervé Burri was an architect and Lorraine owned a pharmaceuticals company but the couple is now retired.
They've also committed to pay for the maintenance of  the park over the next 20 years.
Hervé told CBC he wants share the peace and serenity with visitors when they sit and rest on one of the benches.
"Look around and look at the flowers, have a nice time," he said in an interview Thursday at the park.
Lorraine, who led the project, is expecting 15,000 tulips and daffodils growing in the park next spring. She also has plans for a metal compass rose which will feature 80 different cities.
Lorraine Burri explained the motivation to CBC, "We get a lot of joy,"
"It hasn't been without struggles and challenges but it really makes us feel good. We're really pleased that we've been able to accomplish this and it's been a great project."
The Burri's approached the Municipality of East Hants and the church a year ago to discuss their idea.
Cecil Dixon, an Enfield politician, described the resulting park as "overly amazing".
"It's such a nice thing and it's hard to believe the investment, the quality of the trees," said Dixon. He compared it to Halifax Public Gardens.
"To me it's amazing that someone would take the time to develop it and put the money into it. I mean it's at no cost to the church or to the taxpayers at all."
The municipality took care of the permits and will assist with the water supply, and the fire department installed the outdoor faucet for watering the grounds.
And the generosity has been contagious. Four local landscaping companies, who usually compete, all worked together on it.
Corridor Community Options for Adults, a local centre that provides vocational training and programs for people living with intellectual disabilities, will have two people water the park each morning.
All that's left is the official opening, and on Sunday, Anthony Mancini, the Roman Catholic archbishop of Halifax and Yarmouth, will dedicate the park.
(With files from CBC)