Authorities in the Pacific Coast province of British Columbia issued an evacuation order affecting about 1,100 people living east of the city of Kelowna Thursday because of the threat of a wildfire.
Fire crews from the Joe Rich, Kelowna, Ellison and Lake Country departments in the provinces interior along with the BC Wildfire Service were fighting the blaze that was reported shortly after 1:30 p.m.
The wildfire service says the blaze located roughly 25 kilometres from Okanagan Lake has grown to about 380 hectares in size. Authorities are investigating the cause but it's suspected to be human-caused.
A reception centre for evacuees was being set up at a church in Kelowna.
BC Wildfire Service information chief Kevin Skrepnek said 154 fires are currently burning in the province, including 20 new fires that started Wednesday. Since April 1, the province has registered 1,099 fires in what has been a record-setting wildfire season so far, Skrepnek said.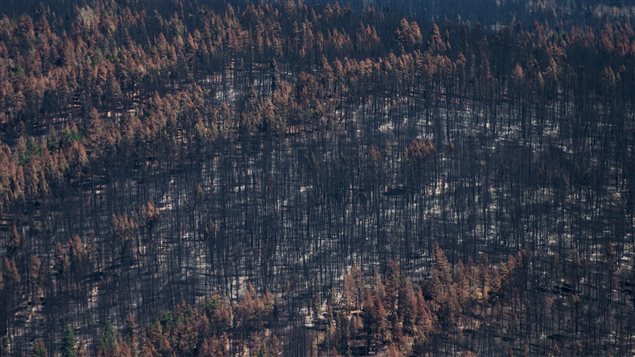 The fires have destroyed about 10,262 square kilometres of forests, and area the size of Lebanon.
Authorities have deployed about 3,800 people, including more than 600 reinforcements from outside of the province, as well as 172 aircraft to fight the blazes.
The largest fire in the province's recorded history continues to burn on the Fraser Plateau and covers an area of about 4,570 square kilometres.
More than 400 firefighters, backed up by more 150 pieces of heavy equipment, are fighting the blaze.
Stormy weather with wind gusts of up to 80 km/h makes the job of putting out the fires even more difficult, Skrepnek said.
The province's coastal areas and the interior have received some rain in recent days but not enough to smother the wildfires. And the strong winds that the weather system brought with it remain the wildcard, Skrepnek said.
In the meantime, calmer conditions in other parts of the province have allowed authorities to reopen some of the backcountry sites and trails in the B.C. interior, Skrepnek said.
However, some restrictions remain around active fire areas, where authorities have set up 5- to 10-kilometre buffer zones.