Diana, the former Princess of Wales, died 20 twenty years ago, and if you were alive at the the time, chances are you remember when you heard the news.
The charmed but troubled life of Diana Spencer ended in the Pitié-Salpêtrière Hospital, in Paris, France, when she was 36.
"My God, what's happened?"
Xavier Gourmelon, is the firefighter who managed to get Diana out of the car following the crash in the Pont de l'Alma tunnel that night,
He shared his memory of the experience for the first time, as he is now retired from the job.
When she suffered cardiac arrest after being removed, he resuscitated her.
"The car was in a mess and we just dealt with it like any road accident," he told The Sun. newspaper. "We got straight to work to see who needed help and who was alive. Diana said to me, 'My God, what's happened?' "
"The woman, who I later found out was Princess Diana, was on the floor in the back," he added. "She was moving very slightly and I could see she was alive. I could see she had a slight injury to her right shoulder but, other than that, there was nothing significant. There was no blood on her at all."
Some of the Canadians who met the Princess on the Royal Couple's first visit to Canada in 1983 shared their memories with the CBC.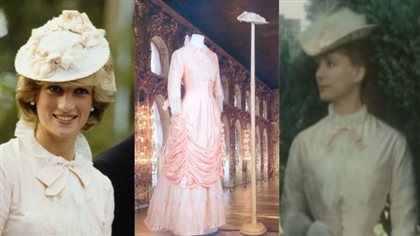 The first visit of the Royal Couple, Prince Charles and Princess Diana, began in Halifax, Nova Scotia on June 14, 1983.
The 17-day tour took them from Atlantic Canada, to Ottawa and then on to Edmonton, Alberta.
In Newfoundland, Diana stopped to talk with Wendy Martin who handed her a little gift for baby William, who at 14 months old, was back in London.
Martin was amazed a couple of weeks later, when she received a thank you note from an aide to the princess.
"She just seemed like a very likeable person. She seemed very sincere and very real, and I think it was probably at a time when the Royals needed a bit of that," Martin told CBC, now 34 years later.
At their first stop in Edmonton, the Royal Couple donned period costumes, in keeping with the era of Fort Edmonton Park. But Diana's gown had a cheeky subtext.
Pat Lobregt, who helped arrange the Edmonton stay, remembers Diana looking stunning in the 1890's style-gown.
First worn by the actress portraying Lillie Langtry in the hit British mini-series called Lillie, which Diana had loved. The series was based on the story of Langtry, a young socialite of great charm and beauty, who had an affair with Edward VII, Prince Charles' great-great grandfather.
Michael Smith, who now owns the dress, and has researched its history, contends that Diana knew what she was doing in wearing the dress.
"She was aware of the affair between Camilla and Charles, but there wasn't much she could really do about it," he says, foreshadowing Diana's rebellious streak.
"It's the context. It tells something about the period, when she wore it, why she wore it."
According to Lobregt, "She wore it beautifully and was extremely elegant."
Both Smith and Lobregt agree Diana brought a new spirit to the Royal Family and royal engagements.
"The legacy she left are her two incredible children. And she raised them as long as she was able to in such a beautiful way that they are now incredible, I think, incredible human beings." Lobregt said.