Aging in place is what most seniors want to do.
But those who want to remain in homes where families were raised, might want to take a second look at what's happening in some Toronto condominium buildings.
Communities are now developing in some of these dwellings, around the lifestyles and needs of the elderly.
 "My nightmare is being cut off from the world and from stimulus"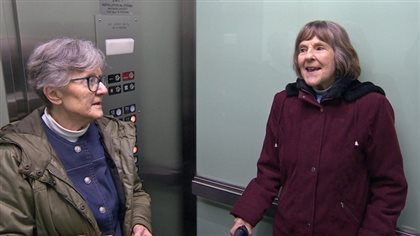 Canada's senior population is becoming increasingly larger.
Indeed centenarians, those people over 100 years of age, are one of the fastest growing groups in Canada.
According to recent statistics, there there were 8,200 centenarians in 2016, up 41 per cent since 2011.
And more amazingly, in Toronto, Canada's largest and most culturally diverse city, within 20 years, one in four people living there will be over the age of 65.
Already the province of Ontario has more people over 65 than under 15 due to the dropping birth rate.
The demographic shift, often referred to as the Grey Tsunami, has been talked about and forecast for several years now.
The reality, however, is beginning to take shape as people continue to retire from full-time work and face a new time in their lives.
For Julie Beddoes and Penelope Tyndale, now in their '80's, the urban life in the heart of the city can't be beat.
"I've always dreaded being somewhere where I'm not part of the bigger world … It doesn't matter how good the food is, or how great the gardens are in a [retirement] home — you're on planet zed. You're not part of the larger universe," Beddoes told the CBC's Dwight Drummond.
Tyndale thinks the same way. "My nightmare is being cut off from the world and from stimulus," 
Tyyndale is currently taking four courses at the University of Toronto. and is a regular patron at downtown concert halls.
While the Ontario Government actively supports seniors in their independent living, there can be issues in condominiums when some people begin to decline.
New social and legal issues are being addressed.
When a resident develops dementia and begins to leave the stove on, Does the condo board have the right to remove the stove, as was the case in one Toronto building when a 90-year old resident repeatedly did so.
In this case the stove was removed and the unit owner's family agreed.
But there have also been cases where the family assumes the condo board will watch over their parent .
These are just some of the realities more condominium boards will have to face in the future, as people continue to downsize from single-family homes into condominium apartments.
And as for the societal issues Julie Beddoes is very clear:
"The world seems to infantilize old people … and there's always quaint little stories about people taking their dogs [to retirement homes] but I don't want people to bring their pets, I want to go and change my library book!"
"We want to be out in the world. People visiting us and bringing their pets is condescending and infantilizing."
The two women started a group called "Aging in Place" that addresses all these issues, and breaks the social isolation that is now being identified as one of the most damaging aspects of old age.
With files from CBC