Lac-Mégantic is still recovering from the calamity that struck on the night of July 6, 2013, when a runaway train exploded in the middle of the lakeside town.
Three men were in court in Sherbrooke, Quebec today, as the trial got underway.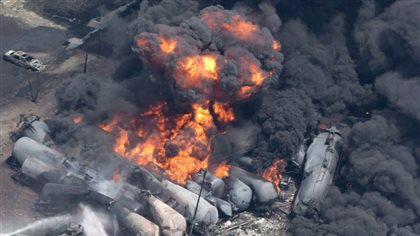 They are Thomas Harding, 56, the engineer and conductor of the train, Richard Labrie, 53, the railway traffic controller and Jean Demaitre, the operations manager for the railway company, Montreal, Maine & Atlantic Railways.
The men are each charged with 47 counts of criminal negligence causing death, one count for each of the people killed in the explosion.
The company has since gone bankrupt,
The three accused entered pleas  of 'not guilty'.
At 1:15 a.m. on July 6th, the runway train that had travelled 11 kilometres on a downward grade, with 72 oil tankers, derailed and exploded in the heart of the town of Lac-Mégantic.
More than a thousand potential jurors were screened for their ability to understand and speak both English and French, and to determine their impartiality toward the accused and grant exemptions.
Four women and 10 men sworn in as jurors last week.
In Canada, the maximum sentence for a charge of criminal negligence causing death, is life in prison