Exactly 100 years ago on December 6 1917, the bustling Canadian port city of Halifax Nova Scotia was destroyed. Some 2,000 people died, immediately or shortly thereafter, and another 9,000 suffered a variety of injuries.
It was surely one of the worst domestic tragedies in Canadian history.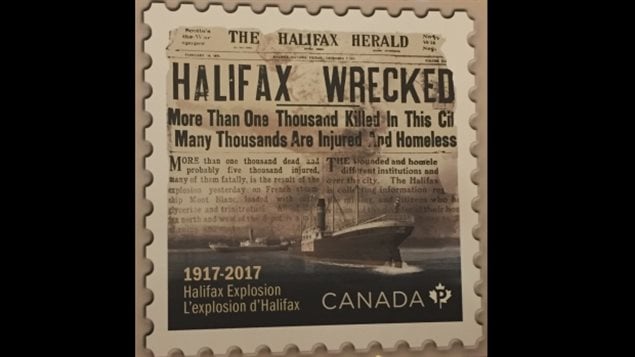 It is now being commemorated in a Canada Post stamp, released in time for the 100th anniversary a month from now.
At the time the port was an extremely busy shipping centre both as a stopover for trans-Atlantic shipping,  and a major loading point for supplies being sent to the war in Europe.
That December morning a fully loaded French munitions Mont Blanc ship was heading into the port through the passage known as the "narrows", as a Norwegion freighter Imo was heading out laden with Belgian humanitarian relief cargo.
The ships conflicting signals soon indicated that the they would cross paths and both had cut their engines but still collided at low speed. Barrels of highly flammable benzol spilled in the Mont Blanc and when the Imo reversed and pulled free of the French ship, sparks from the grinding metal set the fuel afire. The crew aboard the French Mont Blanc immediately abandoned what they instantly realised was a doomed ship which then began floating towards the city.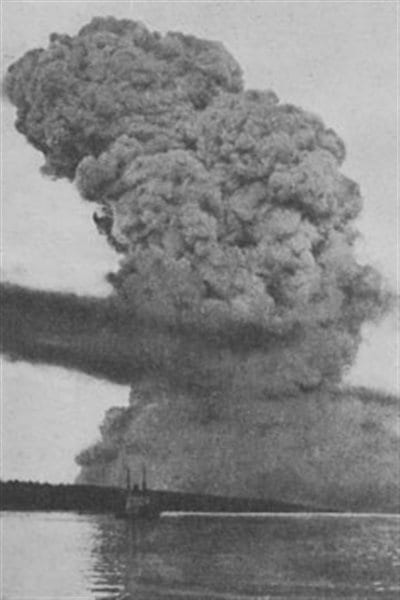 No one understood the French-speaking crew's shouts of imminent danger as they rowed furiously away.
About 20 minutes later, the fire had spread across the burning munitions ship which blew up in catastrophic explosion in what was at the time the biggest man-made blast in history.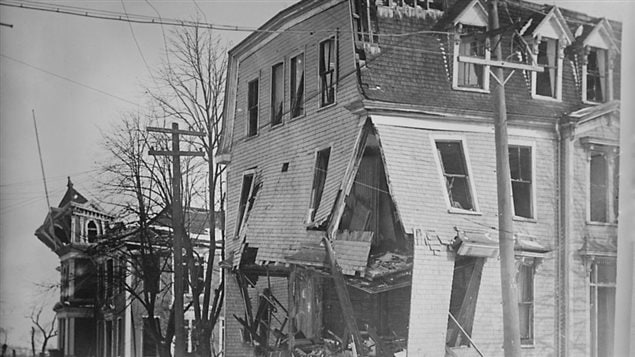 It obliterated the nearby parts of the city completely while the shock wave blew out nearly every window in the city.  The massive wall of water in the harbour created a tsunami which took out parts of the city of Dartmouth on the opposite shore.  Parts of the ship itself were later found several kilometres away.
It was a tragedy that cost thousands of lives, and devastated the city, and although relief efforts began immediately, they were hampered by a winter blizzard that night and following dya which blanketed the area with about 40cm of snow, and cold.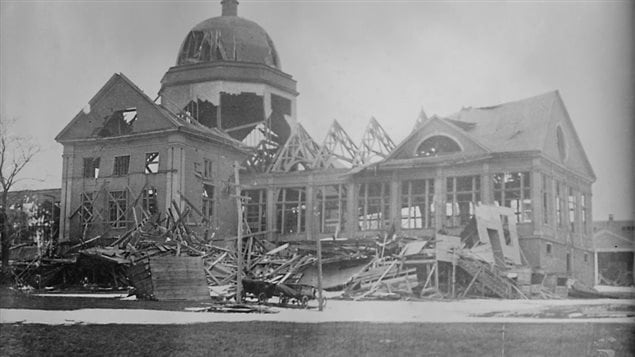 Thousands of the injured were also left blinded by flying glass as they had been watching the burning ship in the harbour from their windows which were shattered by the shock wave. This led to the creation of what is now highly respected Canadian Institute for the Blind.
It is an incident that has forever marked the city, and on this 100th anniversary has been commemorated in this new stamp.
additional information – sources