Congratulatory messages from around the world are pouring in as Queen Elizabeth II and her husband Prince Philip marked their 70th wedding anniversary of on Monday with a peal of bells, a set of portraits and some commemorative stamps.
Congratulations to Her Majesty The Queen and His Royal Highness The Duke of Edinburgh who are celebrating their 70th wedding anniversary today. https://t.co/lYbA701YkO

— GGJuliePayette (@GGJuliePayette) November 20, 2017
Sending my best wishes to Queen Elizabeth & the Duke of Edinburgh, celebrating 70 years of marriage today!

— Justin Trudeau (@JustinTrudeau) November 20, 2017
The royal couple first met in 1934 at the wedding of Princess Marina of Greece and Denmark to Prince George, Duke of Kent.
Their engagement was officially announced on 9 July 1947.
The then-Princess Elizabeth married naval officer Lt. Philip Mountbatten at Westminster Abbey on Nov. 20, 1947.
The Queen (then Princess Elizabeth) was the 10th member of The Royal Family to be married at Westminster Abbey.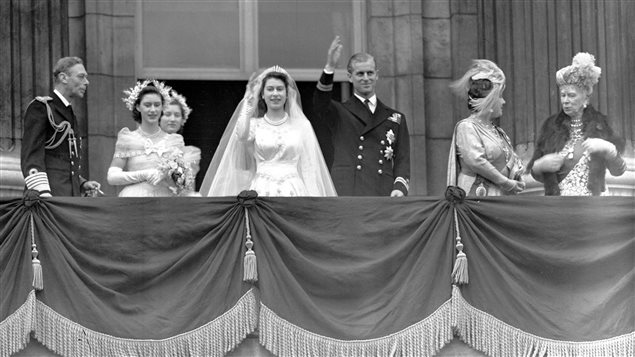 Wartime Prime Minister Winston Churchill described the ceremony with 2,000 guests in attendance as "a flash of colour on the hard road we travel" as Britain was still recovering from the ravages of World War II.
The Queen's wedding dress, made from ivory silk and decorated with crystals and 10,000 seed pearls, was designed by Norman Hartnell. In 1947 Britain was still subject to rationing, so the then-Princess Elizabeth, collected clothing coupons to pay for the dress
It was the first internationally broadcast royal wedding in history.
The couple will celebrate their Platinum anniversary at a private dinner in Windsor Castle.
Queen Elizabeth, 91, is the first British monarch to celebrate a platinum wedding anniversary.
The royal couple has four children, eight grandchildren and five great-grandchildren.