In 1997, an inquiry into a catastrophic tainted blood crisis concluded that people should not be paid for blood donations, yet the Canadian government is about to approve the opening of a third, private, for-profit clinic. The Canadian Health Coalition says it has obtained documents that show officials of the government's own health department helped a private company set up its commercial activities and "were supporting the lobbyists in a public relations strategy."
'A massive breach of public trust'
"The reason why they (the documents) are so incendiary is because Health Canada, as the regulator of the blood system, is only meant to keep the actual blood system itself safe and the products safe. They are not supposed to be working with another blood operator in the country to undermine Canadian Blood Services," says Kat Lanteigne, executive director of BloodWatch which is part of the coalition.
"So, it's a huge breach of public health protocol and a massive breach of public trust."
Listen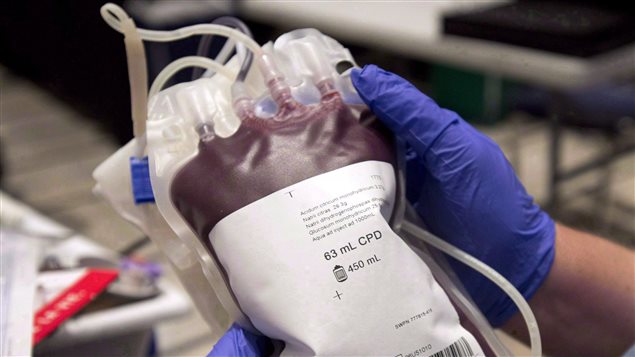 Tainted blood killed 8,000 Canadians
Canadian Blood Services is a public agency that was created after thousands of Canadians contracted illnesses from receiving contaminated blood. About 30,000 people contracted hepatitis C, 2,000 were infected with HIV and 8,000 people died.
The agency does not pay for blood donations although it does pay for three-quarters of the plasma that is needed to make medications and that it buys from the United States.
Canadian Blood Services is trying to increase the number of donations so it can become self-sufficient. But Lanteigne says where there are paid donors, volunteer donations decrease and that undermines the public blood system.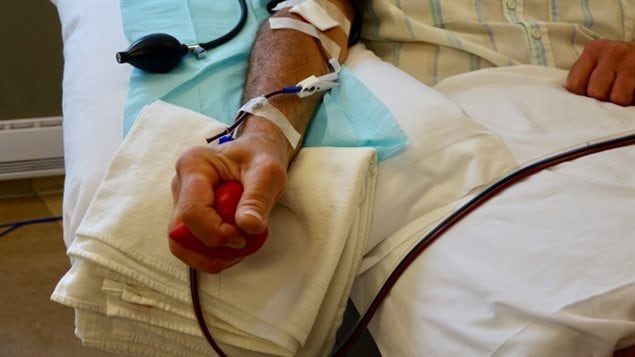 Paid donations said to be unhealthy for donors and recipients
She also says paying for donations creates an unhealthy environment for the donors and possibly, for those who use blood and blood products: "In the economic crisis that is happening in the world but also in the United States, there's literally line-ups of people who are…going in there and selling their plasma twice a week just to make ends meet…It is a known fact that when you pay people to sell their human tissue they tend to get desperate and not tell the truth on their donor forms in order to get the money."
Lanteigne says people may not admit they are ill and that while we we have the technology to screen for the blood-borne viruses that we have today, "you never know what new virus could come into the blood system so it's really important to be as risk-averse as possible when you are collecting blood and plasma."
Some provinces already ban private sales
Survivors, their families and people who used medications made from plasma make up BloodWatch. They have joined with the Canadian Health Coalition, made up of nurses' unions, other unions, church groups and other health advocates to ask the government to rescind the licences of paid blood donor clinics, to apologize to the tainted blood community, to create a special day to raise awareness about the tainted blood scandal annually and to pass a law banning the private sale of plasma and blood. The provinces of Alberta, Ontario and Quebec have already passed such laws.