Christmas trees are going up in all their glory in many places around the world these days.
And this week the police department in the Canadian city of Sudbury, Ontario, took notice of their colleagues in Sudbury, Massachusetts, in warning people "not" to do this!
An officer stopped the covered vehicle near the town, located about 25 miles west of Boston.
The department posted the photo to Facebook reminding drivers to transport their trees "responsibly."
While many people unpack the artificial tree from the box, many others still go for the real thing.
But getting the evergreen tree the forest or the lot, to its final holiday perch can be  a major undertaking, Even when it's not as big as the one above.
Meanwhile, in the centre of Boston, the annual gift of a major tree from the Canadian province of Nova Scotia, is in progress.
A 16-metre white spruce gift from Cape Breton, Nova Scotia this year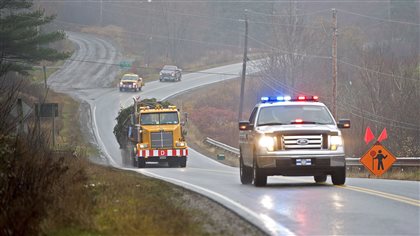 Tomorrow, November 30th, this year's tree, a 16-metre white spruce donated by the Campbell family of Cape Breton, will be illuminated in the annual lighting ceremony.
This is the 100th anniversary of the tragedy, known as the Halifax explosion. that evoked the generous American response.
On December 6, 1917, the Mont Blanc, a French ship in Halifax Harbour was preparing to leave for Europe to fight in WWI.  
It was loaded with munitions when it collided with another ship and caught fire.
When the flames reached the cargo the ship exploded, killing more than 1,000 people and destroyed entire neighbourhoods in Halifax.
Both the mayor of Boston, James Curley, and the Massachusetts governor at the time, Samuel McCall responded immediately.
The governor sent a group of doctors, nurses and aid workers along with medical supplies from Boston to Halifax.
The group travelled the 1100 kilometres by train and was delayed by a severe blizzard.
As Halifax struggled to recover, Bostonians continued to send groups of aid workers, supplies, and funds.
Since 1971, Nova Scotia has made a gift of a magnificent tree, and the transportation, in gratitude.