Ottawa has no intention of following Washington's example in officially recognizing Jerusalem as the capital of Israel and moving the Canadian embassy there from Tel Aviv, Foreign Affairs Minister Chrystia Freeland said Wednesday.
The Canadian reaction came following President Donald Trump's decision Wednesday to reverse decades of U.S. policy and recognize Jerusalem as the capital of Israel, despite warnings from around the world that the gesture further drives a wedge between Israel and the Palestinians.
''Canada is a steadfast ally and friend of Israel and friend to the Palestinian people," Freeland said in a statement.
"Canada's longstanding position is that the status of Jerusalem can be resolved only as part of a general settlement of the Palestinian-Israeli dispute."
Canada is committed the goal of a "comprehensive, just and lasting peace in the Middle East, including the creation of a Palestinian state living side-by-side in peace and security with Israel," Freeland said as she called for calm.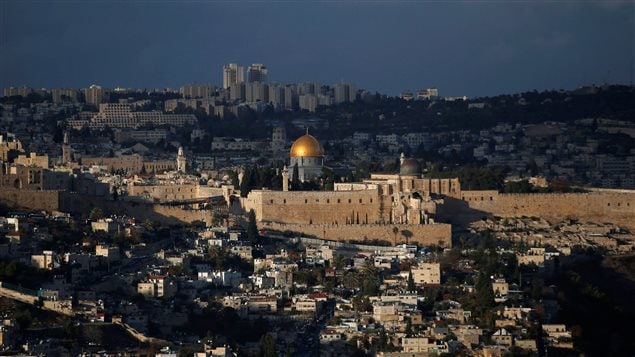 The status of Jerusalem — home to sites holy to the Muslim, Jewish and Christian religions — has been one of the thorniest issues in long-running Mideast peace efforts.
Israel considers the city its eternal and indivisible capital and wants all embassies based there.
Palestinians want the capital of an independent Palestinian state to be in the city's eastern sector, which Israel captured in the 1967 Six-Day War. Israel's subsequent annexation of eastern Jerusalem has never been recognized internationally.
This has been the policy of consecutive Canadian governments, both Liberal and Conservative, said in a statement Adam Austen, Freeland's press secretary.
However, some Jewish-Canadian organizations urged the Liberal government to reconsider.
"Since the re-establishment of the modern State of Israel, Jerusalem has been the home to Israel's democratically elected parliament, independent supreme court and national government offices," the Centre for Israel and Jewish Affairs said in a statement.
"We have always maintained that Canada should formally recognize Jerusalem as the capital of Israel."
In a speech at the White House, Trump said his administration would also begin a process of moving the U.S. embassy in Tel Aviv to Jerusalem, which is expected to take years.
Listen
In Israel, Prime Minister Benjamin Netanyahu said his nation was "profoundly grateful" and Trump's announcement was an "important step toward peace."
However, Palestinian President Mahmoud Abbas said Wednesday that the U.S. shift "is a declaration of withdrawal from the role it has played in the peace process."
With files from Reutes and The Associated Press