Kinder Morgan does not have to comply with two sections of bylaws in Burnaby, British Columbia, as the company prepares to begin work on the $7.4-billion expansion of its Trans Mountain pipeline, Canada's federal regulator, the National Energy Board ruled Thursday.
The 1,150-kilometre pipeline built in 1953 currently carries about 300,000 barrels of oil per day from the oil sands in northern Alberta to the Pacific Coast in Burnaby.
The project to expand the pipeline is expected to nearly triple its capacity to 890,000 barrels per day, raising concerns among opponents of the project of possible oil spills, as well as increased tanker traffic in the narrow waterway.
The NEB order says the company is not required to comply with two sections of the city's bylaws that required the company to get preliminary plan approvals and tree-cutting permits prior to beginning construction in the area.
"We are pleased with the decision we have received from the NEB today, as it reinforces our view this federally approved Project is in the national interest," Ian Anderson, president of Kinder Morgan Canada, told the CBC in a statement Thursday.
"We await the NEB's decision on our second motion requesting the establishment of a generic process."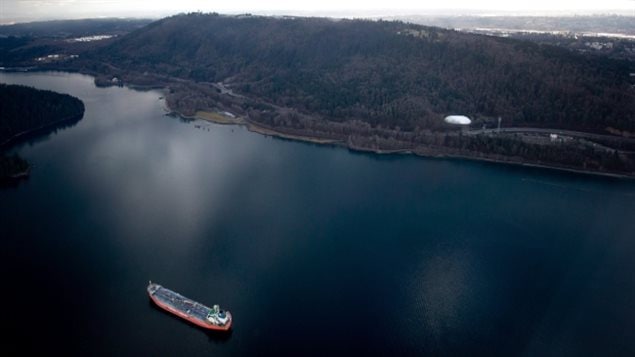 Kinder Morgan had filed a motion to have the NEB overrule the bylaws on a constitutional basis, claiming that municipal authorities were delaying a project approved by the federal government.
The company told the NEB its attempts to secure permits for actions like tree removal and fence installation ahead of construction of oil storage and loading facilities in Burnaby were stalled due to municipal red tape.
"It is apparent that for the most part, [the NEB] rubber-stamp what Kinder Morgan wants, so it doesn't surprise me at the end of the day," said Burnaby Mayor Derek Corrigan.
"It's frustrating because we were dealing with them in good faith. We were proceeding through the processes and the requirements that the city has to protect our local environment and our ecology and the process within the city."
The Liberal government of Prime Minister Justin Trudeau approved the Trans Mountain Expansion Project in November 2016, following a 29-month review of the proposal by the NEB, which concluded the project was "in the Canadian public interest" despite strong protests by environmental and some Indigenous groups that continue to oppose it.
With files from CBC News