The federal government is working to beef up its ability to present simultaneous translation of the House of Commons proceedings from English and French into Indigenous languages and vice-versa, according to documents obtained by CBC News.
Currently simultaneous translation is offered only in English and French, Canada's two official languages.
However, offering interpretation services in Canada's Indigenous languages presents a huge logistical challenge.
According to the 2016 census, there are 70 Aboriginal languages in Canada divided into 12 language families: Algonquian languages, Inuit languages, Athabaskan languages, Siouan languages, Salish languages, Tsimshian languages, Wakashan languages, Iroquoian languages, Michif, Tlingit, Kutenai and Haida.
The latter three languages now have fewer than 500 speakers each.
Documents obtained by CBC News under the Access to Information Act warn that "the capacity of qualified freelance interpreters in Indigenous languages is extremely limited."
"The [Translation] Bureau is working to develop this capacity and has assigned a senior interpreter to work on assessing and building capacity. Other factors to be considered are related to security clearance, travel (distances and costs are significant), and the ability to assess language skills in Indigenous languages, which is limited, as well," says an internal briefing note from Public Services and Procurement Canada (PSPC), obtained by CBC News.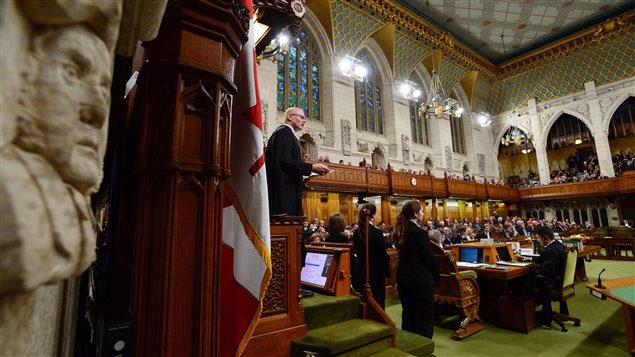 The issue came to the fore when Liberal MP from Winnipeg Robert-Falcon Ouellette gave a speech in Nehiyo, or Cree, in the House of Commons on May 4. Despite providing 48 hours' notice of his speech, Ouellette was unable to ensure that his oration was interpreted into English or French.
The 2016 census reported 1.67 million Indigenous people in Canada in 2016, accounting for 4.9 per cent of Canada's total population.
The number of Indigenous Canadians able to speak one of the 70 Aboriginal languages has also grown to 260,550 to speakers, an increase of 3.1 per cent since 2006. But decades of government policy to assimilate Indigenous Canadians and eradicate their unique and diverse cultures under the infamous Indian Residential School system have taken a very heavy toll.
Several Aboriginal languages are now "endangered," with few speakers, although a few others are considered "viable" in the long term, according to Statistics Canada.
Ouellette says the Translation Bureau could start with five to 10 Indigenous interpreters, require 48 hours' notice from MPs and launch the service with the more common languages such as Cree, Ojibway and Inuktitut.
But Ouellette says something needs to happen soon, because Indigenous languages may be headed for extinction.
"These languages are dying out," he said in an interview with CBC News. "If nothing is done within the next 10 to 15 years on these Indigenous languages in a significant way, they will be gone. We're actually at the cusp of the end. This is it."
Based on reporting by Dean Beeby of CBC News