Moosemeat & Marmalade, is the food show that's authentically Canadian, and British.
A 13-part food documentary series, it is indigenous-Canadian, courtesy of Cree hunter, gatherer and bush chef, Art Napoleon.
"Food is a connector; it crosses cultures"
A former Chief of the Saulteau First Nation in north-eastern British Columbia, Napoleon is based in the provincial captital of Victoria these days.
His partner in cuisine, is Dan Hayes, a classically trained chef from Britain, who's also known as 'The London Chef'.
Listen
Moosemeat & Marmalade begins its third season in January 2018 on the Aboriginal People's Television Network, (APTN),
"No one would have ever thought that when we started", Art Napoleon says.
There was a one year break in the show as APTN, the Canadian government-sponsored cable network, did not fund the show the following year.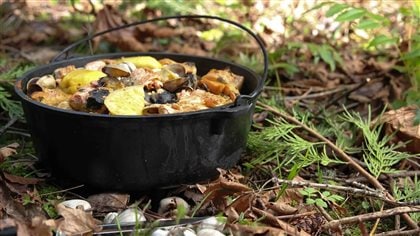 "Luckily, we got a lot of positive response from viewers", Napoleon says, and now season three is following immediately after the continuing popularity of season two.
Originally Napoleon's idea was to poke fun at the food show format, with a comic take, called 'The Trap Line Chef, perhaps.
He describes the character of  "a grumpy old guy, he's filthy, doesn't measure anything and he's cooking right in his cabin on the trap line".
But when he presented the idea, to some of the people he was working with at the time, on a children's show, the idea took root.
Dan Hayes was then the caterer on the children's show, and following a screen test, the chemistry between the two men was obvious, and the show was further developed into this current format.
As for the Canadian cuisine, Napoleon explains that for "aboriginal people in Canada, there were certain animals for spiritual reasons, that people didn't go for… like weasels and skunks".
And eagles. "People generally did not eat eagles" Napoleon says.
"But I've seen owl on the menu, I've seen lynx on the menu, I've seen cougar on the menu, I've seen groundhog on the menu."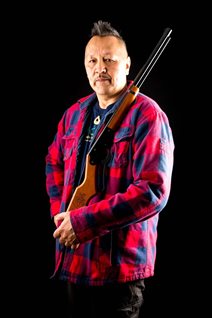 Napoleon says he grew up eating muskrat and beaver and all kinds of game birds as well as rabbit.
Most of these meals are not commonly available across Canada, and Napoleon says the majority of Canadians might associate a rabbit with a pet, not a plate.
But rabbit stew is a popular dish in Europe, and Napoleon says Canada's indigenous people have more in common with the so-called "peasant food of the old country" in many parts of Europe than with the modern Canadian diet.
Art Napoleon is also a leader in the indigenous food sovereignty movement. He says the challenge now is access.
"As long as habitat is being damaged and destroyed and we all know the honey bees are going away, song birds are going away, a lot of frog species are going away, a lot of people take this stuff for granted."
He says, however, when people think of these creatures as sources of food, the attitude can change, and the loss is more relevant.
"Food is a connector; it crosses cultures", according to Napoleon.
He continues to research and trace traditional food uses and sources, like the prairie wild turnip.
"My goal will be to find all this stuff out, so that we don't lose these things, we don't lose this information, that it's preserved and revitalised." Napoleon says.
"The land… is kind of like our church, for those that still practice the old spiritual ways and ceremonies. It's a place where you take your kids to teach them things so it's kind of like our college too."
'Moosemeat & Marmalade' debuts on January 18th on the APTN.
Two recipes:
Gatherers' Vegetarian Chilli as made on MM3