Canadian Alex Trebek has been hosting an enormously popular game show in the U.S. since 1984 and says he will soon resume taping "very, very soon." The 77-year-old host of "Jeopardy" posted a video on the show's Facebook page to explain.
Wearing a baseball cap, Trebek explains that he needed surgery for blood clots on the brain which developed after a fall two months ago. Two days after the procedure he was able to return home from hospital. He says the prognosis is excellent and he will soon resume he job reading clues to contestants on the program.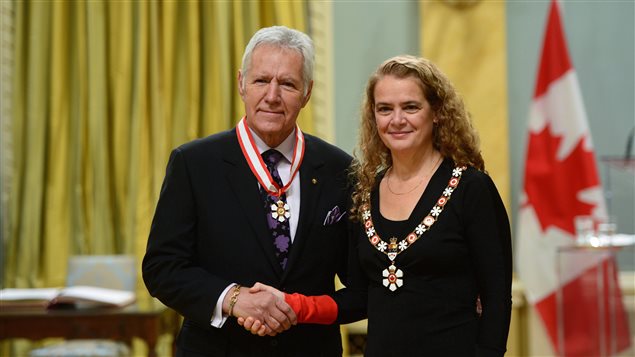 Honoured for humanitarian work
Last November, Trebek was named an officer of the Order of Canada for his on-going commitment to education, environment and humanitarian causes. For example, he has furthered knowledge of geography by hosting games for children and he has worked extensively with the charity World Vision. In receiving the honour, he told CBC the ceremony was more emotional than he thought it would be and that he was humbled to be included among such accomplished honorees.