As part of Canada's commitment to bolster Jordan's ability to take on Islamic State militants in neighbouring Iraq and Syria, Canadian military personnel have trained Jordanian soldiers in the deadly art of calling in airstrikes and air support, defence officials revealed Tuesday.
"In January 2017, a Canadian Armed Forces (CAF) training team was deployed from the Royal Regiment of the Canadian Artillery School in Gagetown, N.B., to deliver a Joint Terminal Attack Controller course," Capt. Vincent Bouchard, spokesman for Canadian Joint Operations Command Headquarters, told Radio Canada International.
"This training consisted of baseline instruction on how to coordinate air and aviation fires in support of ground forces."
Over the last year and a half, Canadian soldiers have also delivered specialized training in logistics, material accountability and long-term maintenance planning to their colleagues in the Jordanian Armed Forces (JAF), Bouchard said in an email.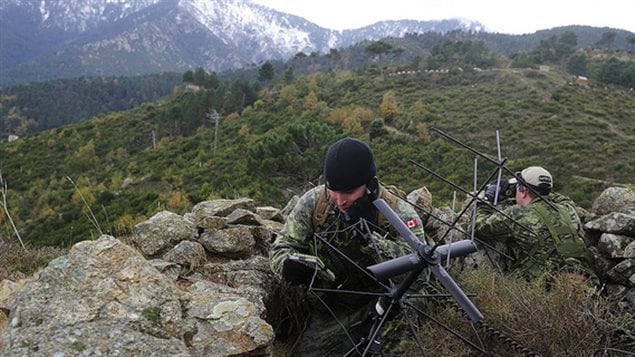 The Canadian Training Assistance Team (CTAT), consisting of small group of soldiers, arrived in Jordan in late August 2016, however, their identity, exact numbers, and location could not be disclosed due to operational security considerations, Bouchard said.
"Canadian Armed Forces (CAF) Build Partner Capacity (BPC) in Jordan includes enhancing the skills and capabilities of the Jordanian Armed Forces (JAF) by means of providing individual training to JAF soldiers, provision of personal non-lethal equipment such as individual clothing, as well as material and supplies that bolster the JAF ability to maintain security along their border with Syria," Bouchard said.
Equipment donations in 2017, coordinated through Global Affairs Canada's Counter-Terrorism Capacity Building Program, consisted of wet weather gear for the JAF Quick Reaction Force (QRF), basic defensive stores to assist the Jordanian combat engineers in physically securing their border, portable searchlights enhancing surveillance, command and control at night along the Syrian-Jordanian border and Explosive Ordnance Disposal (EOD) equipment for the JAF, Bouchard said.
"This project included the provision of training for some members of the JAF in order to improve their EOD skills in accordance with NATO standards," Bouchard
The wet weather gear project involved the donation of 1200 sets of wet weather gear for Jordanian soldiers.
The defensive stores project consisted of a donation of basic materials and supplies to be used by the Royal Jordanian Engineer Corps in the construction of defensive structures along a dedicated section of the Jordanian-Syrian border, one of the busiest crossings between the two countries, Bouchard said.