Pilots are in short supply around the world these days, and the problem is expected to get worse.
The cause is a combination of factors converging internationally, such as mandatory retirement for many current pilots, more air routes, and more large air craft delivering all that on-line shopping.
"The aviation industry is literally going to double over the next 20 years."
Mike Doiron, of the Canadian Council of Aviation and Aerospace, is concerned that Canada could be affected in the same way the United States is now.
Many regional carriers are having to cancel flights in the U.S.
Listen
If that happens in Canada, it will leave more people stranded as our country's geography and climate do not lend themselves to other forms of transportation.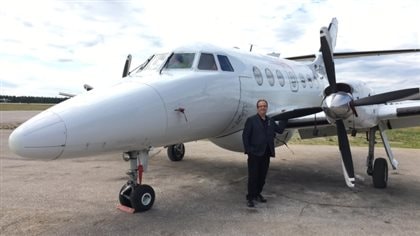 Mike Doiron says, according to forecasts from several industry groups, "the aviation industry is literally going to double over the next 20 years".
He says this will mean a requirement of "half-a-million pilots worldwide".
Canada is already playing a significant role in this evolution as it has always been known for its quality of pilot-training, and is now graduating more international commercial pilots.
"We have beautiful areas to train in."
Doiron says with the wide open space in Canada "we have beautiful areas to train in" and we have a history.
"Starting even in World War II, with the Commonwealth Air Training Plan, we became known as a major training centre or focus, worldwide; that has not really changed except for the fact that it's grown bigger and bigger," he says.
While the number of commercial pilots graduating annually has remained constant at between six and seven hundred people annually, the make-up has changed.
Twenty years ago, 20 per cent of the class may have been international students, now, Doiron says, more than 45 per cent are international pilots.
He says this is because more international students want to train, and fewer Canadian students can afford the cost, which is between $60,000 and $80,000 (CDN).
The good news, is that for young pilots there is more variety available, with regularly scheduled work in air ambulance or cargo carriers, and for those still coveting the cockpits of the major airlines, the opportunity to move up is happening a lot faster these days.
With files from CBC