Man wards off polar bear with cellphone in Churchill, Canada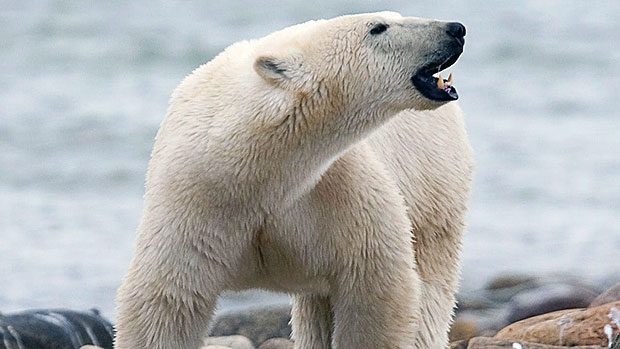 Cornered by a polar bear that had already swatted and bitten him, a desperate Garett Kolsun turned to the only device he could think of and thrust his cellphone into the raging bear's face, distracting it long enough for him to escape.
Kolsun is grateful to be alive today after his encounter with a polar bear in Churchill, a town in northeast Manitoba, on Saturday. The Winnipeg man went to Churchill two weeks ago for a job, his first time in the northern town.
While walking to where he was staying around 1:30 Saturday morning, Kolsun noticed something out of the corner of his eye.
"As I looked over, I could see a polar bear charging me. It was running full tilt towards me," he said Monday, his voice still raspy from yelling. "So I turned to try to run to find someplace safe to go. But where I was there was no place to really go."
Kolsun said it was an industrial area, with mainly businesses, and no homes.
"So I turned on the bear and it just kept charging. It came up closer and I started yelling and screaming and trying to raise my arms up to keep the bear away from me as best I could," he said. "I kept running in circles and backwards and yelling, hollering for help and everything else."
Desperate move
He ran up to a bakery, and tried kicking open the front door.
"At that point the bear was basically right on top of me," he said. "I was yelling and screaming, trying to keep it away from me. Throughout all this it had swatted at me a few times and it had bit me."
Kolsun said he was desperate.
"So I pulled my cellphone out of my pocket, turned it on and the screen lit up," he said. "I turned it towards the bear, put it in his face and it stepped back."
It turned the tide.
"When it stepped back, luckily it knocked over a planter. It startled the bear and it turned its head. So when it did, I just ran."
He finally found a house with lights on outside and someone home.
He doesn't know who they were. "I was just happy to see some people," he said.
Kolsun called a cab and got checked out at the local hospital.
He said he has two puncture wounds on his hip where the bear's teeth penetrated his jacket and pants.
"It pawed at me," he said. "It ripped my shirt a few times … I have scratches on my chest, some going down and a couple going sideways."
Kolsun said he's doing fine, a remarkable feat after coming eye to eye with the polar bear, which he guesses weighed 150 kg.
He downplays the accomplishment, though.
"I'm just a lucky guy who got away from a bear," he said.
His advice on handling polar bear encounters?
"When you're in Churchill, take a cab," he laughed. "Or drive. Don't walk after dark."
Manitoba Conservation said Monday the bear was caught on Saturday and is being assessed.
A government spokeswoman seconded Kolsun's advice.
The bears are more active at this time of year, before the ice freezes, she said.
Among the precautions people should take: avoiding walking alone, drive or walk with a group of people.
And do not go out after dark, when polar bears are out.
Related Link:
Garett Kolsun and Roberta Wokes, the cabby who came to pick him up after the polar bear attack on  CBC's As it Happens (Interviews begin at 32min39)