Finland lags in seniors' wellbeing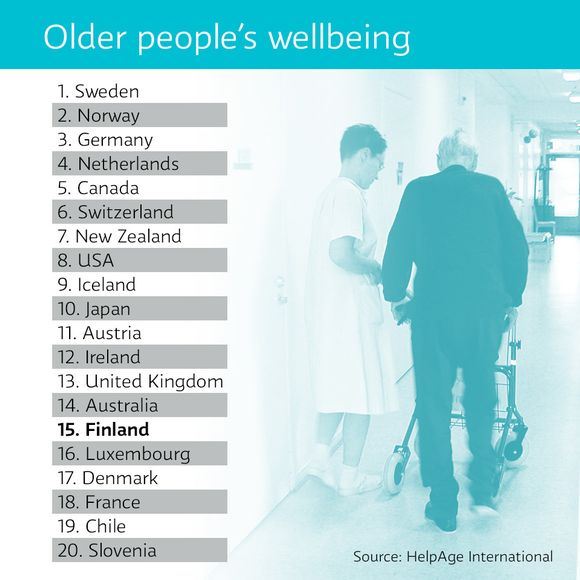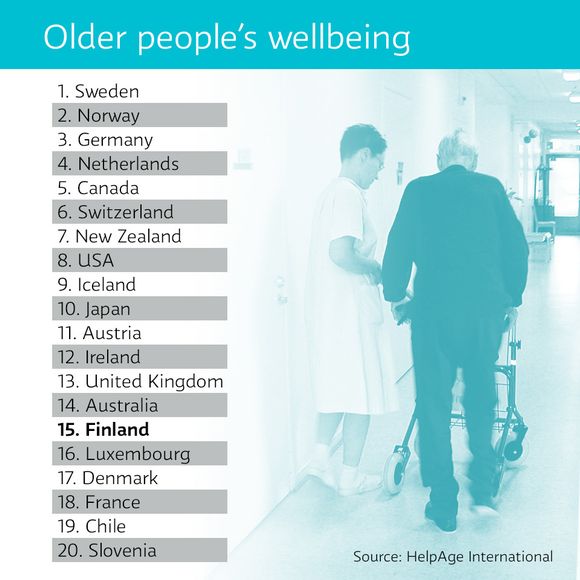 Unlike its Nordic neighbours, Finland failed to make it to the top ten in a new global index measuring the wellbeing of older people in terms of their income, health, education and employment, and environment.
Finland's Minister of Health and Social Services did not want to comment on the results.
Other Nordic countries barring Denmark are way ahead of Finland when it comes to the welfare of the elderly as ranked in a new global index.
Finland is 15th on the list, while Sweden topped the rankings and Norway came in second. Iceland made it to ninth place, while Denmark got the lowest ranking of the Nordics, coming in 17th.
Factors bringing down Finland's scores included low education of elderly people, and especially the small pensions of older women. Finnish older people were also found to have less healthy years to look forward to than those in better performing countries.
Germany, the Netherlands, Switzerland, Austria and the United Kingdom also placed above Finland. The environment was found to be better for older people in these countries, with more 'enabling environments' as indicated by high measures in social connections with relatives and friends, safety, and access to public transport.
Ranking 91 countries, the Global AgeWatch Index is the first comparative overview of the wellbeing of older people around the world. It was carried out by HelpAge International, an organization looking out for older people.
The invisible elderly
Finnish elderly people's association Valtaa Vanhuus calls for more social inclusion of older citizens.
"The elderly should be included as full active members in society. This is not apparent here at the moment. It seems that people just disappear once they reach retirement. They are not needed, no one hears anything about us," says association chair Vappu Taipale.
According to Taipale, affairs related to the elderly are nonetheless discussed in Finland, with new elderly care legislation that just recently came into force. The current trend of savings worries Taipale.
"I'm concerned that we are saving in inexpensive and easy areas such as the promotion of health and welfare. This will be reflected in international statistics later on," Taipale predicts.
One billion elderly people in ten years' time
Researchers estimate that elderly people will be consuming more as their numbers grow in the future.
In 2010, over 65-year-olds spent more money than under 19s in some 23 countries including Finland, where the elderly buy more services and products than young people.
In 2000, the world had more over 60-year-olds than children under five – for the first time ever.
Ten years from now it's predicted that the planet will host more than one billion older people.
The HelpAge International Global AgeWatch Index was published on October 1. World Health Organization and World Bank statistics were also used in compiling of the index.
The Minister of Health and Social Services Susanna Huovinen declined to comment on the comparison.