Dene community in Canada's Northwest Territories celebrates self-government agreement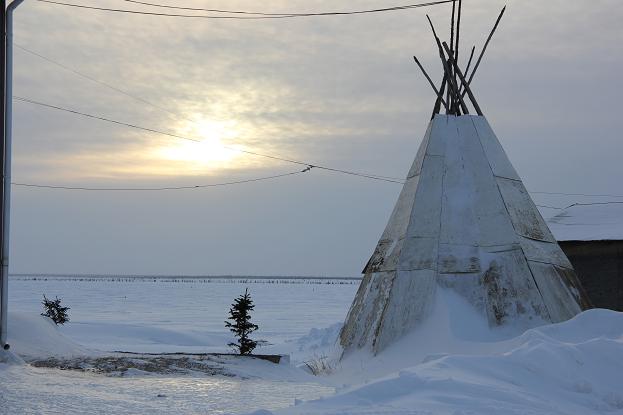 The Dene and Metis community of Deline in Canada's Northwest Territories was joined by  federal and territorial politicians this month to mark its new self-government agreement.
"Our negotiating team worked very hard over the course of eighteen years to reach this agreement with Canada and the Government of the Northwest Territories," said Gina Dolphus, presdient of the Deline Land Corporation,  in a statement this month.
"In March 2014, 85% of Délįnę beneficiaries who cast ballots voted yes to this agreement, giving it an overall approval rate of 65%. This agreement was guided by the vision of our Elders and is a legacy for our children and grandchildren for generations to come," she said.

Community profile: Deline, Northwest Territories, Canada

Location: Southwest shore of Great Bear Lake in Canada's Northwest Territories.
Population: 559, primarily Dene, a Canadian aboriginal group (Statistics Northwest Territories)
Language: English, North Slavey (a Canadian aboriginal language)
Unemployment rate: 23.9 (Statistics Northwest Territories)
The agreement will make Deline the first Northwest Territories community to be self-governed, giving it direct control over areas like education, social services and culture.
"This agreement is the culmination of many years of hard work for the people of Délı̨nę and is the first community-based self-government agreement in the Northwest Territories to be negotiated in a region that has an existing land claim agreement,"  Bob McLeod,  the premiere of the Northwest Territories, said in a statement. "The GNWT is committed to working with the Délı̨nę Got'ı̨nę Government to implement this historic agreement."
Danny Gaudet, Deline's chief negotiator, told CBC News earlier this month that he expects the community government will be up and running by April 2016.
Related stories from around the North:
Canada: Deline, NWT – Can tourism save this town?, Eye on the Arctic
Finland: Ombudsman hopes for Sami rights ratification after election, Barents Observer
Russia: Russia's Arctic policy up for remake, Barents Observer
United States:  AFN convention expected to bring $6 million for Anchorage merchants, Alaska Dispatch News