Climate change emphasized as US takes chair of Arctic Council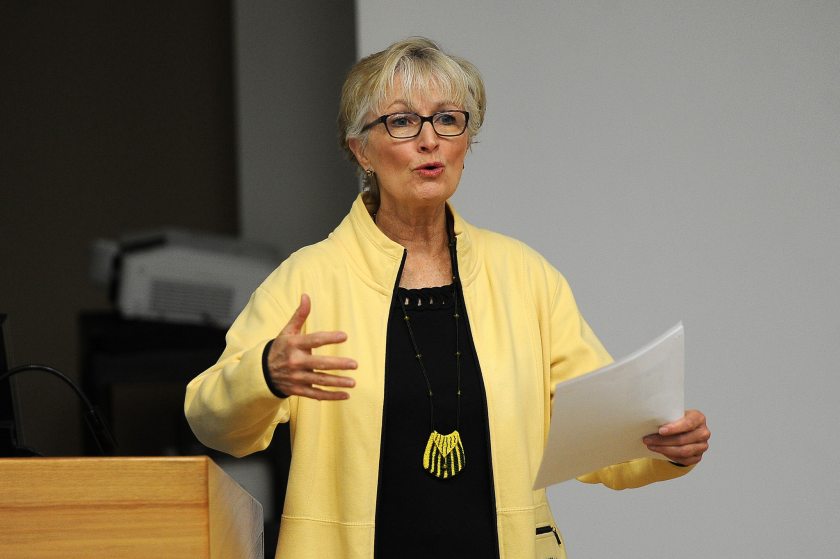 Linking climate change with severe flooding in the Alaska village of Galena, Secretary of State laid out an ambitious agenda to address greenhouse gas emissions and protect the Arctic Ocean as he accepted the reins of the eight-nation Arctic Council on Friday at a ceremony in Canada.
Kerry spent less time addressing Arctic development opportunities than the environment as he accepted the two-year chairmanship for the United States.
Alaska leaders, acknowledging climate change plays an important role on the council, are calling for the group to give increased attention to the economic possibilities presented by melting sea ice.
When Kerry did mention development, he said it must be done carefully to protect communities that could be hurt by ocean acidification and other rapid changes brought on by global warming.
He said it's important to "look way downstream to make sure that when something is extracted and people are finished, they're not leaving a place as a new kind of desert even in the Arctic. And I think you know what I mean."
Referring to Galena, a village of 450, Kerry said more than 90 percent of the village was damaged in 2013 because an ice jam on the Yukon River caused flooding after the community's natural defenses along the river banks had melted away.
Villages along the ocean are also suffering, with infrastructure threatened as permafrost thaws, he said.
"I want to underscore this is not a future challenge, this is happening right now. And as they lose their natural sea ice barrier, villages in the Arctic are already being battered by storms," Kerry said.
Focus on fight against global warming
Kerry used the example to highlight some of the efforts the U.S. will pursue with the council for the next two years, including reducing emissions of methane and black carbon that are considered much larger contributors to global warming than carbon dioxide.
The gavel exchange took place in the Inuit community of Iqaluit in northeastern Canada, at the intergovernmental forum's ministerial meeting held every two years. The council, consisting of representatives from the Arctic nations and six indigenous Arctic groups called "permanent participants," has worked since its creation in 1996 to protect the Arctic environment and promote economic development in the region.
Perhaps its most notable accomplishment came a decade ago when it issued the Arctic Climate Impact Assessment, a report involving some 300 scientists that helped shaped global opinion on climate change.
At the meeting Friday, ministers and indigenous participants from Arctic nations stressed the need for international cooperation amid uncertainty about Russia's military involvement in Ukraine and moves to expand its presence in the Arctic. They also called for more attention to such things as mental health, food security, oil spill prevention and careful economic development.
Now that the U.S. will chair the forum for the next two years, several upcoming meetings will be held in Alaska, from Anchorage to Barrow, in some cases attracting hundreds of participants from around the globe.
Improved media coverage
Fran Ulmer, a member of the five-person U.S. chairmanship team as a senior Arctic adviser, didn't make the trek to Iqaluit, more than 2,000 miles east of Anchorage. Instead, she spoke with dozens of students, professors and others who gathered Friday morning at the University of Alaska Anchorage for a "watch party" of the live-streamed meeting.
Ulmer said the attention to Arctic issues has vastly improved since the late 1990s, the last time the U.S. held the gavel, when the council was just 2 years old.
"It was hardly noticed by the media," said Ulmer, referring to a "low-key" ministerial meeting in Barrow when she was lieutenant governor. "There weren't any webcasts, and certainly there weren't people in China, Germany, Japan and all over the world paying attention to what's going on."
Dangers of ignoring infrastructure
Republican Sen. Lisa Murkowski, who was present with Kerry in Iqaluit, provided a pre-recorded video for the university gathering that emphasized the need to focus on economic development as Arctic melting creates new opportunities for marine shipping and resource development.
Not investing in icebreakers, runways and ports — something other nations are pursuing — will limit economic opportunities for the region's four million residents without stopping the melting, she said.
"Climate change must be a topic of discussion, but it cannot be the sole priority as we move forward," she said. "If this administration wants to treat the Arctic region as a snow globe, something to be protected and put on a shelf for observation, that will freeze this region in time as the world around it moves on."
Rep. Don Young, R-Alaska, also emphasized development in a media statement released Friday.
"(Climate change) is one of the factors we can look at, but as Alaskans we must also insist that activity in Alaska — resource development, transportation, and infrastructure — is also taken into consideration," he said.
Warning
An indigenous participant at the meeting, Michael Stickman from the Alaska village of Nulato, applauded the adoption of a framework urging Arctic nations to reduce black carbon and methane emissions.
"This is the first time Arctic nations have formally agreed to mitigate climate change, sending an important political message that climate change can be mitigated regionally as well as globally," said Stickman, international chair of the Arctic Athabaskan Council, one of the council's six permanent indigenous groups.
Stickman also addressed the tensions with Russia, noting he was disappointed that Sergei Lavrov — Russia's counterpart to Kerry — was not at the meeting.
The council should work to reduce geopolitical tensions, he said.
"It's important we speak openly about tensions between Russia and the West," he said.
Ulmer noted that much has been made of Lavrov's absence, but she pointed out that Russia's Minister of the Environment, Sergei Donskoi, represented the country at the meeting.
"At every international event I go to with Russians participating, the official line is always the Arctic is a place of international cooperation and peace, and we're working together, with Russia part of this Arctic family," she said.
Related stories from around the North:
Canada:  Arctic Council Ministerial – Winners and Losers, Blog by Heather Exner-Pirot
Denmark:  Nordics to step up security cooperation on perceived Russian threat, Yle News
Finland:  Survey – More than half of reservists in Finland pro-Nato, Yle News
Norway:  Peace and stability crucial for Arctic economy, Barents Observer
Russia: Majorities in Arctic nations favor cooperation with Russia, Barents Observer
Sweden:  Russia concerned by Finland, Sweden moves towards closer ties with NATO, Radio Sweden
United States:  Alaska stands to benefit as US takes reins of Arctic Council, Eye on the Arctic