Alaska's spring whaling season a success despite challenging sea ice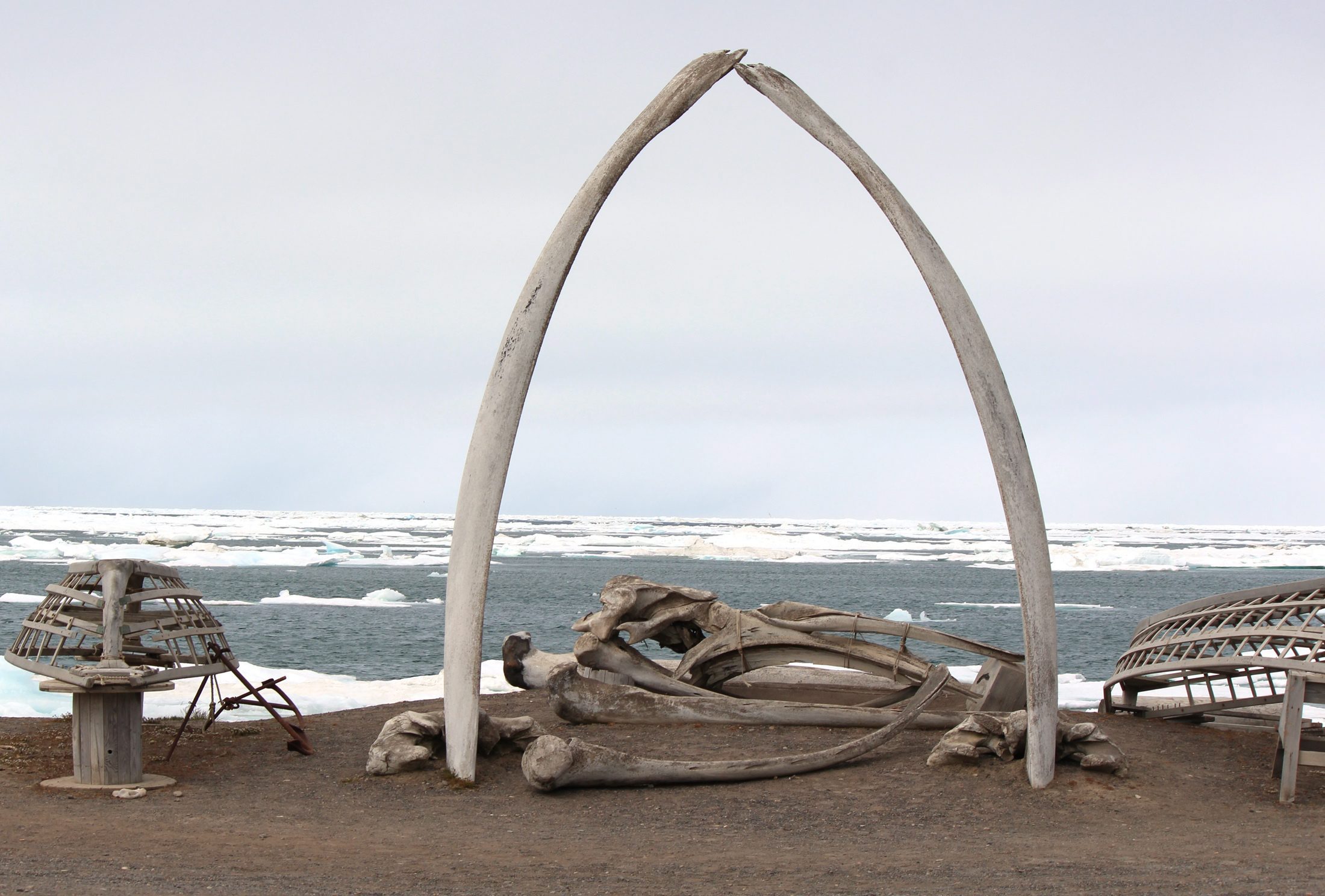 The spring whaling drought Barrow endured two years ago continues to ease, after subsistence whalers in the Arctic community landed nine bowheads, despite rough sea ice that made reaching open water difficult.
The harvest in the nation's northernmost community was part of a relatively productive season for Alaska's bowhead whaling villages. Five villages landed 17 whales this spring, the same number as last year, according to preliminary figures from the Alaska Eskimo Whaling Commission.
Whaling crew captains in Barrow said they were pleased with the haul, especially considering the challenges posed by extensive sea ice.
"We were still successful, even with the real bad ice conditions," said Percy Nusunginya, whose crew landed a 45-foot bowhead earlier this month.
Now he's looking ahead to Nalukataq in June, the festival when whale meat and muktuk, or blubber, is shared. "The whole community is going to get this whale once again at our Nalukataq," he said.
This year near Barrow, winds and currents shoved large amounts of ice against the shore, creating a sprawling jumble of frozen ocean marked by towering pressure ridges where ice sheets collide.
Dozens of crew members took shifts breaking trails with ice picks, chippers and chainsaws to reach the leads where whales surface and crews can launch skin boats from nearby camps.
One trail snaked 15 miles. The crew for whaling captain Eugene Brower worked with other crews to create a 7-mile-long trail jutting into the Arctic Ocean.
Carving a trail wide enough for passing snowmachines hauling cargo was a tremendous amount of work, Brower said.
"We called one section Brooks Range," said Brower. "We had to crash through that massive pressure ridge that piled up to where it was smooth on the other side."
Season winds down
With summer temperatures and rain arriving recently, captains said this week that the spring hunting is largely over.
It was a season marked by the death of Charles 'Etok' Edwardsen Jr., a fiery but beloved Alaska-Native-rights activist who died at age 71 on the ice while whaling outside Barrow, ending an eventful life in the manner he wanted to go, family said.
Also, the Alaska Eskimo Whaling Commission, which manages bowhead whaling for 11 villages under an agreement with the federal government, is investigating a report that a crew in Point Hope may have killed a bowhead calf in violation of the commission's management plan.
A hearing on that issue is expected in July, said Jenny Evans, an employee with the commission.
The overall harvest was a marked improvement from two years ago, when three villages landed only 12 whales. That spring, Barrow, for the first time in decades, caught no whales, Evans said. Traditionally, it was common for the communities to bring in around 25 or so whales in the spring, she said.
Winds and currents haven't cooperated in recent years, makings leads difficult to reach, she said.
Shifting ice is a common danger. Strong currents this spring caused a crew to lose a whale it had killed north of Barrow, after it was forced under the ice, Brower said.
"The ice came in and took it under the ice," Brower said. "They looked for it repeatedly but they did not prevail."
Softening ice
Adding to the complications have been high temperatures that are softening the ice in late spring, days earlier than in the past, Barrow whalers said.
The softer ice can make hauling whales ashore dangerous in part because the multi-ton animals can break through.
Brower said the 47-foot whale his crew landed began cracking through ice, forcing whalers to begin the butchering as it was being hauled in, including by carving off hefty slabs of muktuk.
"We had our problems," Brower said. "We had to sever the head, which is all bone, to take the weight off, and they were taking strips of muktuk off."
The whale produced enough meat to fill up the large ice cellar his father helped build in the 1950s with Samuel Simmonds, a late Inupiaq leader, hollowing out the permafrost to store meat underground, said Brower.
"It was really plump, nice and round," he said of the whale.
Brower said he's looking forward to the June festivities in Barrow. His crew set June 26, a Friday, as the day to distribute their whale to others in Barrow. Other captains have set June 29.
"The whole idea is sharing the whale," he said. "I'm thankful for the different communities that were successful in bringing the whales home to have the bounty of the ocean distributed to our people."
Related stories from around the North:
Finland:  Rare white elk judged fair game in Finland, protected in Sweden, Yle News
Greenland: What the EU seal ban has meant for Inuit communities in the Arctic, Eye on the Arctic
Norway:  Tourists suspected after narwhal tusk goes missing in Svalbard, Norway, Barents Observer
Sweden: Sami villages under-report elk hunt kills in Sweden, Radio Sweden
United States:  Whaling group investigating report of bowhead calf taken in spring hunt, Alaska Dispatch News