Norway and Russia adjusting border line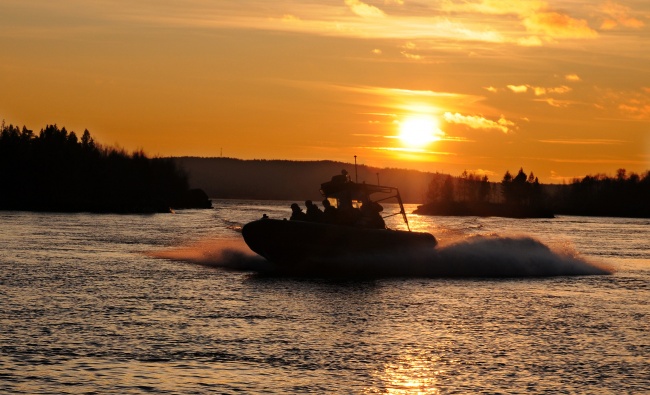 For the first time since 1947 Norwegian and Russian authorities are adjusting the 196 kilometers long border between the two countries.
According to the border agreement, the border should be reviewed every 25 years, since much of it runs through rivers and marshes that are constantly shifting, but the task has never been carried out until now.
"We are not calling it moving the border, only adjusting it so that maps and terrain hang together," border inspector Ulf Mathisen said to NRK.
In some parts of the Pasvik river, which makes up part of the border, it is no longer possible to operate a boat on the Norwegian side of the border, and people have to pass through Russian territory. Norwegians are not allowed to stop or fish in the Russian waters. The aim of the charting is to move the border to areas of the river that are the deepest.
New mapping to be finished by fall
The Pasvik river is mostly used by Norwegians, since Russia don't allow civilians to enter the border area.
Charting of the river bottom is done by the Russian mapping agency Aerogeodezia, while Norwegian officials are supporting the Russian surveyors with equipment and staff, showing them where the river is navigable. Denis Fedorov, a Russian chief engineer working on the project, said the border readjustment will benefit both Norway and Russia: "It will make the job easier for both Norwegian and Russian border guards, when the border runs where it is supposed to according to the agreement.
The Russian mapping agency plans to have completed the work this autumn. Norwegian aerial photos of the border will also be used in the mapping. The final border line will be established by the two countries' foreign ministries. The goal is that neither country will lose any territory, NRK reports.
Related stories from around the North:
Canada:  Canada to collect more data for continental shelf claim, Eye on the Arctic
Denmark: Denmark claims North Pole, Barents Observer
Iceland:  Revisualizing the Cryosphere, Blog by Mia Bennett
Russia:  Application for Russia's Arctic shelf claim out on tender, Barents Observer
Sweden:  Swedish ships mapped at bottom of sea, Radio Sweden
United States:  U.S. to collect Arctic data for modern navigational charts, Alaska Dispatch News