Swedish airport gives travellers climate preview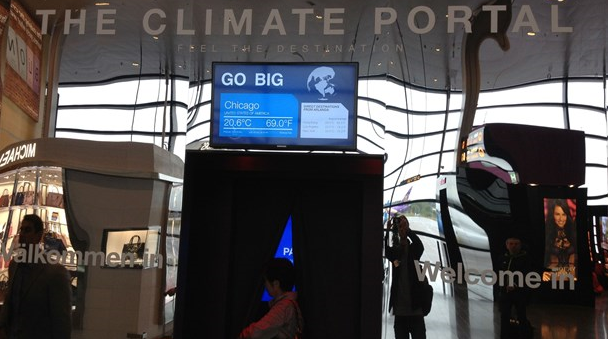 A Climate Portal, which gives air travellers the chance to physically experience a destination, anywhere in the world, in real time, before they go on holiday, is proving a hit at Stockholm's Arlanda Airport.
The "Climate Portal" has three booths, marked Hot, Big, Cold, which allow passengers to feel the heat of a desert sun in Dubai, the pulsing vibe of a big city such as Hong Kong, or the biting chill of a wintery landscape in Spitsbergen. The destinations in focus change along with the temperature.
Three climate zones featured
The portal uses live data from three of the world's five climate zones, to simulate a variety of weather environments, with the help of heaters, wind generators, temperature controllers and audio-visual technology.
The weather simulator, located in terminal five, is designed to show off the airport's growing list of direct inter-continental flight destinations, as it rivals Copenhagen and Oslo for top spot as the number one airport for passengers in Scandinavia.
The airline SAS recently opened a direct route to Hong Kong, while Norwegian Air will open flights from Arlanda to Las Vegas and Puerto Rico in October.
While Arlanda trails Copenhagen and Oslo in terms of combined domestic and international passenger numbers, it is the fastest growing airport in Scandinavia, with 12 new routes added to destinations in the USA and Asia since 2013.
'Bit of fun'
Speaking to Radio Sweden, Yvonne Boe, Communication and Marketing Project Manager at Swedavia said the Climate Portal was a bit of fun:
"People have to come to the airport early because of security checks and we wanted to give people an experience while they are here . At the same time we wanted to show the direct routes that passengers can take from Arlanda."
She adds that the weather simulator will also help people make a last minute addition to their hand luggage. She told Radio Sweden: "Maybe people will buy an extra sweater or extra pair of sunglasses."
More than 200,000 people have tried out the portal since it opened in the summer, and it will remain at terminal five until the end of October.
Related stories from around the North:
Canada:  Blog -The geometries of Arctic all-weather road construction, Blog by Mia Bennett
Finland:  Summer weather hits Arctic Finland, Yle News
Greenland:  Changing Sea Ice: The Ripple Effect (VIDEO), Eye on the Arctic
Norway: 2014 warmest year in history for Norway, Barents Observer
United States:  Unusual weather pattern brings record highs to Arctic Alaska, Alaska Dispatch News