Unusual weather pattern brings record highs to Arctic Alaska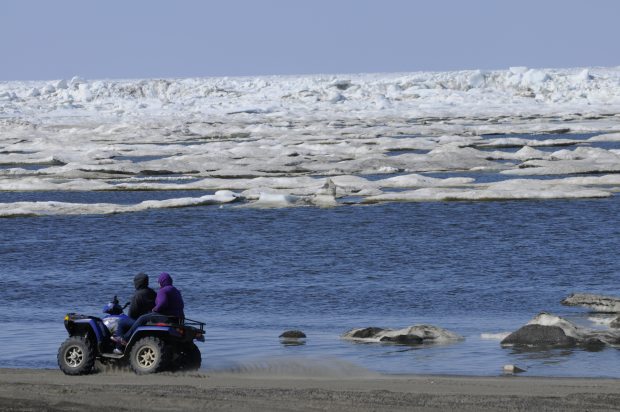 Temperatures have soared this week in Barrow, thanks to a high-pressure system parked over the Yukon Territory and British Columbia that is also warming up all of Arctic Alaska, according to the National Weather Service.
The high temperature in the northernmost U.S. community was 46 degrees on Tuesday, smashing the previous daily record of 38 degrees set in 2009, the weather service said. It was the third consecutive day of record highs in Barrow, with Sunday's 38-degree reading tying a 92-year-old record and Monday's 41 degrees topping the mark of 39 degrees set for that day in 1962, according to the weather service. The lows have also been higher than normal, with Tuesday's low of 33 degrees tying the record set in 2009, the agency noted.
Temperatures everywhere north of the Brooks Range have been unusually warm and are "going to stay warm for a while," said Rick Thoman, climate science and services manager for the weather service in Alaska.
Bettles, for example, hit 74 degrees on Wednesday, tying a daily mark set in 2002. And in Barrow, highs above 40 degrees are forecast through Saturday, according to the weather service's Fairbanks office.
The immediate cause is the persistent high-pressure system over northwestern Canada, Thoman said. That system is "consistent" with a pattern of warm sea-surface temperatures that has persisted in the Pacific Ocean since 2013, he said.
Effect on North Slope activities
The large and stationary mass of warm water in the North Pacific has become known as the "Blob," and it is being linked to big changes in weather patterns across North America.
The current warmth in Alaska is having a direct effect on North Slope activities.
"Snowmelt's been fast, so that's exacerbating the flooding on the Dalton Highway," Thoman said, referring to the inundation that has forced closures of the trucking road to the North Slope oil fields.
The unusual weather is not limited to the North Slope.
Almost all of Alaska, in fact, is currently warmer than normal, Thoman said. And in Ketchikan, on the far southeastern tip of the state, lightning and thunder are making appearances. While thunderstorms are somewhat common in the mountains of British Columbia, it is uncommon for them to drift over southeast Alaska, Thoman said. For lightning and thunder to occur for several days in one week in Ketchikan, especially in mid-May rather than late in the summer, is notable, he said.
"It is quite unusual," he said.
Related stories from around the North:
Finland: Floodwaters stop rising in North Finland, Yle news
Greenland:  Changing Sea Ice: The Ripple Effect (VIDEO), Eye on the Arctic
Norway: 2014 warmest year in history for Norway, Barents Observer
Sweden: Climate change may scupper flood insurance for many in Sweden, Radio Sweden
United States: 'Epic' flooding on Alaska Highway hinders Arctic oil operations, Alaska Public Radio Network