Despite back injury, Hendrickson returns to Iditarod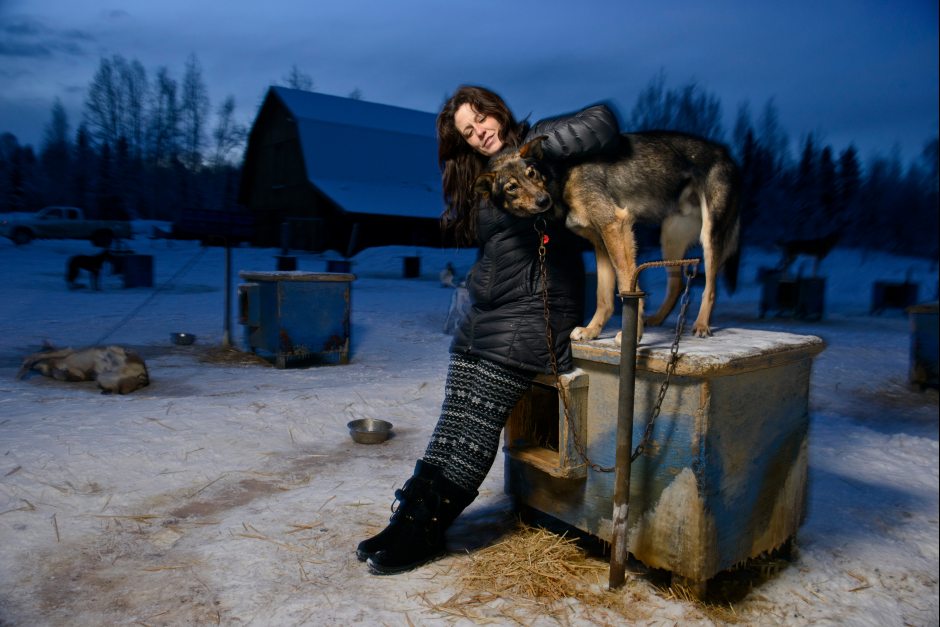 WILLOW — After about an hour of sitting on the couch in her log home north of Willow in late January, Karin Hendrickson started to fidget. The 45-year-old musher said she had to stand up. Her back was hurting. Again.
The pain started in late November 2014 after an SUV skidded out of control and slammed into Hendrickson's four-wheeler as she ran a team of dogs on a trail that parallels the Parks Highway. The wreck fractured three vertebrae in her back, and she spent months in a brace just sitting still.
These days, the pain takes different forms: Sometimes it aches, sometimes it burns and sometimes it shoots down her leg.
But Hendrickson hasn't let it keep her from mushing, and on Saturday she will start the Iditarod Trail Sled Dog Race for the first time since the crash. She will bring with her 16 dogs, ibuprofen and a plan to take it slow.
Hendrickson has started the Iditarod six times before, making it the 1,000 miles to Nome all but twice. In 2011, her dogs quit early, and in 2010 her sled fell apart. Twice she placed 36th, her highest finish yet.
"I think this year's going to hurt, and it's probably never going to be like it was," Hendrickson said one January evening as her dog handler cooked dinner. "I'm probably always going to have to deal with pain. I'm probably always going to have to deal with some limitations, but I sure hope it gets better than now."
The crash
Hendrickson said she remembers feeling hungry on Nov. 25, 2014, as she rode her four-wheeler, linked to 14 dogs, on an out-and-back training run.
She turned her team around after about 10 miles. Before long, she noticed the headlights of an SUV that wasn't turning with the curve of the road, she said.
"It's crystal clear in my mind. I could see this car coming," she said. "I thought they were pulling over to take a picture, and it's a weird place to pull over."
Instead, the SUV had hit an icy patch of the Parks Highway, around Mile 91. It crossed onto the trail and slammed into the front of Hendrickson's four-wheeler, throwing it, the dogs and her into the air.
"I'm in the air going, 'I have to land this. I don't want to tumble. I want to land on my feet,'" Hendrickson said.
She did land on her feet and then fell backward into a ditch. The rope that had connected the dogs to her four-wheeler snapped. The dogs ran.
Hendrickson couldn't go after them. Besides the fractured vertebrae, muscles in her core and right leg were damaged. She pulled out her cellphone and started calling neighbours.
"All I could think of at the time was, 'Well, I can't get up and there are my dogs and they're in trouble,'" she said.
The hospital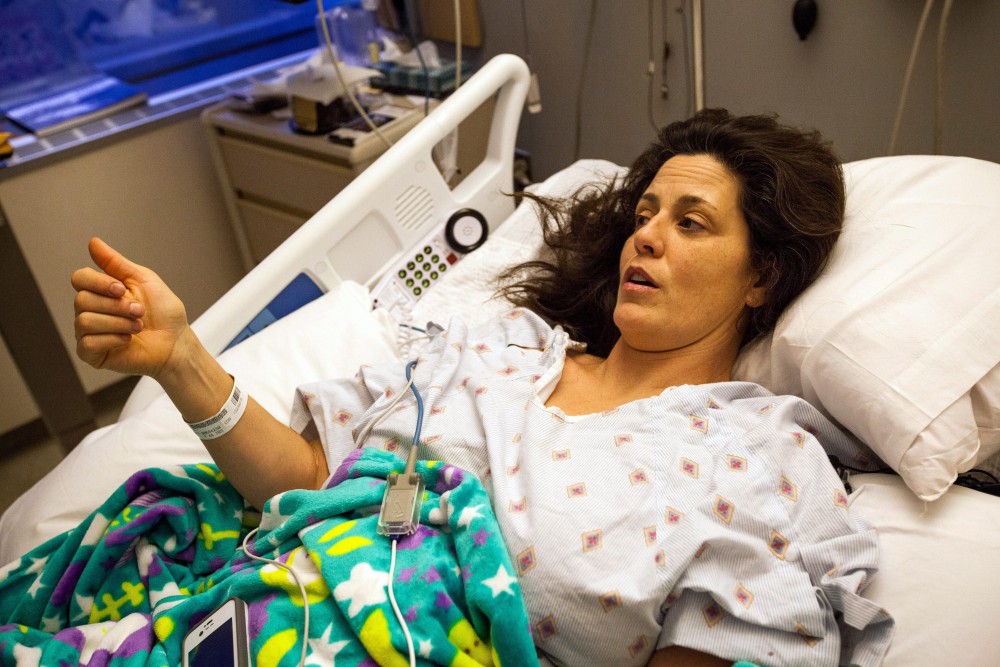 Even as Hendrickson lay in an Anchorage hospital bed for days after the crash, she never considered giving up mushing, she said.
Friends taped more than a dozen large photographs of her dogs to the wall of the hospital room. Cards lined the windowsill, alongside bags of dog treats and a stuffed toy husky.
"I don't really know what else I would do with myself," she said. "Like if I don't race dogs, what the heck would I do with all my time and energy?"
The expensive, time-consuming lifestyle of mushing is something Hendrickson has given up a lot for.
She grew up in Mount Baldy, a tiny mountain town in Southern California where "there's a whole lot of rock and you learn to walk looking for rattlesnakes," said Hendrickson's mother, Gwen Rodman.
Rodman described her youngest daughter as "outdoorsy" — often rock climbing, riding horses or skiing. Hendrickson left California for college in Colorado and got a degree in environmental conservation before moving to Idaho, where she had a home, a job and a horse.
Meanwhile, Rodman retired from her job as an elementary school teacher and started traveling to Alaska each winter to volunteer in the Iditarod, a race she had talked about in her classroom but had never seen up close. She pestered Hendrickson to join her.
"I'm picturing a bunch of little old ladies answering the phone," Hendrickson said. "I was like, 'It just doesn't seem like something for me, Mom.' "
But by 2002, she had given in, travelled north, and then she came back a year later to volunteer again. That's when she decided she would move to Alaska and become a musher.
She sold everything, quit her job and went north to create a new life.
In Alaska, Hendrickson worked as a handler and eventually started Blue on Black Kennels, now housed in a former horse pasture behind her home north of Willow. She named the kennel after the song by Kenny Wayne Shepherd — a musician who inspired her back in Idaho to do something big.
"Here I am with this 9-to-5 job and I do a lot of cool stuff, fun stuff — but I want to do something amazing," she said. "And I sort of sat on that for a few years because I wasn't sure what that was going to look like."
The recovery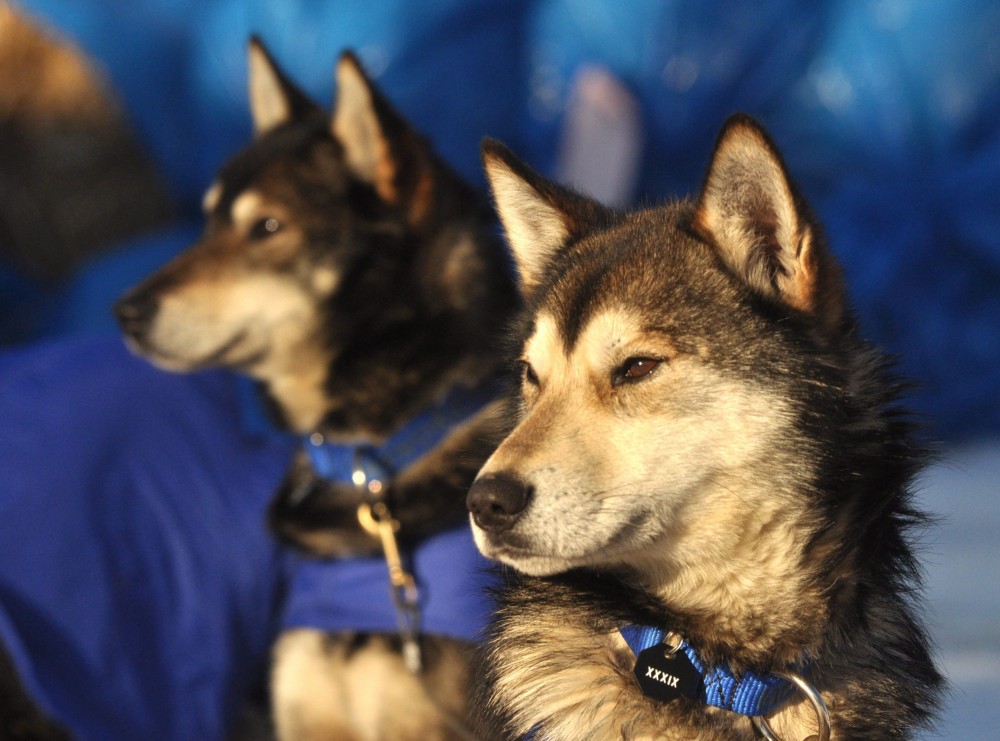 Within two hours of the crash, all of Hendrickson's dogs were found, except one: a shy dog named Sable, who went home on her own the next morning. While some of the dogs had road rash or scrapes, none suffered a major injury like Hendrickson's.
In the hospital, Hendrickson had a list of tasks to master before she could go home, including walking, getting out of the shower and picking herself up off the floor. Doctors said that would take two to four weeks. It took her about two days.
"I was not messing around," she said. "I was ready to do this."
Once home, Hendrickson spent five months on her couch in a blue-patterned brace that looked like a turtle shell. Her current handler, Della Severtson, described the brace as an attempt to keep a cat in a bag. Hendrickson's doctors asked her to just hold still.
"Which I'm really not good at," Hendrickson said. "Like if I have to go out to the barn, I don't just walk — it takes too long — I usually jog over there."
A handler took care of Hendrickson's 30 or so dogs while she sat in the living room surrounded by memorabilia from past Iditarods, like the white bibs that hung over her couch and the wine bottles with Iditarod-themed labels that sat above her television.
Since Hendrickson couldn't compete in the 2015 Iditarod, her friend Bryan Bearss ran the team. Bearss scratched in Koyuk, less than 200 miles from the finish line.
The return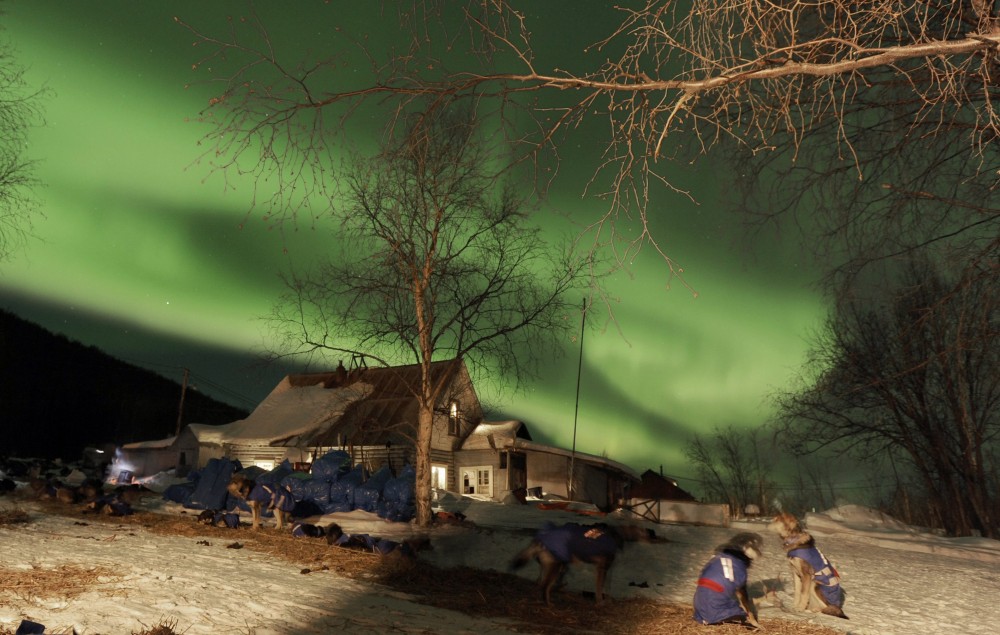 More than a year since the crash, the pain continues.
In January, Hendrickson and her team ran the Northern Lights 300, their first race together since the crash. Back pain left her taking regular breaks between putting booties on her dogs. It took her about 10 minutes longer than it once did, she said, because she had to stand up and walk around.
Still, Hendrickson finished ninth in the race, which runs from Big Lake to Finger Lake and back. Hendrickson said she treated it as a training run for the Iditarod, a race that she refuses to sit out another year. "I'm not happy if I'm not running, and the dogs aren't happy," she said.
Rodman, Hendrickson's mother, will volunteer again at this year's Iditarod. She said she will stay close to the Internet, as usual, tracking her daughter's whereabouts. She's not surprised that Hendrickson is returning so soon. "If she can walk, she'll be there," Rodman said.
Hendrickson said the goal of racing in the Iditarod motivates her each year to train her dogs on weekends and on weekday evenings after work.
She said her mushing career isn't bringing in money, so she needs her full-time job at the Alaska Department of Environmental Conservation to support the kennel and the $25,000 annual bill for food on top of race fees, straw and booties.
"These dogs are your heart and soul," she said. Some she has named after blues musicians like Muddy Waters, others after theme-park rides like Tilt-A-Whirl.
She said doctors have told her she may not be strong enough for the Iditarod, but they never told her she couldn't do it or that she would injure herself trying. She figures she'll just experience more pain — but at this point, she's used to pain.
"I think you have to have challenges in your life, and this one may be a little bit too big," she said. "But, yeah, I have to get back to it because it's who I am, it's what I do."
Contact Tegan Hanlon at thanlon@alaskadispatch.com or on Twitter
Related stories from around the North:
Canada:  Profile – Dog mushing in Inuvik, Canada, Eye on the Arctic
United States: How Iditarod checkpoints get their straw, Alaska Dispatch News