Chechen special forces instructors landed on Svalbard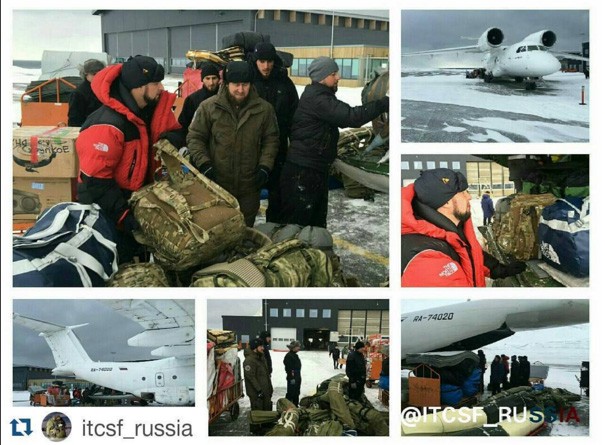 Chechen special forces used Longyearbyen airport on Svalbard for transportation of personnel and equipment for an airborne drill close to the North Pole.
A combat group of Chechen special forces known as the "Flying Squad" has recently finished an exercise close to the North Pole, and are on their way back to Chechnya, according to the website of Chechen President Ramzan Kadyrov.
"We are preparing to meet our heroes," Kadyrov wrote.
The paratroopers were dropped onto the ice from an Il-76 airplane on March 29. They jumped out from a height of 2,500 metres, and started their exercise, which included a 20-kilometre-long hike and an attack on an "enemy command post." The paratroopers conducted another jump, this time from a Mi-8 helicopter, and unfolded Russian and Chechen flags in the air, Grozny Inform wrote.
Before the expedition to the Arctic, the Chechen paratroopers had been trained in a special program, developed jointly with the Russian Geographical Society.
Cargo and other personnel were brought to the area by a plane from Longyearbyen in Svalbard. The Chechen delegation was lead by Kadyrov's aide on law enforcement issues Daniil Martynov. Kadyrov's Instagram account published photos of Martynov and other people loading cargo into an An-74 plane on Longyearbyen airport.
According to Jamestown Foundation's Eurasian Daily Monitor, Major Daniil Martynov is the head of FSB's Alpha group (Directorate A of the FSB Special Purpose Centre), one of Russia's most elite special forces groups.
The stay on the ice lasted much longer than originally planned, as the runway prepared by technicians from the Russian geographical Society's Expedition Center cracked up and could no longer be used after just one landing, Vesti reported.
The Chechen soldiers helped the technicians construct a new runway. This was used for the first time on Tuesday, according to Barneo's Facebook account.
As Barents Observer reported earlier, Russian airborne troops are also planning an exercise close to the North Pole in the coming weeks. They too are planning to use the airport at Svalbard for transportation of equipment and instructors.
Norwegian demands halt new flights
The Russian Geographical Society's Expedition Centre on its Facebook account complains that Norwegian authorities have given permission for only one flight more from Longyearbyen to Barneo. Eleven other flights that were declared in advance have been denied.
The reason for this is supposed to be a trip the An-74 took to Murmansk last week with camp equipment that was going to be air-dropped together with fuel and food for the people stranded on the ice floe. "Now we were suggested to start from the scratch – apply for the next flight 48 hours in advance," a message on the account reads. Many tourists and 55 marathon runners are waiting for transportation form Svalbard to Barneo, they say.
Head of operations at Longyearbyen airport Carl Einar Ianssen confirms to Barents Observer that the Norwegian Civil Aviation Authorities have issued new regulations for the An-74 flying between Longyearbyen and Barneo, and that they now have to report passenger lists and cargo lists 48 hours before take-off.
Norwegian Civil Aviation Authorities have not yet answered questions from the Independent Barents Observer about the new regulations.
Demilitarized Svabard
This use of Svalbard as part of preparation to military exercises could be in conflict with the Svalbard Treaty. Article 9 prohibits naval bases and fortifications and also the use of Svalbard for war-like purposes. The Norwegian Government in its White paper on Svalbard explains that "All foreign military activity in Svalbard is prohibited and would entail a gross infringement of sovereignty."
"Unless they involve innocent passage through territorial waters, foreign military and civilian government vessels wishing to enter Norwegian territorial waters around Svalbard must apply well in advance for diplomatic clearance. The same applies to calls at ports in Svalbard and landings at airports. […] The Norwegian authorities follow very restrictive practice with regard to granting such clearance."
Geir Ulfstein, Law Professor at the Department of Public and International Law at the University of Oslot old the Barents Observer that an interesting question concerning the kind of use of Svalbard that we now are witnessing, is how far Article 9 of the Treaty reaches when it comes to prohibition of the use of Svalbard "for war-like purposes."
"But in this connection it is central that Norway has the sovereignty over Svalbard. Norway can prohibit paratroopers on Svalbard in the same way as on the mainland, unless other countries can claim concrete rights as a consequence of the Svalbard Treaty. It is hard to see how Russia could find any such rights in the Treaty," Ulfstein said.
"Norwegian authorities have nothing against flights via Svalbard, as long as regulations are being followed," Communications Adviser at Norway's Foreign Ministry Ane Haavardsdatter Lunde told the Barents Observer. "All activities on Svalbard must be carried out in accordance with Norwegian laws and the given permissions," she added.
Related stories from around the North:
Canada:  Canadian Rangers – The Watchers, Radio Canada International
Canada:  Canada's defence review and the Arctic, Radio Canada International
Finland:  Russian troops near Finnish border placed on combat readiness, Yle News
Norway:  Peace and stability crucial for Arctic economy, Barents Observer
Russia: North Pole camp for Russian paratroopers, Barents Observer
Sweden:  Sweden's government scared of NATO facts: Moderates Party, Radio Sweden
United States: U.S. Arctic rep: Russia's Arctic buildup not necessarily martial, Alaska Public Radio Network