Blog – Alaska Native Regional Corporations are responsible for pollution, too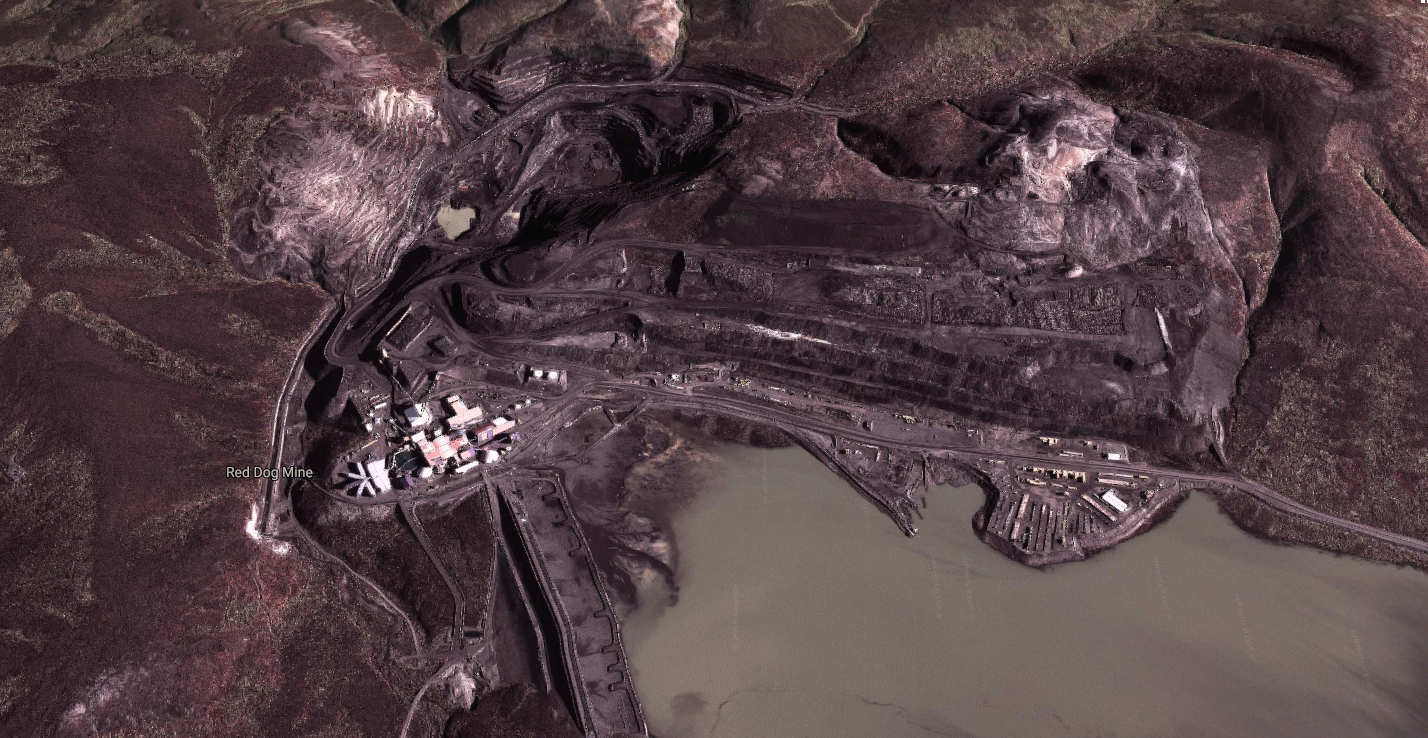 Two weeks ago, I wrote about how Alaska's Red Dog Mine is the most toxic site in America. This story has been circulating in the media since last November, when the U.S. Environmental Protection Agency's Toxics Release Inventory results were released for 2016.
A recent story in National Geographic about the extreme pollution levels in Kotzebue, where Red Dog Mine is located, closed by painting a picture of a wild Alaska teeming with majestic creatures like grizzly bears and caribou. In the view of National Geographic and many others, it is this frontier Alaska that may be lost to predatory mining companies. The article quotes Alaskan author, commercial fisherman, and photographer Seth Kantner, who says, "Those huge multi-national mining corporation… want this Alaska."
But it is not just multi-national corporations that are seeking to develop Alaska. Alaska Native regional corporations (ANRCs) play a significant role in generating industrial development – and, inevitably, pollution. I looked up the headquarters for the seventeen different operators responsible for emitting toxins in Alaska and determined that seven are located in Alaska.
Within this group, three operators are ANRCs: NANA Regional Corporation, which represents Iñupiat in Northwest Alaska, Doyon Limited, which represents Alaska Natives in the state's interior, and Arctic Slope Regional Corporation, which represents Iñupiat in Alaska's North Slope. By virtue of its serendipitous location and deep involvement in oil extraction, this last company is the wealthiest ANRC and the largest Alaska-owned company.
It's not a coincidence that these three ANRCs – all of which have lands north of the Arctic Circle – have been some of the most financially successful corporations out of the 13 established by the Alaska Native Claims Settlement Act in 1971. Their access to minerals and enormous land bases (see this interactive map) have positioned them to succeed in the resource-intensive Alaskan economy. They have also made partly them responsible for the state's toxic legacy.
By the numbers: Toxic emissions from Alaska Native Regional Corporations
NANA partners with Teck American, based in Canada, to operate Red Dog Mine, responsible for a whopping 91% of toxic releases in Alaska. Doyon runs municipal utilities in Fort Wainwright and Fort Greely. Arctic Slope Regional Corporation owns a subsidiary, Petro Star, which operates two oil refineries along the Trans-Alaska Pipeline, in Valdez and North Pole (Fairbanks) that supply mines and communities throughout Alaska.
The data suggest that it's not just multi-national corporations that are interested in developing Alaska. Native corporations, local companies, and other American businesses are, too.
Furthermore, the release of toxins isn't always associated with an activity that might normally be thought of as destructive, or needing to cease. Cities need their utilities, and people up and down Alaska's coast and in the interior rely on the fuel that comes out of ASRC's refineries.
Still, the fewer toxins that these industrial activities can release, the better.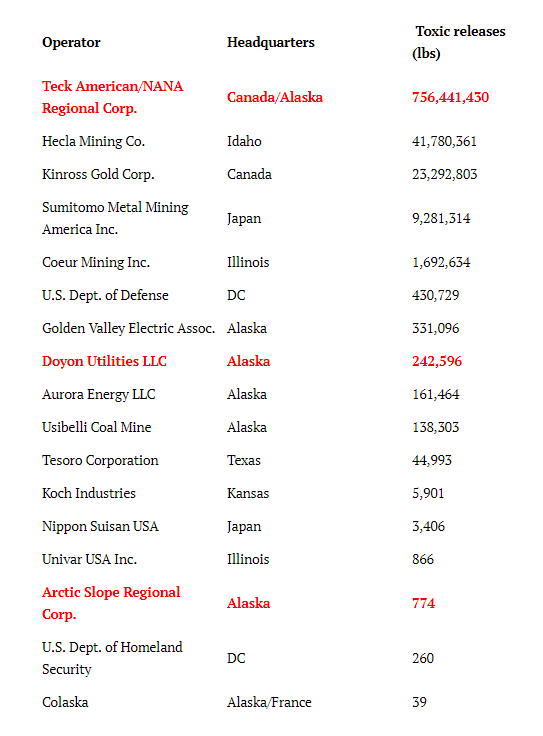 Data available to download here.
This post first appeared on Cryopolitics, an Arctic News and Analysis blog.

Related stories from around the North:
Canada: Scientists search Arctic waters for microplastics, Radio Canada International
Finland: No building permit for northern Finland nuclear project Fennovoima before 2019, Yle News
Norway: Russian activist in exile says Norway's nuclear waste support is irresponsible, The Independent Barents Observer
Russia:  Russian General Prosecutor targets polluters in the Arctic, The Independent Barents Observer
Sweden: Swedish mining company in court over toxic waste exported to Chile in the 1980s, Radio Sweden
United States: America's most toxic site is in the Alaskan Arctic, Blog by Mia Bennett, Cryopolitics