Canadian PM directs northern minister to update and expand Nutrition North program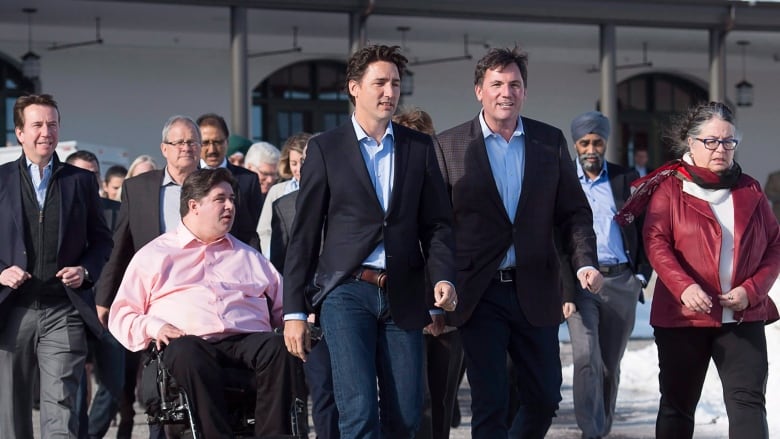 Nutrition North is on the to-do list of Canada's new minister of Intergovernmental and Northern Affairs and Internal Trade.
Minister Dominic LeBlanc received his mandate letter from Prime Minister Justin Trudeau on Tuesday, and the food subsidy program in remote and northern communities is on the list of 11 top priorities.
The letter directs the minister to work to update and expand the Nutrition North program in consultation with northern communities.
"It's a direct instruction from the prime minister," said LeBlanc in an interview with CBC.
"If it's of significant importance to him to directly refer to it in the mandate letter, it's a priority to him."
It's a direct instruction from the prime minister.
Minister Dominic LeBlanc
Northern tour
LeBlanc travelled through the territories earlier this month. He said he spoke with a number of people about the Nutrition North program and heard about the high cost of getting food into the North, the feeling that there is a lack of transparency on how funding for the program is spent, and ideas on how to include traditional food in the program.
Nutrition North provides subsidies on shipping for retailers on a list of products the government deems to be nutritious or essential.
"Freight subsidies will and must be part of the program, but I think there should be room for communities that want to innovate around locally-sourced foods from the land or the sea," he said.
While speaking with residents of Iqaluit (east-Arctic city) about food prices, he said he was surprised to learn that ordering online from a site like Amazon could get canned goods delivered cheaper than shopping at local stores.
"I need to understand from the people administering the program how that could be possible. I heard it myself and frankly it surprised me," he said.
LeBlanc said he is not satisfied with the level of transparency in the program and wants to see what can be done to improve it.
'Sense of urgency'
In the fall of 2016 consultations were held on the Nutrition North program across the territories. Indigenous and Northern Affairs released a report in May 2017. It found that the program fails to make healthy food affordable, and the subsidy is not helping the people who need it most.
According to an email from the department overseeing Nutrition North, changes to the program continue to be developed with ongoing input from stakeholders.
"To do this right, we are taking the necessary time and steps to co-develop options for program improvement that reflect what we heard from Northerners and Indigenous communities and be more responsive to their needs," said the email.
LeBlanc said he understands people are looking to see changes to the system, and while there is no timeline in place, he will be looking for regular updates from the Department of Crown-Indigenous Relations.
"I do feel personally a sense of urgency, based on what I heard," he said.
"The people that I talked to all shared, voiced, that sense of concern that we can make significant improvements to the program and we are at a time now where we should proceed to do that."
Related stories from around the North:
Canada: Canada invests $1.2 million to help solve mystery of dwindling char numbers in Arctic, Eye on the Arctic
China: Arctic Indigenous food culture takes the day at international cookbook awards, Eye on the Arctic
Finland: Poor harvest caused by dry summer may force Finnish farmers to slaughter livestock, Yle News
Sweden: Hot, arid summer guts a third of Sweden's cereal harvest, Radio Sweden
United States: New farm bill program aims to fight food insecurity in Alaska, Alaska Public Media