Russia's only aircraft carrier damaged as floating dock sinks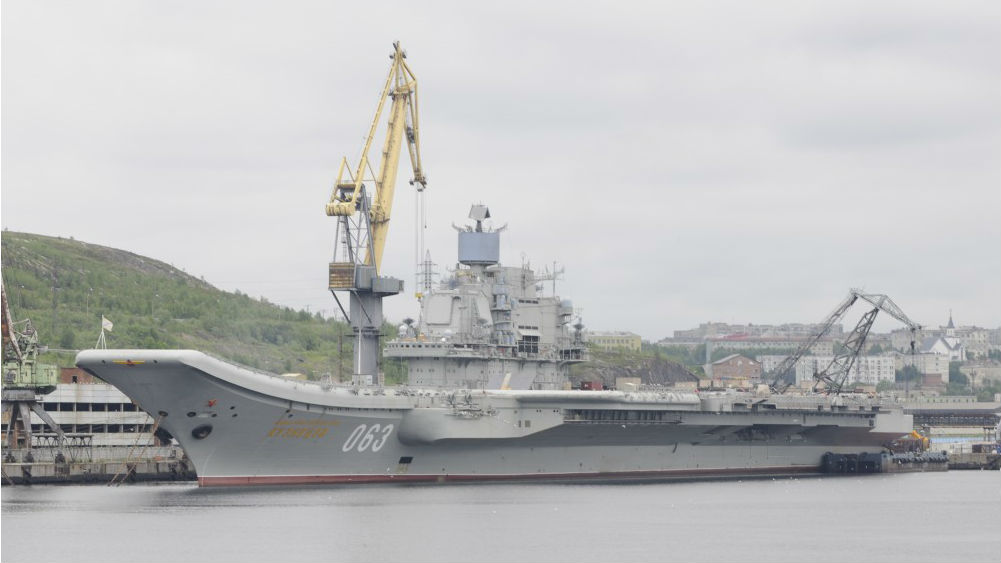 One person is reported dead and Russia's only aircraft carrier has been damaged as floating dry dock sinks into the waters of the Kola Bay, in the northwest.
It was early morning Tuesday in Roslyakovo, near Murmansk, when Russia's biggest floating dry dock experienced serious technical problems reportedly triggered by a power outage.
The accident started as the Admiral Kuznetsov aircraft carrier was to be taken out of the dock and into the nearby waters, Interfax reports. The vessel was damaged as a large crane fell over the ship deck, sources tell the news agency.
Zvezdochka, the company that operates yard No 82 in Roslyakovo, has not yet commented officially on the situation. However, regional Governor Marina Kovtun has issued a video report about the incident.
"It is hard to say what is the reason for the accident," Kovtun says in the comment distributed on Twitter. "There are rescue services on site and divers in the water, and also a group from the Northern Fleet as well as an investigative team."
The aircraft carrier has now been towed to the nearby Sevmorput Yard No 35, yard press spokesman Yevgeny Gladyshev told Interfax. He makes clear that the power outage was what caused the accident.
Power outages a recurring problem
There have been several cases of power outage all over the region in recent days , including in the cities of Severomorsk and Murmansk.
In addition, the dry dock has itself had repeated problems with its aging technical equipment, including the electricity system.
The floating dry dock at the Yard No 82 in Roslyakovo is Russia's biggest and the only place where the Northern Fleet can conduct repairs and upgrades of its largest ships like the Admiral Kuznetsov as well as the Pyotr Veliky battle cruiser. The 330-meter-long dock was built in Sweden in 1980 and, a few years later, bought by the Soviet Union and taken to the Kola Bay.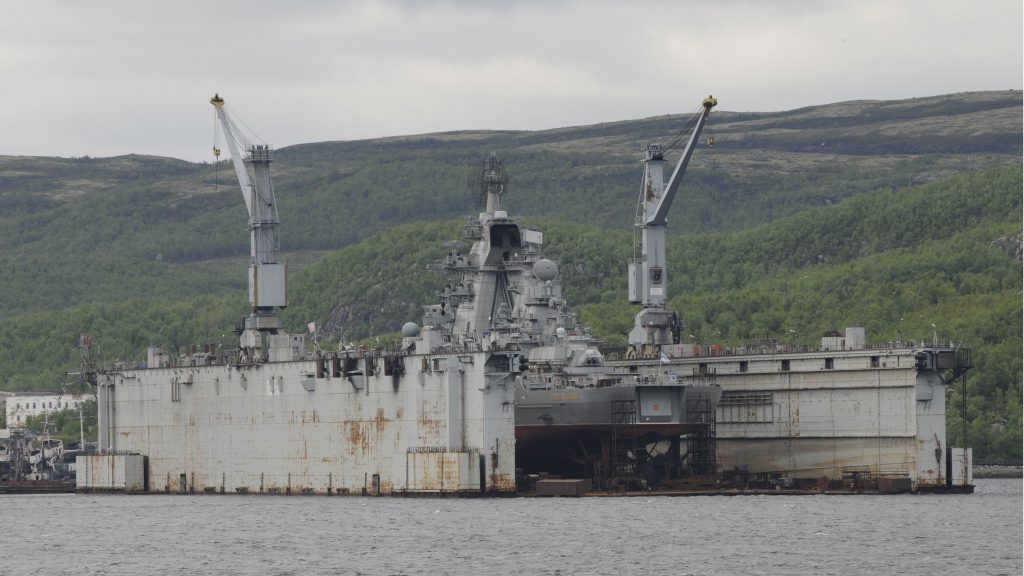 There were about 60 people on the dock when it started to sink. Five of them did not manage to get to safety. One is reported dead and four injured, one with a serious condition.
Just a few hours after the accident, regional prosecutors confirmed they would initiate a criminal case against people involved in the incident, Interfax reports.
Major upgrades
Russia's only aircraft carrier, the Admiral Kuznetsov has been docked since last fall in the yard in Roslyakovo where it is undergoing major upgrades. The works include both navigation equipment and weaponry.
All the ship's electro-mechanical components, including the main propulsion system, will be repaired. Several of the engine boilers will be replaced and the runway will be upgraded.
The cruise-missile system will also be upgraded from Granit missiles to Caliber missiles.
Launched in 1990, the 305-meter-long aircraft carrier is Russia's largest warship. Its last major overhaul was made between 1996 and 1998.
Related stories from around the North:
Canada: Canada's defence minister says military upgrades part of plan to strengthen Arctic sovereignty, CBC News
Finland: Russian military conducts confidence-building visit to Lapland Air Command in the Finnish Arctic, Radio Canada International
Norway: Trident Juncture: Nordic nations stress importance of regional defence, Moscow worries about stability, The Independent Barents Observer
Russia: Russia's Northern Fleet works on increasing ties with Chinese Navy, The Independent Barents Observer
Sweden: Major deal between Sweden's Saab and U.S. Air Force a "sign of closer transatlantic ties", says defence expert, Radio Sweden
United States: New symposium brings U.S. military's attention to the Arctic, Alaska Public Media