Arctic Canada: Nunavut government releases COVID-19 reopening plan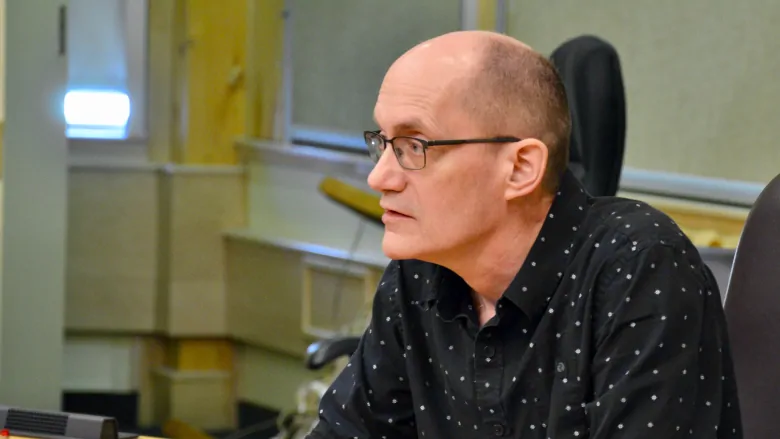 The Nunavut government unveiled its COVID-19 reopening strategy Monday, with the territory's top doctor calling it a flexible, cautious and adaptive plan.
Called Nunavut's Path, the plan starts by allowing daycare centres to open as of June 1, along with municipal playgrounds and territorial parks for outdoor use only. It allows 25 people to gather together outside. The limit for gathering indoors is still five people.
"It is time for us to move forward. This does not mean that the pandemic is over," said Nunavut's Chief Public Health Officer Dr. Michael Patterson during a news conference plagued by audio difficulties.
The plan lays out low, medium and high risk measures that the government will consider as it eases restrictions.
It calls the opening of daycare centres, parks, workplaces and gyms low risk. Opening churches, youth centres, restaurants for eating-in or allowing visits to long-term care centres are medium risk. High risk would mean opening bars, allowing concerts, indoor community feasts or visiting more than five people indoors.
"Today there is no timeline for when the COVID-19 pandemic may end … our efforts as a territory will need to continue, even as we begin to ease public health measures," the document reads.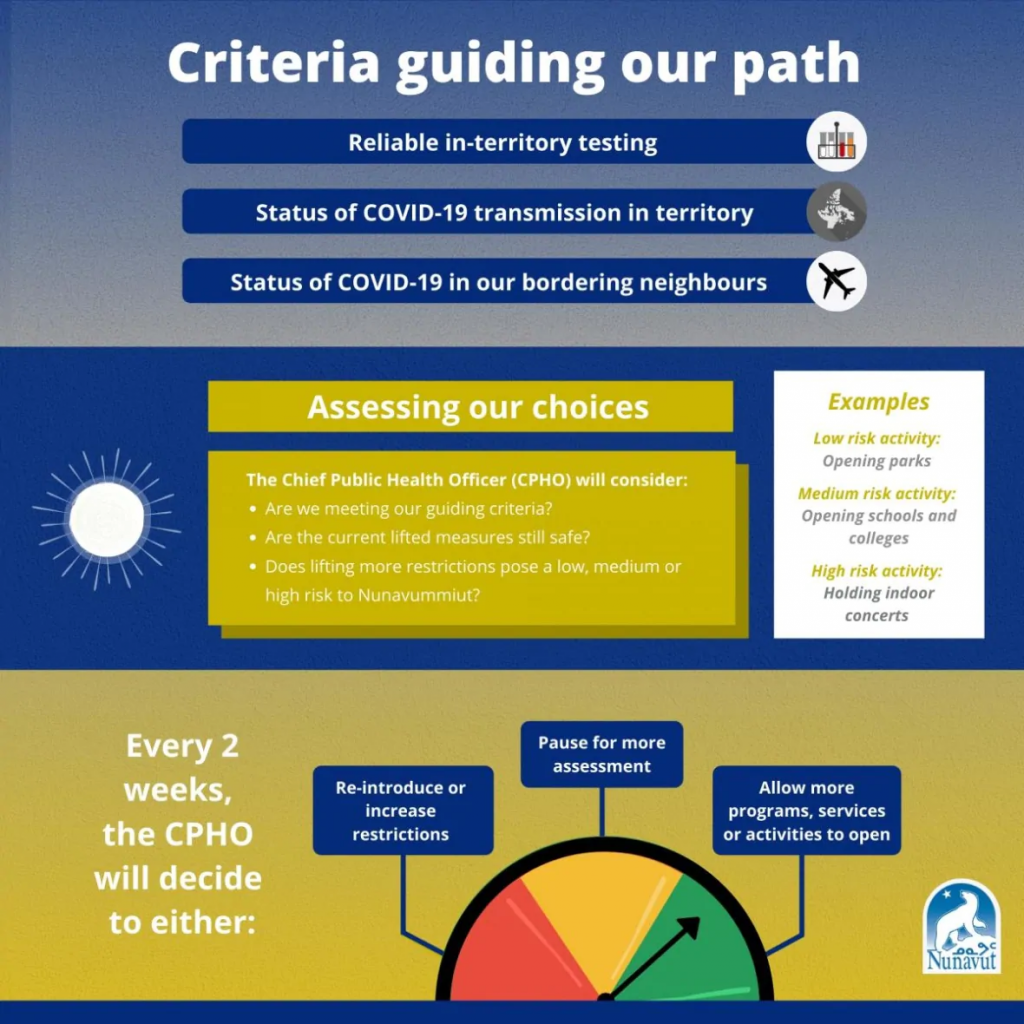 New public health orders will be written to include the lightened restrictions. Every two weeks health officials will reassess how the changes are impacting Nunavut, and decide if more changes can be approved.
The Health Department will be working with daycare centres to enhance hygiene and know what they need to keep children safe.
Employers and retailers needing more detailed information about opening up should contact the Workers' Safety and Compensation Commission.
The government says the plan depends on several factors: transmission within the territory, the territory's ability to keep testing for COVID-19, the capacity of health centres, and the number of cases or level of transmission in travel points outside Nunavut, like the Northwest Territories, Alberta, Manitoba, Québec and Ontario.
The plan explains that risk comes from the duration and kind of contact people have. When people are in contact for less than ten-minutes, transmission is less likely, it says.
Patterson said being in contact with people at your workplace is lower risk than having people into your home, because the nature of that contact is different. People don't get as close to each other, he said.
Border restrictions remain
The territory remains closed to non-residents. The document calls travel Nunavut's highest risk. Current border measures will stay in place to "minimize the risk of introducing COVID-19 into the territory," Patterson said, adding that border measures may stay in place for months until there is more information about therapies or vaccines for COVID-19.
The government said that as of May 24, there were currently 230 people in isolation in total in all of its isolation locations. That includes 141 people on medical travel and 89 members of the public who were travelling.
The territory said it has plans to repatriate 65 of those people over the next three days.
There are 122 people under investigation right now for symptoms of COVID-19. In all, health staff have investigated symptoms of 1,010 residents.
The plan could be reversed at anytime, said Premier Joe Savikataaq.
"It sets out a course for how and when to move forward and when to pause and reassess," he said.
Read the entire plan by clicking here.
Mobile users: View the document
(PDF KB)
(Text KB)
CBC is not responsible for 3rd party content
Related stories around the North:
Arctic: Roundup of COVID-19 responses around the Arctic, Eye on the Arctic
Canada: Canada's Northwest Territories could begin first part of reopening plan as soon as Friday, CBC News
Greenland/Denmark: COVID-19 could delay Kingdom of Denmark's Arctic strategy, Eye on the Arctic
Finland: Half of Finnish Lapland's tourism businesses fear failure by winter, Yle News
Greenland: COVID-19: Arctic science expedition postpones flight campaign after trainee tests positive for virus, Eye on the Arctic
Iceland: Iceland talks COVID-19 with Canada, Greenland foreign ministers, Eye on the Arctic
Norway: Growing concern among Nordic officials over increased Arctic border traffic, The Independent Barents Observer
Russia: Almost 2,000 workers have contracted COVID-19 at this Russian Arctic construction site, The Independent Barents Observer
Sweden: Nordics concerned over COVID-19 spread in Sweden, Radio Sweden
United States: COVID-19 pandemic raises hard questions about health disparities, says Int'l Inuit org, Eye on the Arctic