Traffic, mobile data show Lapland travellers not deterred by worsening COVID situation in Finland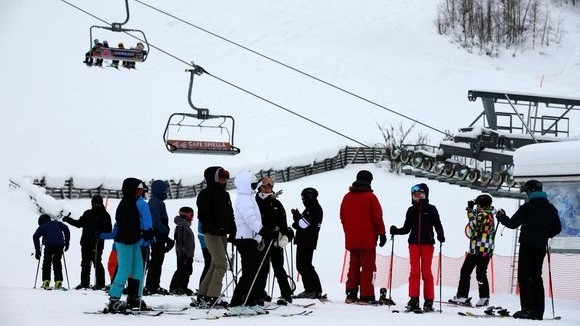 There were as many–or even more–people travelling domestically this week compared to the same period last year, data reveals.
Finland's deteriorating coronavirus situation does not appear to have affected the travel plans of winter holidaymakers.
According to mobile phone and traffic data, there were as many–or even more–people travelling domestically this week compared to the same period last year.
Automatic measuring points on roads leading to the most popular ski resorts in Lapland registered a clearly increased number of vehicles in the weekend before the ski holiday week began.
According to data collected by the Lapland ELY Centre, a total of 11,500 vehicles were registered on Saturday by three measuring points: between Kemi and Rovaniemi on highway 4, on highway 79 leading to Kittilä and on highway 21 travelling in the direction of Ylläs.
Last year, just under 10,300 vehicles passed the same three measuring points.
The measuring points of the Fintraffic centre in Uusimaa tell a similar story. Friday's traffic volume across the province was 3.4 million, up by 600,000 vehicles from the same period last year.
Location data suggest similar tourist numbers as 2020
As Finland's winter ski holiday season began last week, health agency THL and authorities in Lapland recommended that Uusimaa residents avoid travelling outside their home province.
Concerns about the spread of coronavirus are further compounded by the risks associated with more contagious variants of the virus, which Helsingin Sanomat reported on Tuesday now account for three quarters of new cases in the capital region.
However, the recommendations did not lead to many people cancelling their reservations for holiday cottages or hotel rooms for the ski holiday week.
Based on statistics compiled from mobile network data provided by Telia to Yle, there were approximately the same number of winter holidaymakers in Lapland this year as last year.
However, Telia specialist Tiia Palimo said that comparing the statistics with last year is not quite straightforward, because foreign tourists are completely absent from Lapland this year.
"According to our statistics, the number of Finnish tourists in Lapland is at least as high this year as it was last year. This is best determined by comparing the population numbers and taking into account the impact of foreign tourists on them," Palimo said.
The statistics derived from Telia's mobile network data are generated from anonymised and grouped data, and therefore cannot be used to identify individuals or groups.
Related stories from around the North:
Canada: Arctic Tourism & the Pandemic podcast, Eye on the Arctic
Finland: Jobless huskies in Arctic Finland travelling south for work as COVID-19 puts breaks on winter season, Yle News
Denmark/Greenland: Greenland authorities buoyed by high demand for COVID-19 vaccine, Eye on the Arctic
Iceland: Iceland institutes new COVID-19 border measures, Eye on the Arctic
Norway: Norway extends border closure with Finland due to pandemic, The Independent Barents Observer
Russia: Norway closes borders over fears of virus, but exempts Russian fishermen from severely infected border region, The Independent Barents Observer
Sweden: Swedes caught in Norway border limbo, Radio Sweden
United States: Alaska politicians send Trudeau letter saying they're "shocked" over Canada's COVID-19 cruise ship ban, Eye on the Arctic