Inuvik to welcome back the sun with annual weekend festival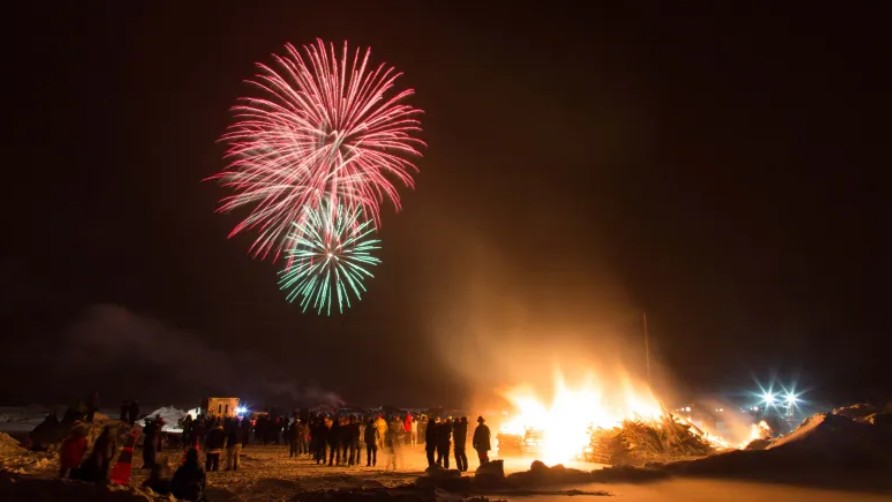 A 27-minute sunrise in Inuvik, N.W.T., this Friday will trigger a full weekend of festivities as residents gather to welcome the sun back to the skies after about 30 days of darkness.
The town is expecting hundreds of people to come out to the annual Inuvik Sunrise Festival, which begins a few hours after the sun rises (1:47 p.m., according to the town) and sets.
Jackie Challis, the town's director of economic development and tourism, said it's something of a tradition for the festival to take place in the midst of a deep Arctic freeze — no matter that temperatures around Inuvik sat at a balmy –15 C as of Tuesday afternoon.
She's crossing her fingers for the relatively nice weather to last for once, as this year's festival features a slew of new workshops and events to bring people together under one theme: "Old friends, new light".
"Especially in the Delta, there's a lot of connections. There's connections with friends and family, and not only are we celebrating the new light of the sun, but I think all of us are just appreciating gathering and new light in whatever that means for you, right?" Challis said.
"For me, it's being able to see everything in one place in the park. Even if it's going to be really cold, it'll be nice."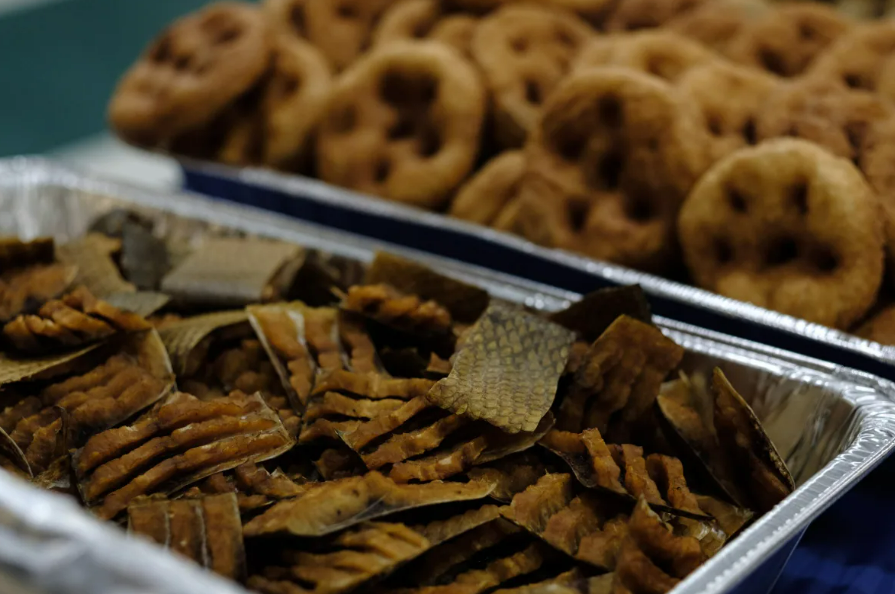 Festivities get underway at 6 p.m. Friday night with the Taste of Inuvik, which happens at the Midnight Sun Complex. Challis said they usually see more than 300 people at that event.
"It's like our opening ceremonies," Challis explained. There's everything from country food samples — bannock doughnuts, moose jerky and dryfish, to name a few — to dancers, dignitaries and fiddling.
The special guests for this festival are Theland Kicknosway and his mother, Elaine.
Theland, who is 19, is Potawatomi and Cree, and is a traditional singer, drummer and dancer. He's travelled around the world sharing stories about his journey and raising awareness about issues affecting Indigenous people.
He's set to give a hoop dance performance during the Taste of Inuvik. Aside from participating in the festival, he and Elaine will also hold community workshops and engagement activities.
"I'm very excited and I'm happy that we get the chance to travel together and showcase a bit of who we are as a family, and hopefully be able to offer that good medicine," he said.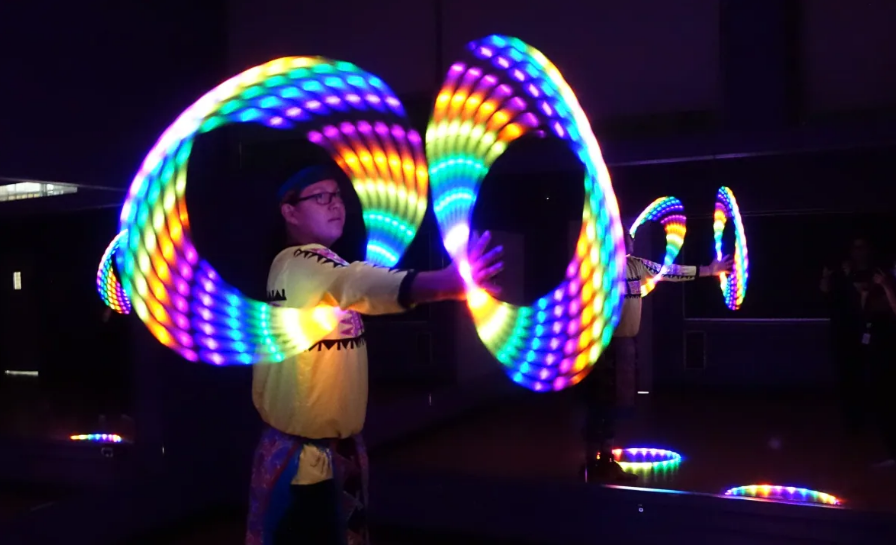 What's new this year
Challis said the town usually tries to offer one signature workshop during the festival. This year, it's been expanded to five, and the response was immediate and overwhelming.
"In less than 24 hours of us posting, we had over 125 interested registrations," she said. Since the workshops have limited space, there are still more than 100 people on the waiting list to participate.
The workshops will include seal and beaver mitt making, a painting workshop with a sunrise theme, beaded stroud keychains and — a highlight for Challis — ulu knife making.
"[That's] something that you can't just do on the side, so we actually have a very experienced person teaching the workshop," she said.
They'll also be decking out the wooden boardwalk at the Inuvik Welcome Centre with an LED light display on Saturday and Sunday.
"It's really a place to come walk through, have some bright, happy lights, and take some nice photos," Challis said. Next to the boardwalk will be a tent where people can have professional family photos done for free.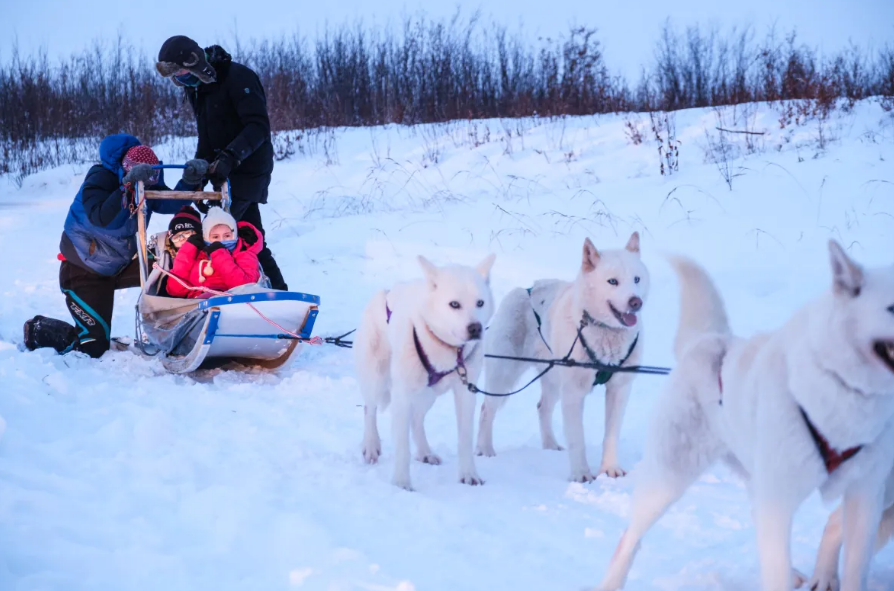 Also new this year is a storytelling tent and campfire in Chief Jim Koe Park, where elders will gather to tell stories about being on the land, stories around the sunrise and the traditional welcoming back of the sun to the Delta.
Finally, Challis said, they have an interactive mural display of traditional parkas — the culmination of a project that began in the fall when the town partnered with the Western Arctic Youth Collective for a series of workshops, including one that focused on traditional clothing and the importance of passing down skills and knowledge.
Brian Kowikchuk, an Inuvik-based artist, sketched silhouettes of traditional parkas in a paint-by-numbers fashion, which families then got together to paint.
"We wanted to host something that was a bit interactive for the Sunrise Festival, but we didn't want it to be kitsch-y and it was really important we weren't [doing] cultural appropriation," she said.
The paintings, done on large pieces of plywood, have the faces cut out so people can not just look at them but also take pictures in them.
"We're all actually really excited to see these," Challis said.
A full list of events is available on the town's website.
With files from Lawrence Nayally
Related stories from around the North: 
Canada: Picture from N.W.T. among winners of international astronomy photography competition, CBC News
Finland: 70th annual reindeer cup races held on frozen Lake Inari, The Independent Barents Observer
Russia: German project to house everything published in Siberian and Arctic languages to seek new funding, Eye on the Arctic
Sweden: Award-winning novel set in Sapmi to get Netflix treatment, Eye on the Arctic