How Inuit culture helped unlock power of classical score for Inupiaq violinist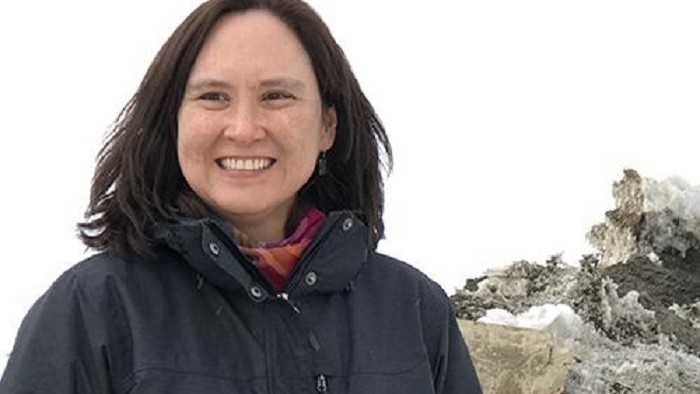 An Inuk violinist and academic is giving a concert and lecture in Montreal in February with a view to showcasing the power of bringing different world views to the interpretation of classical scores. 
The event, Qutaanuaqtuit:Dripping Music, will feature Alaskan musician Heidi Aklaseaq Senungetuk as she interprets music from "50 Caprice Variations for solo violin"  by George Rochberg (1918-2005), a contemporary American classical music composer, along with storytelling and visuals from her Inupiaq culture.
"One of my biggest intentions for doing this piece with Rochberg is to make visible my creative processes that are usually private," Senungetuk told Eye on the Arctic. 
"And by sharing my private processes I'm bringing my world view to a stage where there aren't very many Indigenous performers interpreting this music."
Senungetuk says she didn't grow up in a family of classical music affectionados in Alaska, but rather got into violin by accident because her friends were doing it.
But the childhood hobby eventually became a passion and Senungetuk went on to play in orchestras and get a Phd.
Grappling with Rochberg
The seeds for Qutaanuaqtuit:Dripping Music came out of Senungetuk's encounters with Rochberg's music as a student violinist.
One element of Rochberg's music that both attracted Senungetuk and that she grappled with, was his use of serialist technique.
"It can be a little alienating for some listeners, including myself," Senungetuk said.
"I was trying to figure out how to make sense out of the score and just as I was playing around with learning it as a student I was just thinking: How would this be in my grandparents world? How would this be narrating a bit of their life? And it connected really well for me."
Since that time, she's deepened her process to include both visuals and video.
"What I do now with this work is I use my Inupiaq world view to help me interpret western musical scores. I started this process of sharing visual elements from my Inupiaq culture in Alaska. I share imagery including ancestral carved ivory objects, I share my learning process of Inupiatun, the Inupiaq language, as I've learned how to translate parts of my life back into Inupiatun."
In addition to Rochberg's music, Senungetuk will also play music from "For Zitkála–Šá" by Raven Chacon, a Diné-American composer and the first Indigenous American to a Pulitzer Prize for Music.
In "For Zitkála–Šá", Chacon wrote 13 scores each dedicated to a different Indigenous or mestiza women artist, one of which was Senungetuk.
Making stories come to life
The concert and lecture is taking place in connection with the exhibition ᑐᓴᕐᓂᑐᑦ TUSARNITUT! Music Born of the Cold currently showing at the Museum of Fine Arts (MMFA) in Montreal. 
Senungetuk's event will take place on February 10 in Bourgie Hall. 
Ticket details are available on the museum website. 
Senungetuk, who spent a year as a post-doctoral researcher at Montreal's McGill University after she got her Phd in the U.S., says she's excited to return to the city for the concert and presentation. She says she hopes people leave the event realizing that their own backgrounds and imaginations can be used to enrich their musical experiences.
"The point of the whole presentation is about making stories come to life, making visual what comes from imagination and using this music to create a different way of looking at culture." 
Write to Eilís Quinn at eilis.quinn(at)cbc.ca
Related stories from around the North:
Canada: Toronto gallery next stop for travelling Kenojuak Ashevak exhibition, Eye on the Arctic
Sweden: 2022 Gollegiella Nordic Sami language prize awarded in Stockholm, Eye on the Arctic
United States: Gwich'in-language short film explores connection with land in award-nominated series, Eye on the Arctic