Ice-Blog: Climate ambition is not enough to tackle the ice emergency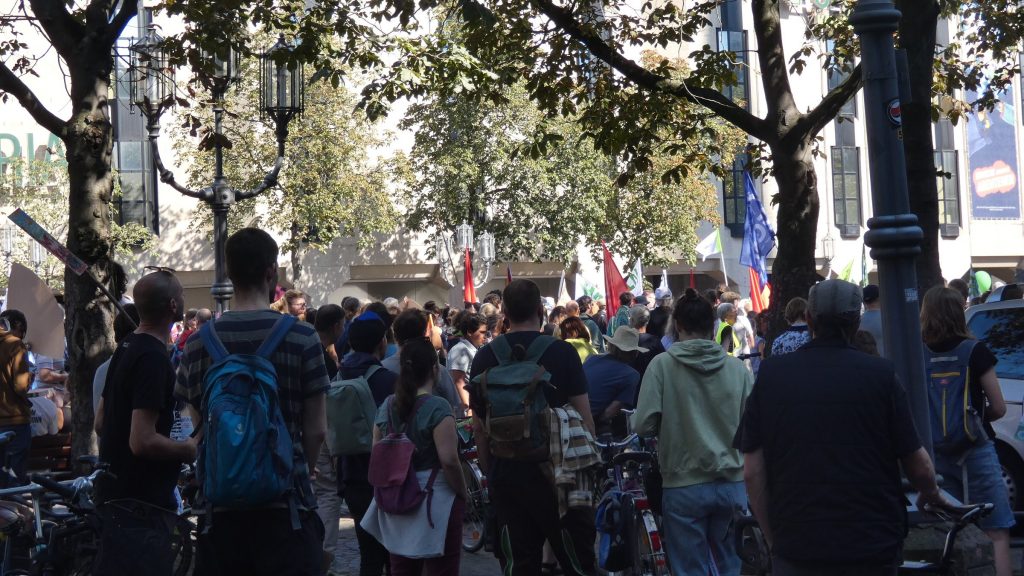 It's been a big week for climate, with hundreds of thousands of protesters taking to the streets around the globe as UN Secretary General Antonio Guterres hosted a Climate Ambition Summit on 20 September in the middle of Climate Week NYC and the annual meeting of the UN General Assembly (UNGA).
Just 10 weeks before COP28 in the oil-rich Emirate of Dubai, this was one of the last high-profile gatherings aimed at getting countries to come forward with new climate actions and plans to shift away from fossil fuels after other meetings like the G7 and G20 failed to make any breakthrough.
With over 700 marches and other actions in more than 60 countries and 600,000 participants worldwide 15-17 September, the global climate movement is more diverse and united than ever before. The main event was a climate march in New York City, where world leaders are gathering for the UN General Assembly and the UN Secretary General is convening a "no-nonsense" Climate Ambition Summit.
"Horrendous heat is having horrendous effects", the UN chief declared on Wednesday, addressing a broad, selected global coalition of what he dubs "movers and doers", including selected politicians, business and civil society leaders. The summit was designed as an "urgent call to action, to prevent cascading climate disasters through a just and equitable energy transition – before it's too late".
With extreme weather events accelerating, "humanity has opened the gates to hell," said the Secretary-General, describing distressing scenes of farmers helplessly watching crops washed away by floods, the emergence of virulent disease due to rising temperatures, and the mass exodus of people fleeing historic wildfires.
He warned that climate action was being "dwarfed by the scale of the challenge", with humanity heading towards a 2.8°C temperature rise, increasing danger and instability.
This is scary stuff.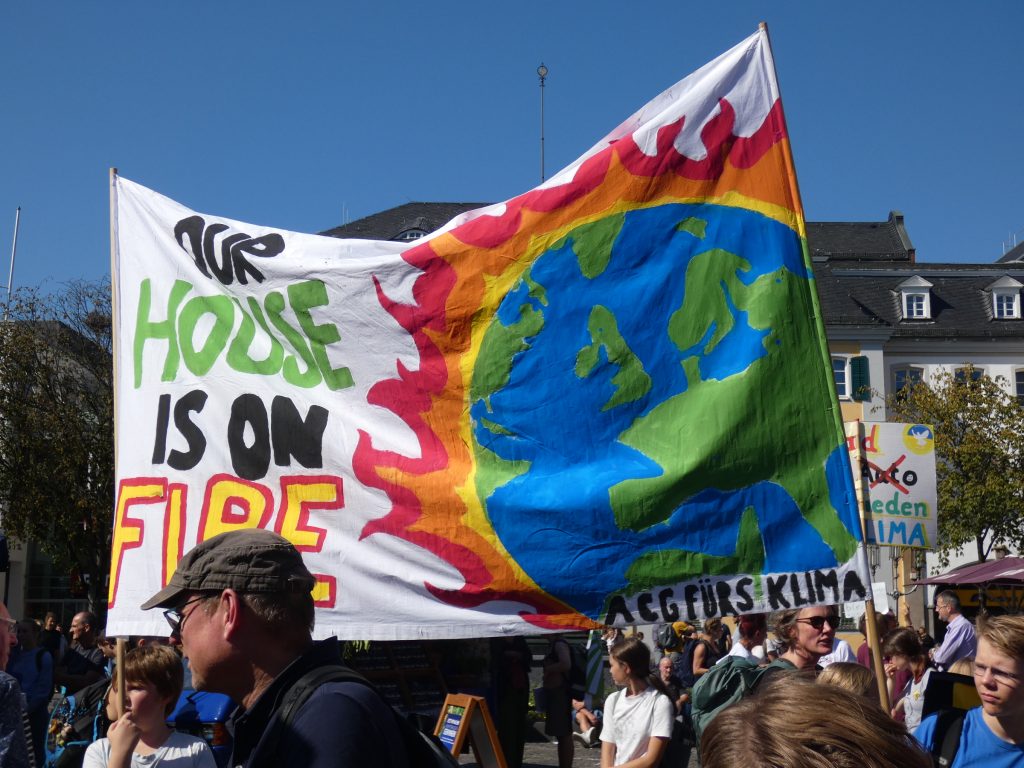 Adressing the opening of Climate Week NYC, the new Chair of the Intergovernmental Panel on Climate Change (IPCC), Jim Skea, stressed the voice of science was crystal clear:
"Ambitious and determined climate action during this decade is critical. Emissions are halved by 2030 in scenarios that avoid the increasingly most dangerous effects of climate change by limiting global warming to 1.5°C. Global net zero emissions are reached mid-century."
But the recently released Global Stocktake – the world's first climate change 'report card' – showed that countries are falling behind on their pledges and the world is not on target to curb global warming. More action is needed on all fronts, says the landmark United Nations report.
"Coal, oil, and gas still account for 75 per cent of global greenhouse gas emissions, which continue to fuel the climate crisis." – Despite the efforts of the fossil fuels industries, there is no longer any beating about the bush in the language used by the UN.
Cryosphere alarm
The cryosphere, the ice and snow regions of the planet, are sending us some of the strongest signals.
The Antarctic, long thought to be immune to global warming, a last bastion of cold,  is now melting twice as fast as the global average.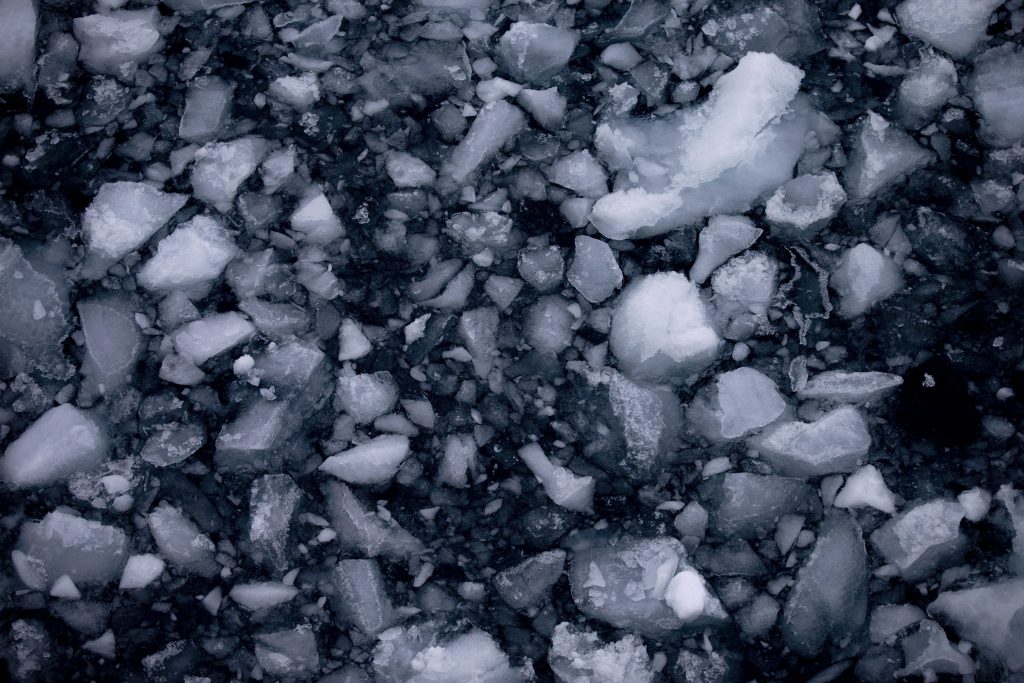 Meeting in Trieste, Italy, last week, the world's leading Antarctic scientists warned that even today's temperature with 1.2°C of warming, puts the continent "on the edge":
"Based on the newest research presented here, ice loss from Antarctica will occur sooner, and at lower temperatures than previously thought. What were called "low likelihood" events are now looking more likely than not if we don't cut emissions and halt warming within the 1.5°C envelope," said Dr. Tim Naish, an IPCC author and one of the conference organizers.
"While we can't avoid some sea-level rise, unless we cut emissions quite literally immediately – not next year, or next decade — we are setting in train many meters more, and we won't be able to stop it," added Dr. Naish.
The Antarctic sea ice reached unprecedented lows. "It's so far outside anything we've seen, it's almost mind-blowing," said Walter Meier, who monitors sea-ice with the National Snow and Ice Data Center.
The ice island of Greenland continued to make headlines in recent months. "After losing mass for more than a quarter-century, the Greenland Ice Sheet is perilously close to a tipping point beyond which its dynamics and structure would fundamentally and irreversibly shift, triggering a massive increase in sea levels", said Twila Moon, Deputy Lead Scientist at the National Snow and Ice Data Center at the University of Colorado Boulder.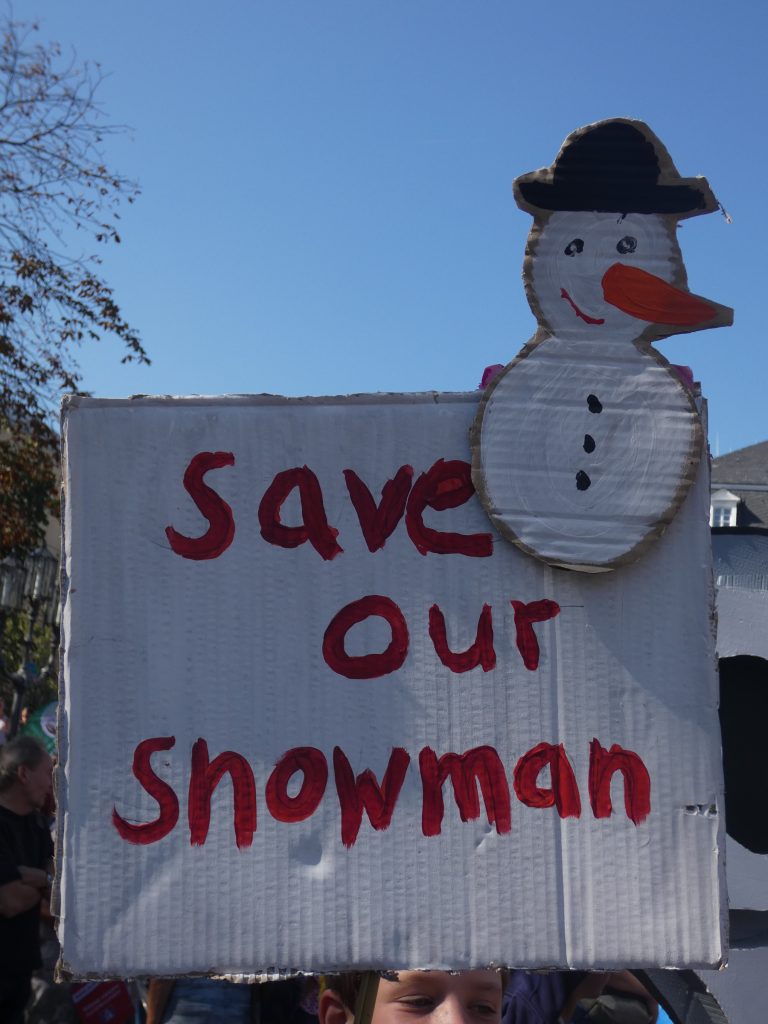 "Third Pole" melting, permafrost thawing
The Hindu Kush Himalaya region holds the third largest frozen body of water after the poles.  Izabella Koziell is Deputy Director General of the International Centre for Integrated Mountain Development (ICIMOD), the intergovernmental centre serving the eight countries of the region. "Cryosphere here is disappearing at a staggering pace. With 2 billion people and countless irreplaceable lifeforms in Asia reliant on meltwater from these mountains for water, food and energy, the consequences of delaying the phase-out of fossil fuels are almost too vast to contemplate", said Koziell. She spoke as ICIMOD hosted the Sept. 20-21 Hindu Kush Himalaya Science-Policy Forum in Kathmandu.
"Billions of people's lives are at risk if the world does not accept that 1.5 degrees is an absolute limit", says ICIMOD Director Izabella Koziell: "We are way off track. We must transition from fossil fuels to renewables faster than ever before; speed up fund transfer for adaptation, ecosystem restoration and mobilise loss and damage finance."
Dr. Christina Schaedel of Woodwell Climate Research Center, warns of the intense warming feedbacks caused by thawing permafrost: "Already today, thawed permafrost is emitting both carbon dioxide and methane on the same scale as a top-10 emitter such as Japan," she says. "Those CO2 and methane emissions will continue for centuries. To minimize the burden on future generations, every tenth of a degree matters; and a 2°C limit is definitely too high for global permafrost."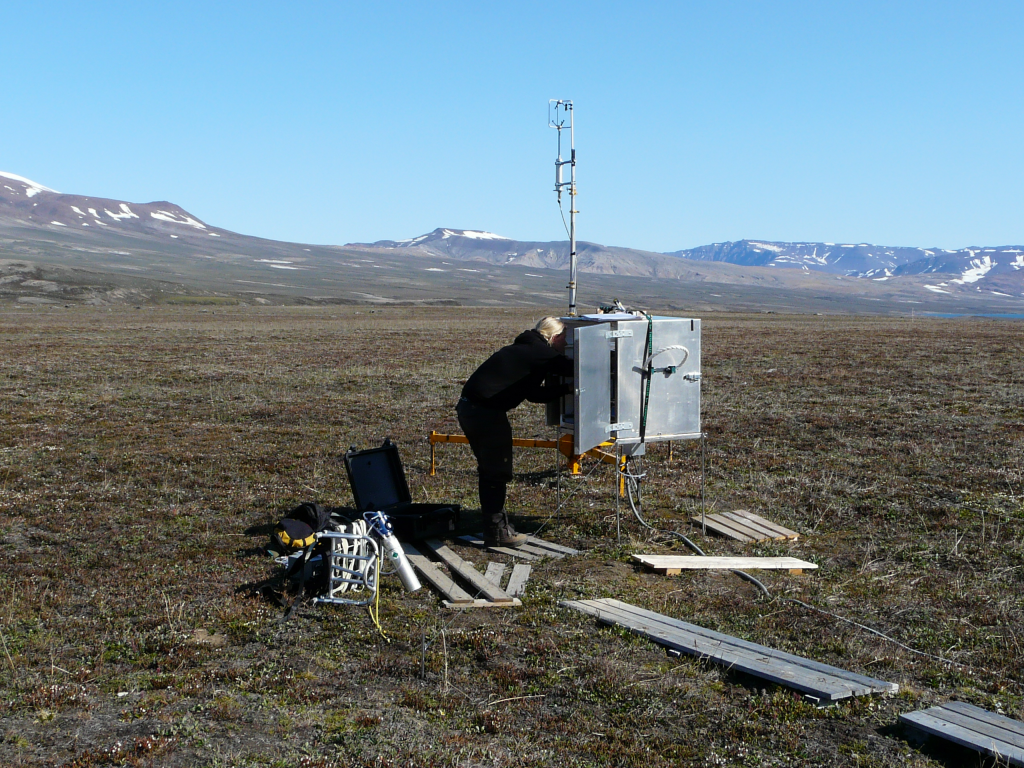 AMI alliance of nations calls for greater ambition on melting ice
Schaedel is one of a group of top scientists in New York during Climate Week NYC for a high-level event organized by the Ambition on Melting Ice (AMI) high-level group on Sea-level Rise and Mountain Water Resources. The groundbeaking coalition of ministers led by Chile and Iceland was formed last November at COP27 in Egypt. The AMI group brings "icy", polar and mountain nations together with the low-lying and downstream areas that will bear the brunt of loss of the planet's stabilizing stores of snow and ice. The alliance between polar and mountain states and  tropical and sub-tropical countries such as Liberia and Samoa marks the realization that changes in the cryosphere have huge impacts well outside colder regions. It will come as no surprise to Ice Blog readers that countries across the globe will suffer dramatically from rising seas, water shortages and ocean acidification if changes in the Arctic, Antarctic and mountain regions from fossil fuel pollution are not halted soon. But the connections between icy mountain regions and tropical beaches and coral reefs have not always been widely recognized. Now, new countries are preparing to sign up at COP28 in Dubai.
At the New York event, AMI Representatives joined top international scientists to deliver an urgent warning about these global impacts of ice and snow melt: even temporarily reaching the upper limit of 2°C set out in the Paris Agreement would be catastrophic:
"Only by remaining within the Earth's 1.5°C guardrail can we prevent the worldwide impacts that are resulting from the rapidly accelerating loss of the Earth's snow and ice reserves", says Dr. James Kirkham, a glaciologist and climate scientist, AMI's  Chief Science Advisor.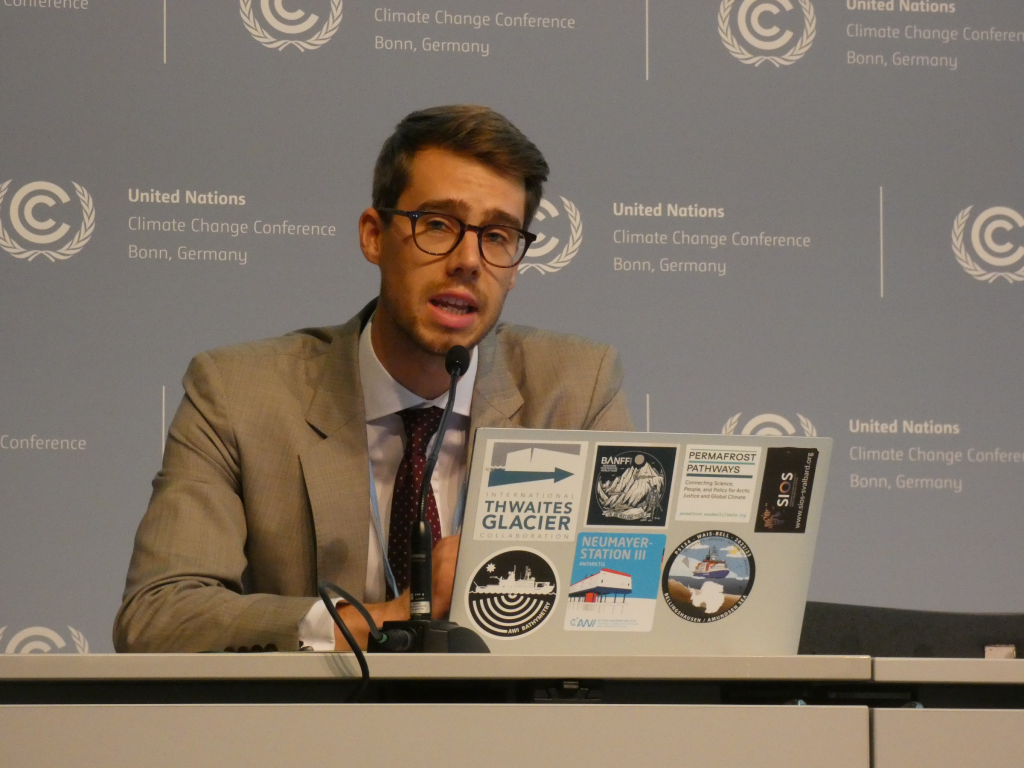 "The inaction of world leaders is dragging humanity into a perfect storm of water scarcity and irreversible sea-level rise that will hamstring economic growth, devastate coastlines and fuel political instability across the globe," said Kirkham in advance of the New York  event .
Strong words and a compelling call to action.
"Without urgent and immediate emissions reductions consistent with the lower Paris Agreement limit of 1.5°C, the damage from ice loss will result in scales of destruction well beyond the limits of feasible adaptation. It will leave no nation untouched", says Carlos Fuller, a seasoned climate negotiator and Permanent Representative to the United Nations of low-lying nation Belize.
"Chile this year is seeing record-low amounts of snow in our mountains due to repeated heatwaves, which may cause difficult water shortages in the coming summer," said Chile's Environment Minister and AMI Co-chair Dr. Majsa Rojas. "As an active research presence in Antarctica, we are seeing global warming impacts both at home, and on Antarctica that tell us 1.5°C should be a firm upper limit for global temperatures."
There must be no backtracking on 1.5°C
The Paris Agreement commits countries to limit the global average temperature rise to well below 2°C above pre-industrial levels, and aim to limit the increase "even further" to 1.5°C. You could be forgiven for thinking the lower level of 1.5°C was now generally accepted as the upper limit. Alas, seasoned observers of the UN climate talks fear this year's COP28, to be held in the oil-rich United Arab Emirates, could see a push to backtrack and revert to the higher limit of 2°C, leaving more scope for the continued use of fossil fuels.
"While much of the rhetoric today focuses on 1.5°C, the reality is that 2°C remains an acceptable Paris goal; and many countries still aim their targets at 2°C", says Pam Pearson, Director of the AMI Secretariat and International Cryosphere Climate Initiative (ICCI).  "Knowing what we know today, we should be doing everything possible to stay within 1.5°C and do what's needed to protect our own and especially, our children's future,"says Pearson.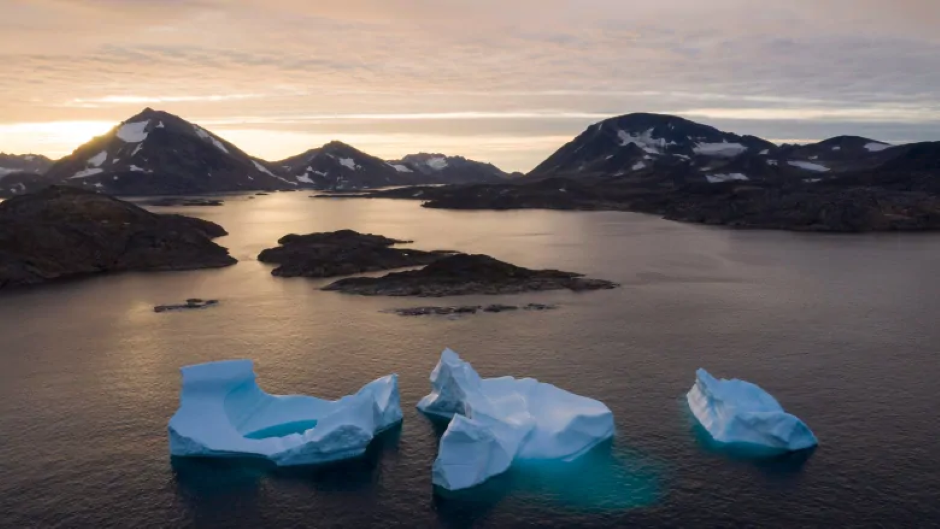 Should be a no-brainer? Sadly, it is not.
UN chief Guterres held his Climate Ambition Summit as a "rallying call for the meaningful contributions still needed to halve carbon emissions by 2030 and to be on a path to net-zero by 2050."
The list of participants – and especially those absent – shows the extent of the problems facing us.
No quantum leap
Only five of the G20 major economies made the cut for Antonio Guterres' Climate Action Summit in New York, despite pressure from big powers to be included
More than 100 governments expressed an interest in speaking at the summit in New York but only 34 were actually admitted, with slots restricted to what the UN called "first movers and first doers", those leaders who have responded to the Secretary-General's call for accelerated action to tackle the climate crisis.
"I would, of course, be very happy if several of the G20 countries would be able to come to the summit and announce a quantum leap in their efforts to reduce emissions, and at the same time, to better support financially the developing countries that are facing enormous difficulties in order to develop their own programmes of mitigation and adaptation", Guterres told journalists ahead of the meeting. In the end, only five G20 nations were allowed to speak. Top fossil fuel polluters the USA and China were not present.
No greenwashing of fossil fuels
The Governor of California, Gavin Newsom, who has passed a series of climate measures and recently announced that California would sue Big Oil, accusing the industry of years of disinformation campaigns, was the only official from the United States invited to speak . His speech  got the biggest rounds of applause presumably, as Max Bearak put it in the New York Times, " because it did what many others studiously did not: It confronted fossil fuel producers."
He said the fossil fuel industry had bought off politicians "for decades" to prevent climate change mitigation from taking effect.
"This climate crisis is a fossil fuel crisis. It's not complicated," he said. "It's the burning of oil, the burning of gas, the burning of coal. We need to call that out. For decades, the oil industry has been playing each and everyone in this room for fools. Their deceit and denial going back decades has created the conditions that persist here today."
The Climate Ambition Summit was held on the sidelines of the annual General Assembly meeting and coincided with a U.N. Security Council meeting on the war in Ukraine, which for a second year has dominated the assembly's agenda. Guterres had to divide his attention between crises.
"I hope that, in the same way we can take Ukraine seriously in the Security Council, we can talk climate change there, too," said Mia Mottley, the prime minister of Barbados, one of the most outspoken world leaders on climate issues. "This is, in fact, a greater threat because more lives are at stake globally."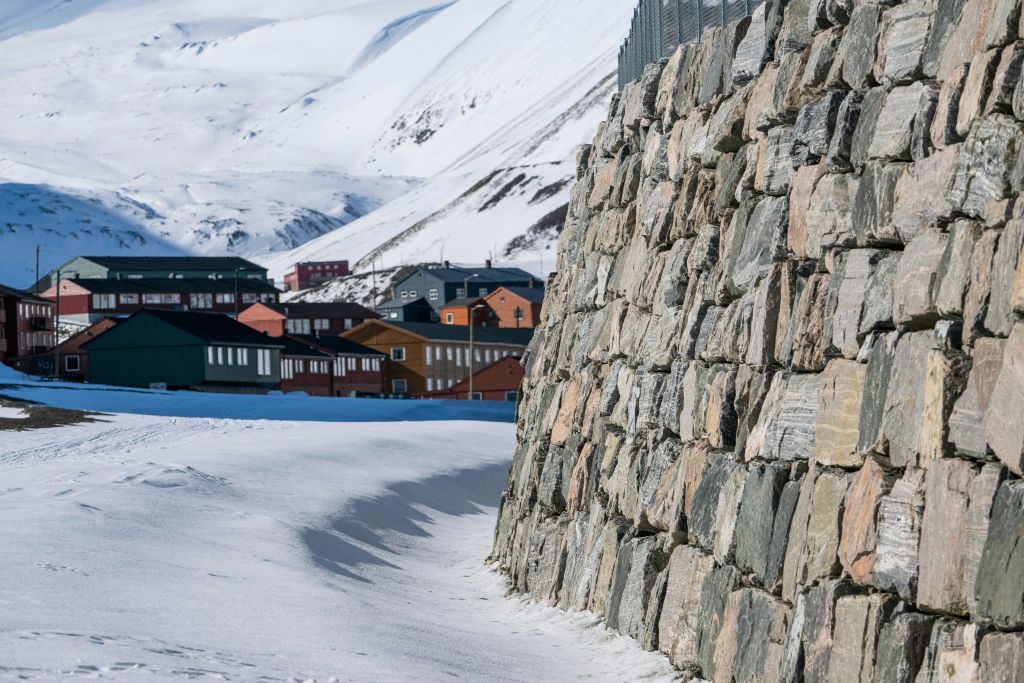 The Climate Ambition summit provided little in the way of concrete new pledges. But it was not short on compelling calls to action.
The New York Times singles out President Gabriel Boric of Chile, (founder member and co-Chair of the Ambition on Melting Ice group), described  as "a firebrand young socialist who said the self-congratulation in the room made him feel like delegates were all just trying to help themselves sleep better at night." The only way through this crisis, he said, was unrelenting pressure on laggards, be they fossil fuel companies or countries reluctant to wean themselves from fossil fuels.
"If we're not able to make those groups yield to the will of the international community, then the truth is we won't hit our targets," President Boric said.
Carbon dioxide (CO2) levels in the atmosphere reached a record 424ppm this year, meaning the atmosphere now holds 50 percent more CO2 than before the onset of the industrial era.
Signs of hope
In spite of all the dire warnings, Guterres stresses the Paris Agreement target of limiting temperature rise as close as possible to 1.5°C is still attainable:
"We can still build a world of clear air, green jobs, and affordable clean power for all," he told his high-level gathering of "first movers and doers".
IPCC Chair Jim Skea tried to be similarly upbeat, while stressing the urgency of the situation:
"Climate policies have begun to "bend the trend" on emissions, but we have yet to put global emissions on the steep downward path needed. Unless the world as a whole gets to net zero CO2 emissions, temperatures will continue to rise. "
We have started to make progress, the IPCC chief insists:
"The costs of renewable energy have fallen dramatically; wind and solar energy are growing exponentially. Electricity is increasingly used in markets dominated by oil and gas, for transport and heating. (…)  We are also seeing progress in terms of avoided deforestation and reforestation. Together, energy and land-based opportunities offer substantial mitigation potential in the near-term."
The IPPC has a blunt message, says Skea:
"We have the policy tools and the financial resources (…) we have the technologies, the know-how and the money to tackle climate change. We need to put them to use. Now."
The window for keeping temperature rise below 1.5°C is closing fast. Without immediate action to reduce emissions and adapt to continued warming, "threats to planetary health and human systems are inevitable," Skea reiterated
Doom and gloom versus too much optimism?
There is an ongoing debate about the language being used to describe the climate crisis. Even UN chief Guterres himself came under fire for using expressions like "the era of global boiling has arrived."
But he told reporters his language was anything but "over the top":
"I have not used any extreme rhetoric. I'm just telling the truth. And I believe there is no way we can fight climate change if we ignore the truth. And the truth is that climate change is having really devastating impacts worldwide, and we have seen it."
Powerful language, shocking imagery, dire warnings are not to promote "gloom and doom" but to provoke action.
In all modesty, I would like to think they are in the spirit of Antonio Guterres and fellow climate advocates with the interests of humankind and the planet at heart.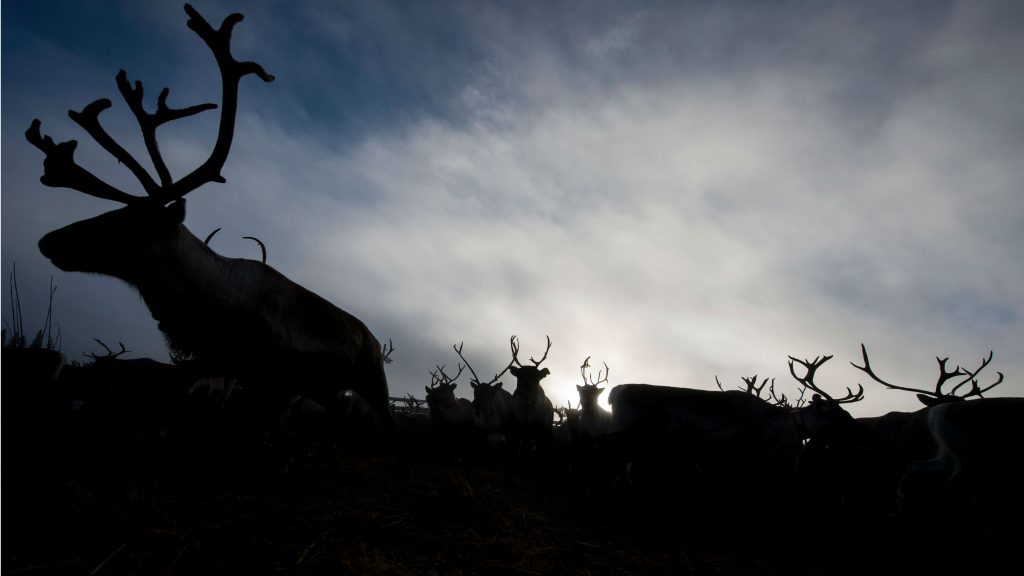 With my posts here on the Ice Blog, I too have been accused by some of being "too depressing", by others "too optimistic".
Whenever he draws attention to the dramatic consequences of continuing to heat up the planet, the UN chief says:
"I also say that there are reasons for hope, because we are not yet too late. And we need to use the understanding of how dramatic the situation is to mobilize the resources and the political will to do what can be done, because it's possible to do, which is to stick to 1.5°C as a limit of temperature growth at the end of the century."
I was shocked by a survey in Germany this week that indicated one in four of people here did not believe in human-made climate change.
Clearly, we have to put a lot more effort into getting the message across.
We have to tell the truth. But that truth also includes the fact that we can change things – and tips on how to go about it. Yes, the situation is dire. But we can still control how bad it gets – and equip especially the most vulnerable to prepare for what's to come and adapt to a changing climate, which establishes the conditions for life on the planet.
Related stories from around the North: 
Canada: Hot and dry July saw temperature records topple in the Yukon, CBC News
Greenland: Alarming, above-average ice loss in Greenland due to rising temperatures, Eye on the Arctic
Norway: Polar heat record. July average above 10°C, The Independent Barents Observer
Sweden: High risk of wildfires in many parts of Sweden, including North, Radio Sweden
United States: Bursting ice dam in Alaska highlights risks of glacial flooding around the globe, The Associated Press