Shell Oil's Kulluk drill rig cleared to leave Kodiak, Alaska for Dutch Harbor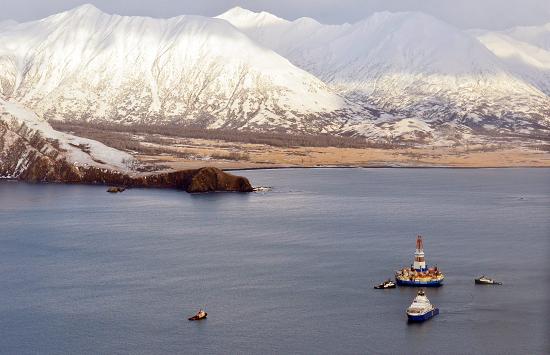 After sitting and waiting for almost two months, the Kulluk is now free to go.
The Coast Guard announced Thursday that it rescinded its captain of the port order keeping Royal Dutch Shell's disabled oil rig, the Kulluk, in Kiliuda Bay.
In a statement, Capt. Paul Mehler, commander of the Coast Guard Sector Alaska, said he had reviewed all relevant and available information and determined the conical drilling rig was safe to proceed to its port of destination in Dutch Harbor.
Mehler noted in the statement the Coast Guard will continue to monitor the movement of the Kulluk from Kodiak Island's Kiliuda Bay to Dutch Harbor and « will engage if needed. »
The Kulluk has remained anchored in Kiliuda Bay since Jan. 7 after it was re-floated and towed from shores of Sitkalidak Island in the Kodiak Archipelago.
The Kulluk — a centerpiece of Shell's $4 billion Arctic drilling operation — ran aground New Year's Eve after losing a connection with its tow, the Shell-owned Aiviq, in surging Gulf of Alaska seas. Despite multiple attempts to reconnect the Kulluk's tow lines, no tug was able to maintain control of the 266-foot diameter vessel. The Kulluk has no propulsion system of its own.
According to a fact sheet from Shell, the Kulluk will be towed by three vessels in its trip to Dutch Harbor, in Alaska's Aleutian Islands. Notably missing from those three is the Aiviq. The fact sheet indicates that the ship won't be used since the « cause of the Aiviq's loss of power is currently under investigation. »
Shell Alaska Spokesman Curtis Smith said in an email the trip from Kiliuda Bay to Dutch Harbor is expected to take seven to 10 days. When the Kulluk will begin its journey is still to be determined. Smith said there is no set departure date for the Kulluk, as poor weather in the Gulf of Alaska region has been prevalent over the last few days.
Both the Kulluk and its companion and similarly troubled drilling ship, the Noble Discoverer, are headed from Dutch Harbor to Asia to complete repairs. Smith said the dry tow schedule from Dutch Harbor to Asia remains viable, though there was still no official word on the final destination of the Kulluk. The Discoverer is headed to South Korea.
When it grounded, the Kulluk had been en route to the Port of Everett near Seattle to complete off season repairs and maintenance in preparation for this summer's Arctic drilling season. Shell has not indicated what all the troubles for its mobile drill rigs, outfitted and permitted specifically for the Arctic exploration program, will mean for the upcoming season.
When asked whether the rigs will return to Alaska following repairs in Asia, Smith said « the plan is to reintroduce the rigs to Alaska operations when they are ready. »
Contact Suzanna Caldwell at suzanna(at)alaskadispatch.com
For more stories from Alaska Dispatch, click here