Battles over a pair of devastating, violent, dangerous hockey hits ground to their inglorious legal conclusions in the past week.
Each provides a window into the sport that seems one of the few things that Canadians really get excited about.
In a way, hockey is our dirty little secret. We are famous for pardoning ourselves when someone has the temerity to bump into one of us.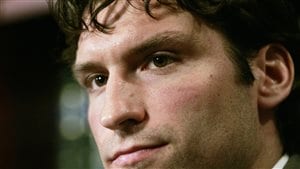 But when it comes to hockey, all bets are off. Canadians go more than slightly nuts. You might have noticed.
Hockey is our national sport, our entry entry to the world stage. We won both Olympic gold medals–men's and women's–earlier this year. You might have noticed. Canadians sure hope you did.
But for all it's beauty, the game has a dark, vicious side, one that can that can result is some serious damage.
Take the two aforementioned hits. One occurred in the National Hockey League, the other in an amateur league in Ottawa.
Very different surroundings. Same ugly cause.
Both were the result of the unwritten code of conduct that governs fighting and retaliation in hockey, at least men's hockey, a code that left two men gravely wounded.
In the more infamous of two of the two legal cases, the lawyers for Steve Moore, once of the Colorado Avalanche, and Todd Bertuzzi, once a Vancouver Canuck, reached an out-of-court settlement Tuesday in a $68-million loss-of-wages lawsuit Moore filed after Bartuzzi stalked and sucker-punched from behind on March 8, 2004. The blow was in retaliation for a hit Moore had delivered on one of Bartuzzi's teammates earlier in the game.
Moore went down in a heap after suffering three fractured vertebrae and a concussion. He left on a stretcher and never played another NHL game.
Bartuzzi was suspended for 17 games and went on to make millions in the NHL. He played last season with Detroit and is currently a free agent.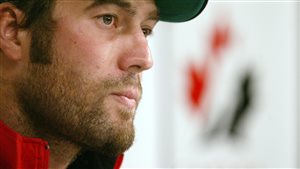 Eight years and four days later, in the final 47 seconds of an Ottawa recreational league game on March 12, 2012, a 29-year-old PhD candidate named Gordon MacIsaac left his feet and creamed a 29-year-old personal trainer named Drew Casterson.
The collision broke some of Casterson's teeth, scarred his face and caused a concussion that resulted in debilitating headaches.
MacIsaac denied the hit was in retaliation for something Casterson had done.
When the case went to court, the judge saw it otherwise.
Calling it "a deliberate blindside hit," Ontario Court Justice Diane Lahaie last week sentenced MacIsaac to 18 months probation and ordered him to pay Casterson $5,000. MacIsaac was also forbidden to play or coach competitive sports during his 18 months probation.
Casterson is now falling in to debt because the injuries he suffered prevent him from working more than six hours a week. Mr. MacIsaac is headed to Calgary to work in the aerospace industry.
And it all happened in a "non-contact league."
For some perspective on two incidents, I spoke by phone with Bruce Dowbiggin, a well-known sportswriter, author and broadcaster who lives in Calgary.
Listen