While the verdict is still out on the health risks of electric cigarettes (e-cigarette), official opposition to their use continues to grow.
E-cigarettes use electricity from a small battery to heat a coil which vapourizes a flavoured-scented liquid to produce a vapour.  As such, it's not called smoking, but rather, "vaping".
While on the federal level there is no ban on sales, and only restrictions against sales to minors,  more and more individual businesses and jurisdictions are imposing their own rules and bans.
Winnipeg school board joins bans
The latest is the Winnipeg, Manitoba school board.  One board member thought the no-smoking policy on school property included e-cigarettes, but another member said students were openly "vaping"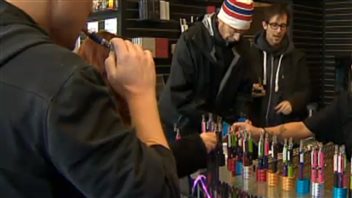 The board voted unanimously to ban e-cigarette use on school property to clarify the situation.
Last week, Vancouver city councillors voted to ban the use of e-cigarettes in public spaces and the sale of the devices to minors.
The municipality of York in Ontario and the city of Red Deer in Alberta have imposed outright bans in public places. Many other jurisdictions across Canada are in the process of developing regulations or bans on e-cigarette use.
Health Canada issued an advisory back in 2009 saying people should not use e-cigarettes as their health risks are unknown, but have not banned them but neither are they "approved", thereby existing in a grey zone, even as sales continue to rise.
Selling of the liquid, or "e-juice"  cartridges containing nicotine is not permitted in Canada, but is nonetheless available.  In a recent email to CBC News, Health Canada also responded to industry claims that e-cigarettes can wean people off tobacco.  The note said, "To date there is not sufficient evidence that the potential benefits of e-cigarettes in helping Canadians quit smoking outweigh the potential risks."
Sales figures for e-cigarettes, and their cartridges are difficult to know as the market is growing so quickly, and many commercial and retail operations do not report their sales figures, but last year University of Ottawa law professor David Sweanor, who works on tobacco control and health issues, estimated the market in Canada at that time could be worth around $150 million.