Your full team is with you this week to present the show, Wojtek, Lynn, and Marc.
Listen
A former well-known national TV newsman, turned Senator, is facing 30 charges of fraud, breach of trust, and bribery.
Mike Duffy's trial started this past Tuesday. but it is a politically explosive one calling into question Senate financial practices, and connections to the current government.
At the heart of the charges are the disputed travel expenses of ex-Senator Duffy, but also a close link to the Prime Minister as his Chief of Staff, Nigel Wright gave the then Senator a cheque for $90-thousand dollars to cover his payback to the Crown of the disputed expenses.  When this became public, Mr Wright resigned but questions remain about how much the Prime Minister knew about the situation
Wojtek prepared a report.
Lynn looked at a story with international implications.
In Afghanistan, Canada and other nations poured millions of dollars into projects to advance women's rights there.
These seemed to be advancing, but as western countries have pulled out, human rights groups now say that prominent Afghan women, along with ordinary female citizens are increasingly being attacked.
Lynn spoke with Jacqueline Hansen of Amnesty International who says western nations have to renew their commitment to help Afghan women.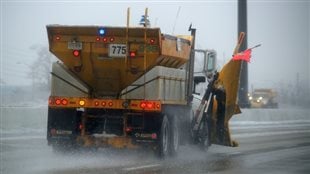 Every year Canada spreads about five million tonnes of industrial salt on its sidwalks, streets, and highways.
It's all in an effort to melt the slippery snow and ice and make the sidewalk and roads safer.
But those millions of tonnes of salt don't just disappear, they are eventually washes away with rain and make their way in the water system ending up in lakes.
There are guidelines established for the amount of salt that can get into lakes because of salt's toxicity. This is especially so for the tiny crustaceans known as water fleas, or Daphnia. These tiny relatives of shrimp are essential to the lakes ecosystem, helping to clean the lake of algae and providing a source of food at the bottom of the food chain.
The rules on salt were designed to protect them, but it turns out the toxicity tests carried out in labs don't accurately reflect natural conditions.  Lab tests are done on well fed Daphnia which are better able to resist the toxicity. In nature, they are not so well fed and thus are not so resistant.
Professor emeritus Norman Yan of York University led the research team and suggests new toxicity guidelines and use of salt are required because of the critical role the Daphnia play in the the environment.
Marc spoke to Professor Yan in Toronto