"Just watch me" have become three of the most famous words in Canadian political history.  Uttered by Canada's then Prime Minister Pierre Elliot Trudeau, it also marked the beginning of the end of the biggest terrorist crisis in the country's history.
By 1970, the mostly French-speaking province of Quebec was frightened, and many Anglophones had already begun moving out of the province.   A group of anti-anglophone, anti-federalist Marxist Francophone nationalists seeking the independence of the province had been terrorizing the entire population for years.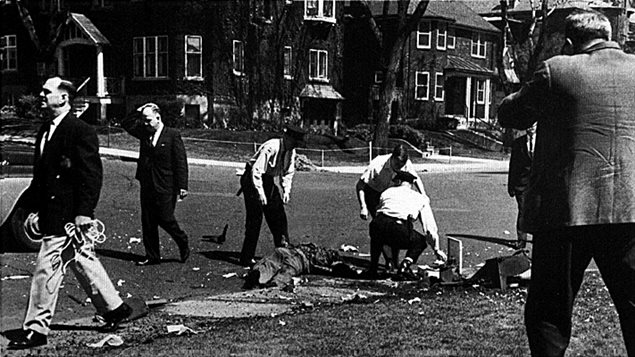 Since the early 1960's the so-called Front de Liberation du Quebec (FLQ) had been setting bombs, robbing banks and armouries, and released numerous declarations calling for the French population to rise up against "Anglo-Saxon imperialism" and establish a Quebec French "workers society".
By 1970, they had set off close to 200 bombs, murdered several people and injured and maimed dozens more.
Then in early October the group kidnapped British Trade Commissioner James Cross, and Quebec's provincial Labour Minister Pierre Laporte.
To that point, Quebec police had been ineffective in finding or stopping the terrorists and military forces had been called out in the national capital Ottawa, and in Quebec's major cities of Montreal and Quebec City.
Many thought that martial law had been imposed, which was not the case, the still limited military presence instead acting merely as added civil protection and aiding the police.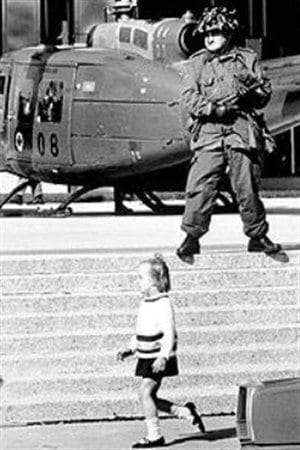 Several prominent Quebec politicians had called for negotiations with the terrorists to secure the release of the two hostages in exchange for the release of several so-called "political prisoners", sympathizers who had been taken in for questioning.
On October 13, 1970, CBC reporter  Tim Ralfe was waiting for the Prime Minister on the steps of Parliament and after some slightly confrontational back and forth, asked the Prime Minister how far he would go…"Just watch me" was the famous answer.
Three days later as the crisis increased with ongoing declarations and demands from the FLQ.  A rally with about 3,000 sympathizers on October 15 heard labour leader Michel Chartrand announce that popular support for FLQ is rising and states "We are going to win because there are more boys ready to shoot members of Parliament than there are policemen."
With fears of an all out insurrection on October 16th, the federal government imposed the War Measures Act, the first time in history the Act had been used in peacetime, saying a "state of apprehended insurrection" exists.
This resulted in more military troops in the streets and gave them and the police far greater powers to suspend civil liberties, including arrests without warrants and searches of homes in an attempt to locate Cross and Laporte.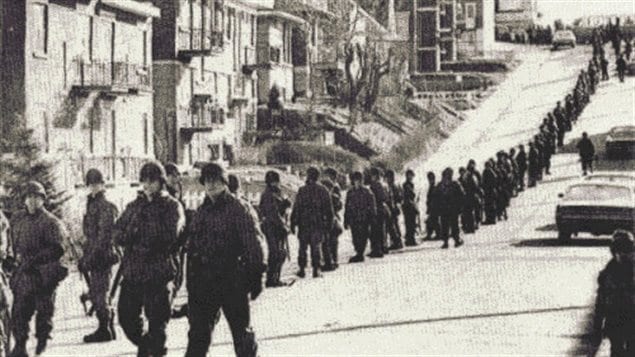 Although the separatist movement has portrayed the imposition of the War Measures Act as an extreme abuse of federal power, they ignore the fact that it was urgently requested by the then Quebec Premier as well as the Mayor of Montreal, both of whom were frightened of the possibility of a widespread insurrection.  What is also completely ignored by present day separatist groups and the separatist provincial Parti Quebecois of today, is that the PQ of the day also rose in the provincial parliament to support the Quebec government request the federal government to intervene in the "emergency".
Then On October 17th, the FLQ announced the execution of Pierre Laporte.
Police arrest over 400 FLQ sympathizers, almost all of whom are soon released without charge.
In November, a leader of one of the FLQ cells is arrested, and on December 4th, negotiations result in the release of captive James Cross and subsequently five terrorists are flown to Cuba as part of the deal.
On December 28th, three more leaders are captured and charged with the kidnap and murder of Pierre Laporte.
As a result of the War Measures Act,, the violence of the FLQ and the murder of Pierre Laporte, public support for the FLQ had waned.
The military will be withdrawn by January 5th, 1971, ending the bloody reign of terror by the FLQ and what has ever since become known as the October Crisis.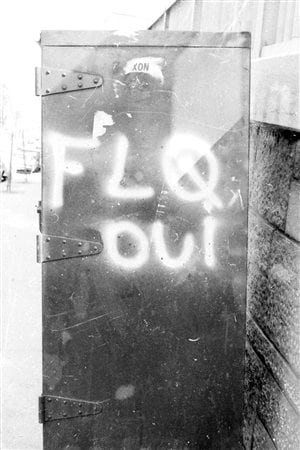 Tim Ralfe: …what you're talking about to me is choices, and my choice is to live in a society that is free and democratic, which means that you don't have people with guns running around in it.

Pierre Trudeau: Correct.

Ralfe: And one of the things I have to give up for that choice is the fact that people like you may be kidnapped.

Trudeau: Sure, but this isn't my choice, obviously. You know, I think it is more important to get rid of those who are committing violence against the total society and those who are trying to run the government through a parallel power by establishing their authority by kidnapping and blackmail. And I think it is our duty as a government to protect government officials and important people in our society against being used as tools in this blackmail. Now, you don't agree to this but I am sure that once again with hindsight, you would probably have found it preferable if Mr. Cross and Mr. Laporte had been protected from kidnapping, which they weren't because these steps we're taking now weren't taken. But even with your hindsight I don't see how you can deny that.

Ralfe: No, I still go back to the choice that you have to make in the kind of society that you live in.

Trudeau: Yes, well there are a lot of bleeding hearts around who just don't like to see people with helmets and guns. All I can say is, go on and bleed, but it is more important to keep law and order in this society than to be worried about weak-kneed people who don't like the looks of a soldier's helmet.

Ralfe: At any cost? How far would you go with that? How far would you extend that?

Trudeau: Well, just watch me.

Ralfe: At reducing civil liberties? To that extent?

Trudeau: To what extent?

Ralfe: Well, if you extend this and you say, ok, you're going to do anything to protect them, does this include wire-tapping, reducing other civil liberties in some way?

Trudeau: Yes, I think the society must take every means at its disposal to defend itself against the emergence of a parallel power which defies the elected power in this country and I think that goes to any distance. So long as there is a power in here which is challenging the elected representative of the people I think that power must be stopped and I think it's only, I repeat, weak-kneed bleeding hearts who are afraid to take these measures.