A million Canadians are living on borrowed time, and borrowed money.
A new survey shows a mere 0.25 percent increase in lending rates would push some 700,000 Canadians into a financial squeeze.
Increase the lending rate by one full point, and the number of Canadians under financial pressure rises to one million.
A survey by the credit monitoring firm TransUnion shows that 26 million Canadians carry some form of debt. Given that the nation's population is about 36 million, but that includes babies and the very young, and the very old, the implication is that just about every single adult Canadian is carrying some debt through credit cards, mortgage, various bank loans, a line of credit and/or combinations of those debts.
Jason Wang is the TransUnion director of research and industry analysis in Canada.  Quoted in the Globe and Mail newspaper he says, ""Many consumers do understand, but unfortunately some consumers have, in the last few years, developed a false sense of security, thinking that low rates are going to be here forever".
Low interest rates won't last forever
The Bank of Canada had twice cut its benchmark interest rate in 2015 to stimulate the economy and stands at a near record low of 0.5 percent. While it seems that the central bank has no immediate plans to raise rates anytime soon, analysts say the low rates won't last beyond 2017.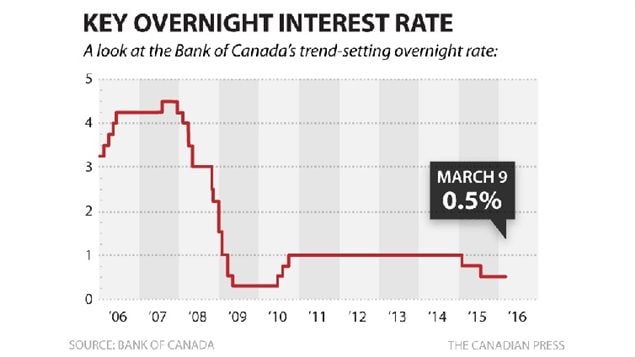 Also quoted in the Globe and Mail was Scott Hannah, president and chief executive officer of the non-profit Credit Counselling Society.He said many people have 'variable rate" mortgages, which have rates that follow the rise and fall of bank rates. He said he's concerned that people at risk might not take action soon enough as interest rates start to go back up. Hannah says, "The increase is coming. It's how you prepare yourself for that increase. Now is the time to get prepared,"
RCI-Canadians living paycheque to paycheque
Depending on debt load, on average, a quarter point increase would mean an additional $10 to $50 charge on monthly payments.  For many that would  mean simply foregoing a restaurant meal or other discretionary spending.  That in turn  has further negative implications for the economy.
However, for as many as 253,000 Canadians, an additional $50 payment could cause serious financial hardship.
The federal statistics gathering agency, Statistics Canada, said that at the start of 2016 the average debt for Canadians was $21,348. That is exclusive of mortgage debt.
Additional information-sources