Barely a week after they hosted Chinese Premier Li Keqiang and his wife at the prime minister's summer retreat at Harrington Lake, Prime Minister Justin Trudeau and his wife Sophie Grégoire Trudeau will be greeting the Royal Family as they begin a week-long visit to British Columbia and Yukon on Saturday.
The visit marks the first time the Duke and Duchess of Cambridge are doing an official tour with both their children along: three-year-old Prince George, who is third in line for the throne behind his grandfather Prince Charles and his father, and one-year-old Princess Charlotte, who has rarely been seen in public.
The Trudeaus will participate in the Official Welcoming to Canada and British Columbia ceremony at the Legislative Assembly of British Columbia in Victoria, complete with full military honours, including a 21-gun salute, the raising of His Royal Highness's Canadian Standard, and an inspection of the Guard of Honour, the Prime Minister's Office announced today.
Trudeau will later have a private audience with Prince William and Kate.
"Canadians have tremendous affection for the Royal Family, and are excited to welcome The Duke and Duchess to our nation for their second official Royal Tour of Canada," Trudeau said in a statement. "Sophie and I look forward to showcasing beautiful British Columbia and to promoting awareness of both youth and mental health issues alongside Their Royal Highnesses."
For their part William and Kate see their visit as a "chance to deepen their relationship" with Canada.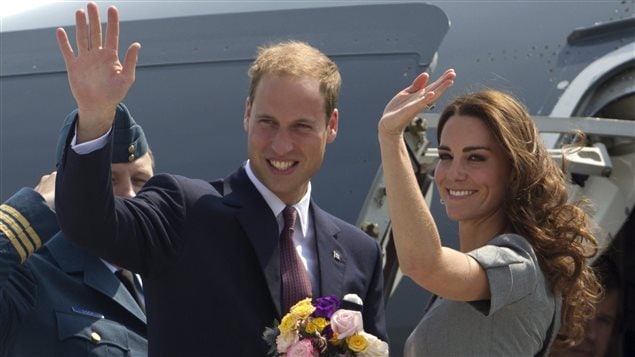 "They want to help the people of British Columbia and Yukon to celebrate what makes Canada great and to showcase some amazing places to the rest of the world," says a post on the Royal Family's website.
On Sunday, William and Kate will take a float plane from Victoria to Vancouver where they will receive a civic welcome in Jack Poole Plaza located by the Vancouver Trade and Convention Centre.
Trudeau and his wife Sophie will then accompany William and Kate on a tour of the Immigrant Services Society's new Welcome Centre in Vancouver, which provides settlement, education, and employment services for thousands of immigrants and refugees each year. They will also visit a youth reception in Vancouver and meet with young Canadians.
The two couples will also visit Kitsilano Coast Guard Station for a first responders showcase and will participate in a discussion on mental health issues with representatives of first responders' organizations.
This latest visit comes five years after William and Kate made their first visit together to Canada. That trip included stops in Prince Edward Island, Quebec, Ontario, Alberta and the Northwest Territories and was widely considered a success for the newlyweds.
With files from Janet Davison of CBC News