Canada Post this week revealed the newest in the series of ten stamps it is issuing this year to celebrate the country's 150th anniversary.
This one, number 5 in the series, celebrates the 8,000 kilometre ribbon of asphalt that joins Canada from coast to coast.
It's the Trans-Canada Highway stamp, and like all in the series is die-cut in the unique shape of the symbolic maple leaf of the Canadian flag.
Indeed, the unique highway markers for the Trans-Canada Highway feature the maple leaf.
Construction started in 1950 and the highway officially opened in 1962 – but it was not completed until 1971. Today, the Trans-Canada has multiple routes that connect almost every major city in Canada, and links to roads heading into the United States.
The first day cover features five unique giant roadside statues ( of  the many) one could see when travelling across the country,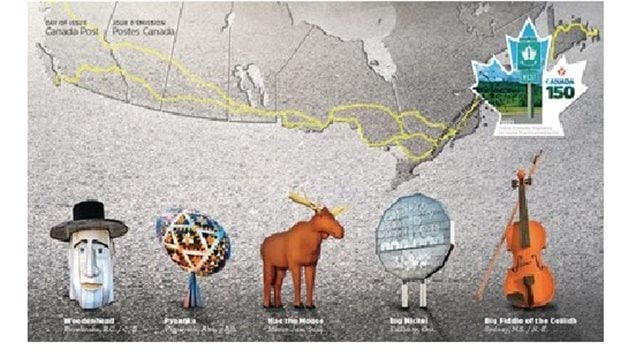 These include the giant fiddle of the "Ceilidh" in Sydney, Nova Scotia, celebrating Scottish heritage.  Another feature is "the Big Nickel, in the mining city of Sudbury in northern Ontario, which has long been a major source of nickel ore.
Then there's Mac the giant moose, in  Moose Jaw, Saskatchewan (10m tall):  the giant Ukrainian Easter egg –Pysanka- in Vegreville, Alberta, denoting the strong Ukrainian presence there;  and the giant wooden head in  Revelstoke B.C, originally carved in the 1930's, and later used as a road warning sign on the highway in the 1960's (Don't be a wooden head-slow down) and now an artefact/attraction in the town.
The four previous stamps in the 150 series celebrate Expo 67, the Canadian constitution and the Charter of Rights and Freedoms, the Canadarm space technology and Canadian innovation,  and marriage equality rights, the 2005 Civil Marriage Act.
Additional information-sources