Canadians are living increasingly alone, in couples without children and in multigenerational families, according to the latest census figures released by Statistics Canada.
In 1871, there were on average 5.6 people per household, but in the last 145 years that ratio has to dropped to 2.4 people in 2016.
The number of Canadians living alone increased to its greatest share since Confederation. Of the 14.1 million households in Canada in 2016, 28.2 per cent comprised only a single person.
That is an increase from 25.7 per cent in 2001. Fully 13.9 per cent of the Canadian adult population now lives alone. That figure stood at just 1.8 per cent in 1951.
More women than men are living alone, with women accounting for 53.7 per cent of one-person households in 2016
The single-person households are most common in Quebec and Yukon at 33.3 per cent and 32.2 per cent respectively. The lowest rates could be found in Nunavut (18.9 per cent), while less than one-in-four adults in Alberta and Newfoundland and Labrador were living alone.
Due to its aging population, the biggest increase in single-person households occurred in the Atlantic provinces, with rates of growth two to four times greater than Canada as a whole.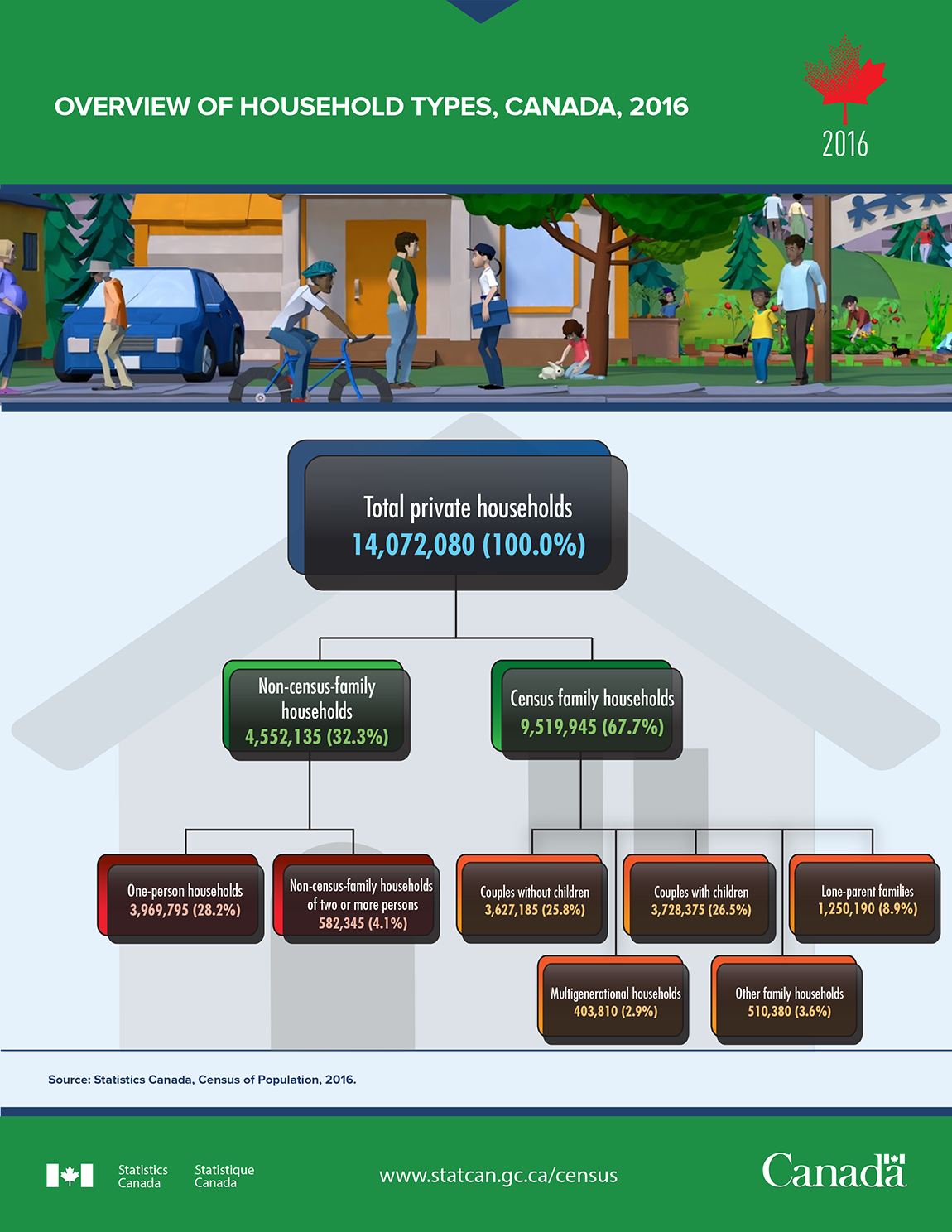 Married couples represented the majority of Canadian couples in 2016, although common-law unions are becoming more frequent in every province and territory, census numbers show. In 2016, over one-fifth of all couples (21.3 per cent) were living common law, more than three times the share in 1981 (6.3 per cent).
With more than half of couples (50.3 per cent) living in common-law relationships Nunavut topped the list, followed by Quebec (39.9 per cent), Northwest Territories (36.6 per cent) and Yukon (31.9 per cent). The proportion of common-law unions in Quebec and the three northern territories was considerably above the average for the rest of Canada (15.7 per cent).
The proportions in Quebec and the territories were also higher than those in countries with high shares of common-law couples, such as Sweden, according to the census.
Multigenerational households —households that include at least three generations of the same family— recorded the fastest growth of all household types since 2001 (+37.5 per cent). In 2016, 6.3 per cent of Canada's population living in private households, or 2.2 million people, lived in a multigenerational household.
The increase in multigenerational households may be partly attributed to Canada's changing ethnocultural composition. This type of living arrangement is more common among Aboriginal and immigrant populations, which account for a growing share of Canada's population, the census showed.