(Have your say, comments open at bottom)
U.S. President Donald Trump has criticized those players in the National Football League (NFL) for showing disrespect to the national anthem during major events.
The original act began with former San Francisco 49ers quarterback Colin Kaepernic in protest of racial injustices and more specifically alleged police brutality and killings of blacks.  Several other players have since followed suit.
With the comment by President Trump on Friday saying protesters should be taken off the field and/or fired from the NFL, reaction from players has been swift.
During the nine weekend  NFL games the Associated Press said about 130 players joined the protest by kneeling during the anthem, as did at least one major league baseball player.  Others in the NFL linked arms as an act of solidarity with those protesting, while members of some teams simply remained off the field during the playing of U.S. anthem.
Spread to Canada
Now the protest has spread to Canada, a separate country not involved in the U.S dispute.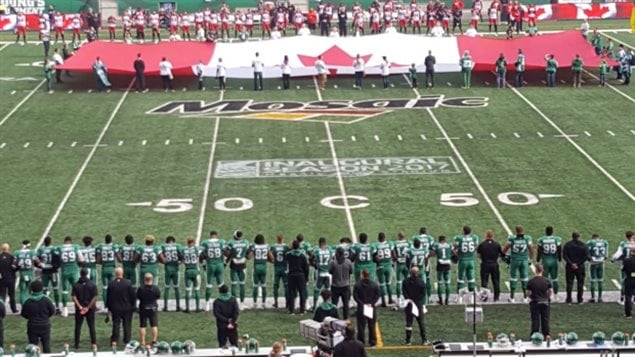 In spite of that, in a weekend game in Regina, Saskatchewan, members of the Canadian Football League (CFL) Saskatchewan Roughriders team chose to link arms during the playing of Canada's national anthem to show solidarity with NFL protesters.
Speaking to the media after the game against the Calgary Stampeders, 'Riders quarterback Kevin Glenn noted that many of the players in the CFL are American and spend six months in the U.S. "at home" and that's why most of the team member linked arms in solidarity with the NFL protesters..
Quoted by the CBC, offensive lineman Derek Dennis said they did not intend to show disrespect to Canada, the anthem, or the Canadian military, "We just wanted to show that just because we're north of the border we're not blind to what's going on back home".
He added that they didn't choose to kneel as that wasn't necessary, adding his appreciation that,  "If it wasn't for the CFL we wouldn't have the opportunity to play professional football".
While many on social media in both countries support the peaceful protests, others say it is misguided.
Additional information- sources